Hi guys! We have Blake Moreno stopping by today with the tour for her new release Heat For Sale, we have a great guest post from Blake, a great excerpt and a brilliant giveaway so check out the post and enter the giveaway! ❤ ~Pixie~
Heat For Sale
by
Blake Moreno
Heat can be sold but love is earned.
In a world where omegas sell their heats for profit, Adrien is a university student in need of funding. With no family to fall back on, he reluctantly allows the university's matcher to offer his virgin heat for auction online. Anxious, but aware this is the reality of life for all omegas, Adrien hopes whoever wins his heat will be kind.
Heath—a wealthy, older alpha—is rocked by the young man's resemblance to his dead lover, Nathan. When Heath discovers Adrien is Nathan's lost son from his first heat years before they met, he becomes obsessed with the idea of reclaiming a piece of Nathan.
Heath buys Adrien's heat with only one motivation: to impregnate Adrien, claim the child, and move on. But their undeniable passion shocks him. Adrien doesn't know what to make of the handsome, mysterious stranger he's pledged his body to, but he's soon swept away in the heat of the moment and surrenders to Heath entirely.
Once Adrien is pregnant, Heath secrets him away to his immense and secluded home. As the birth draws near, Heath grows to love Adrien for the man he is, not just for his connection to Nathan. Unaware of Heath's past with his omega parent and coming to depend on him heart and soul, Adrien begins to fall as well.
But as their love blossoms, Nathan's shadow looms. Can Heath keep his new love and the child they've made together once Adrien discovers his secrets?
Heat for Sale is a stand-alone m/m erotic romance by Leta Blake, writing as Blake Moreno. Infused with a du Maurier Rebecca-style secret, it features a well-realized omegaverse, an age-gap, dominance and submission, heats, knotting, and scorching hot scenes.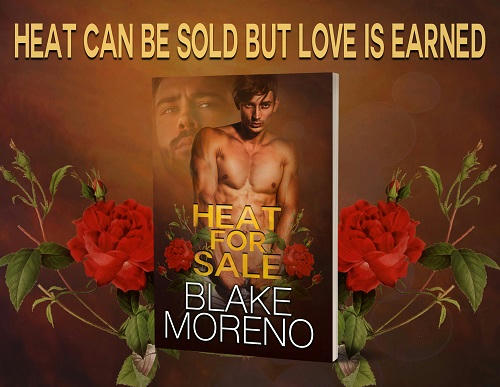 Blake Moreno!
Thank you so much for having me here to talk about my upcoming release, Heat for Sale, put out under my pen name Blake Moreno. It's an omegaverse featuring mpreg, knotting, heats, birth, and nursing. The entire kit and caboodle for a male pregnancy book, but it's wrapped up in a pretty little package full of secrets. 
Inspired in part by Wuthering Heights and even more so by Daphne du Maurier's Rebecca, all the scorching scenes are embedded in a storyline that asks questions about trust, disclosure, and culturally prescribed gender roles. 
Because this book is set in an entirely different universe, with different rules for omegas and different a different culture than my well-known books Slow Heat and Alpha Heat, I chose to put Heat for Sale out under my Blake Moreno name in order to avoid confusion. 
Thank you so much for hosting me here today to discuss Heat for Sale. What started as a way to blow of steam while working on another book became so much more and I hope that readers enjoy it!
Excerpt!
HEATH STARED AT the photo of the boy on the auction page. He didn't usually look for heats to bid on, but his friend, Felix, had been bragging about holding the top bid on the newest boy offered by their shared alma mater's matcher. When Felix had described the boy's looks as being very like Heath's own beloved Nathan's, his curiosity had gotten the better of him.
And now he was hooked.
The ripe, slightly open mouth combined with the blond hair, almond-brown eyes, and high cheekbones did remind him rather intensely of Nathan, the only omega he'd ever made the mistake of loving. And losing. In the darkest hours of the night, he still tried to convince himself that Nathan had loved him in return. He'd only had five years with his beloved before he'd died from a previously undiagnosed fatal flaw in his heart, but they had been years of such intensity that Heath was still reeling from them. Memories of Nathan, along with pain, rose up in him again, raw and aching.
Shattering grin. Mischievous eyes. A penchant for trouble.
Good God, Nathan had brought Heath to his knees again and again, and then died there in his arms. Tragic, in every damn way. But alongside the pain came a beating pulse of desire for the boy in the photograph. Certainly, though, the lust had little to nothing to do with the boy himself and everything to do with Heath's memories of Nathan squirming beneath him in the throes of ecstatic heat.
Felix had been right. The resemblance was so strong, so fantastic, that Heath lost his breath counting the similarities. As he continued to study the photos of Adrien, his mind slowly unraveled.
A tangle of feelings and memories, half-formed plans, and calculations possessed him. If the boy in the photos was twenty, as stated in the auction ad, then that would correspond with what Heath remembered of Nathan's recounting of his first breeding. The one he'd auctioned off when he was still in school. Nathan had been won by an older alpha with kind eyes—that was how he always described him—and he'd given the child up to the alpha father as agreed in advance so that he could continue his schooling. After graduating with a degree in dance and theater, Nathan had used the bonus pregnancy money he'd earned to travel the world. It was only two years after that he and Heath had met at a party in the artsy city of Waterston in the Northern Province, both of them young and intoxicated. Nathan had flashed that charming smile, and Heath had been quick to fall in love.
Heath tilted his head and examined the photos of Adrien, wondering what the boy looked like when he smiled. The resemblance was too great and the timing much too uncanny. Quick calculations told Heath that Nathan would have been just barely twenty-one when this omega, Adrien, was born.
He clicked through to the private, bidders-only pedigree page, with details of parentage kept secret even from the omegas themselves, to look into Adrien's ancestry. His pulse thundered wildly. This boy who stared at him from the screen with fear and trepidation, and with such beautiful tears glistening in his eyes, was Nathan's son. His entire legal name was given as birth omega with absolute certainty, and if there had been any doubt, Heath recognized Nathan's signature on all of the contracts and forms. Not to mention the birth certificate was stamped as PRIVATE SEALED FOR ALPHA USE ONLY, as Nathan had assured him whenever Heath had asked about the likelihood of his child ever finding him.
"Darling, he's never going to find me, even if he looks. The files are sealed from the world until his heat begins, assuming he's even an omega. And then only his potential alphas will have the right to the information. If they choose to tell him, well…" Nathan had shrugged. "It's not as though I'll be under any obligation to meet him. I did my duty."
Heath stared at Adrien's picture again. He was beautiful.
A living, breathing piece of Nathan…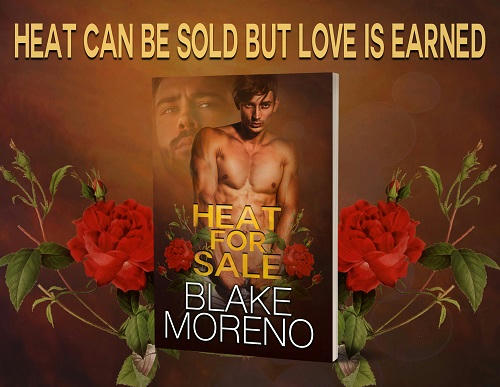 About Blake!
Blake Moreno explores the darker side of erotic romance. Married to a hot tech nerd, educated in BDSM, and attracted to twinks and twunks alike, Moreno embraces taboo explorations. Come along on a quest for intensity and deep emotion. Don't fear the dark.
Discover more about Blake on Facebook
Blake Moreno is an alternate pen name of the author Leta Blake.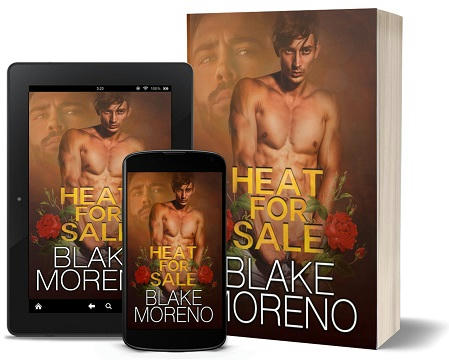 Giveaway!
Win an Ebook of Heat For Sale!

Check out the other blogs on the tour!