Hi guys, we have Ari McKay popping in today with the tour for their new release His To Save, we have a great excerpt and a brilliant giveaway so check out the post and enter the giveaway! ❤ ~Pixie~ p.s. keep an eye out for our review coming soon.
His To Save
by
Ari McKay
He's the perfect sub — gorgeous, responsive, and yet aloof, and every Dom at the Candy Cane fantasizes about claiming the sub who calls himself Saiph.
Nick Tierney sees through the facade of utter submission Saiph projects, and his instincts tell him Saiph has some complicated issues. He would love to help Saiph, but his desire seems hopeless in the face of Saiph's adamant refusal to do a scene with any of the gay male Doms. Then Saiph offers himself up at the Candy Cane's charity auction, and Nick seizes the opportunity to claim Saiph for himself, if only for a single night.
The chemistry between them is electrifying in its intensity, but Nick also comes away convinced Saiph needs help. Can he convince Saiph to take a chance and let down his guard enough for Nick to discover a way to help him heal? Or will Nick's rapidly deepening feelings drive Saiph away for good?

Excerpt!
"We have a rare opportunity tonight, folks!" Cameron said as Saiph moved to stand at the edge of the stage. He stood calmly with his shoulders relaxed and his hands in his pockets, not bothering to pose or flirt with the audience. "Do I have an opening bid for a playdate with Saiph?"
The previous sub had gone for a final bid of nine thousand five hundred dollars, and Nick waited as the first bid for Saiph—a paltry one thousand dollars—was made and quickly topped. The bidding grew heavier, with half a dozen people chiming in, then wound down to only two or three serious bidders around seven thousand five hundred dollars.
"Eight thousand!" A voice called from the back of the room.
"Nine!" A counter came from Nick's left, and he didn't even have to turn his head to recognize his friend Patrick's voice. Patrick was a good Dom, but he was still in his late twenties and didn't have the experience Nick knew Saiph needed.
"Nine thousand five hundred!" The voice from the back called once again.
"I think it's about to get serious," Cameron said, beaming as he looked back and forth between Patrick and the other bidder in the back. "Do I hear ten thousand? Come on, folks, help us break five digits on behalf of the Georgia Coalition Against Domestic Violence!"
There were murmurs from the left again, no doubt someone pushing Patrick on. Finally, it came. "Ten
thousand!"
"We have ten thousand from Master Patrick!" Cameron appeared too excited to stand still, because he started bouncing on his toes, but Saiph remained calm. "Do I hear eleven?"
Cameron paused, but the bidder in the back of the room remained silent, and so he mimed banging a gavel. "Ten thousand going once!"
Hyacinth twisted in her chair and gave him an expectant look. "Too rich for your blood?"
"Not even close, darling," Nick replied. He didn't take his eyes off Saiph, watching for something in the sub's expression. Was Saiph pleased at the amount? Pleased about Patrick? And what would he think of what Nick planned to do?
"Ten thousand going twice!"
Since it seemed the bidding was over, Saiph looked at Patrick and offered a polite smile, but the smile never touched Saiph's eyes, and Nick knew for certain he was about to do the right thing.
"Third and final call…" Cameron pointed at Patrick, whose answering grin was triumphant.
Nick rose to his feet. "Twenty thousand dollars," he said, his deep baritone carrying over the murmur of voices. He didn't look at Cameron, or Patrick—Saiph had all his attention.
An explosion of noise erupted throughout the room and Cameron exclaimed, "holy shit!" into the live mic, which set off laughter from the audience. Saiph slowly turned to look at Nick, his dark eyebrows climbing, and there was a flash of surprise in his eyes. He inclined his head in acknowledgment, and the tiny smile that curved his lips was genuine this time.
Nick was glad to see that smile, and he turned his attention to Cameron as laughter and catcalls continued from the audience. "Can you wrap this officially, if you would, please?"
Cameron stared at Nick with wide eyes for a moment before he seemed to snap out of his shocked daze, and then he nodded eagerly. "Twenty thousand going once…" He paused and gave Patrick a questioning look, but Patrick grimaced and made a slashing gesture at his throat to indicate he was out. "Twenty thousand going twice… Final call… Sold for twenty thousand dollars to Master Nick!"
Candy Cane Club series!
His To Serve (book 01)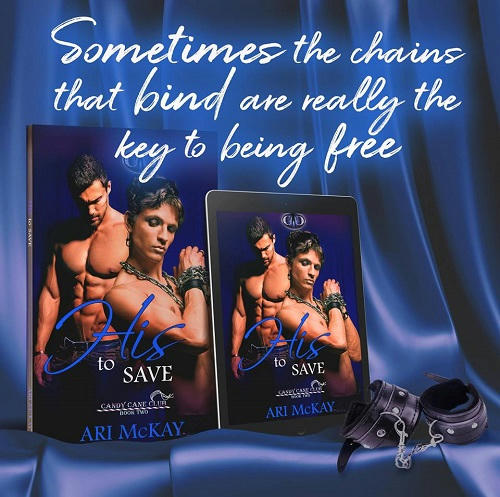 About Ari!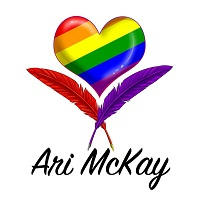 Ari McKay is the professional pseudonym for Arionrhod and McKay, who have been writing together for over a decade. Their collaborations encompass a wide variety of romance genres, including contemporary, fantasy, science fiction, gothic, and action/adventure. Their work includes the Blood Bathory series of paranormal novels, the Herc's Mercs series, as well as two historical Westerns: Heart of Stone and Finding Forgiveness. When not writing, they can often be found scheming over costume designs or binge watching TV shows together.
Arionrhod is a systems engineer by day who is eagerly looking forward to (hopefully) becoming a full time writer in the not-too-distant future. Now that she is an empty-nester, she has turned her attentions to finding the perfect piece of land to build a fortress in preparation for the zombie apocalypse, and baking (and eating) far too many cakes.
McKay is an English teacher who has been writing for one reason or another most of her life. She also enjoys knitting, reading, cooking, and playing video games. She has been known to knit in public. Given she has the survival skills of a gnat, she's relying on Arionrhod to help her survive the zombie apocalypse.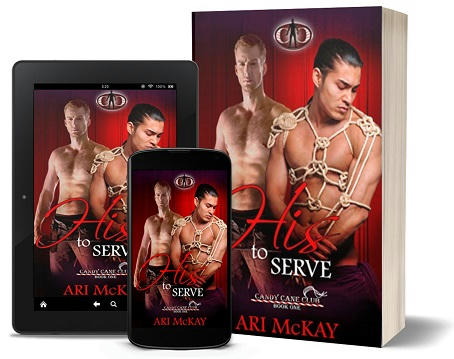 Giveaway!
Win an Ebook of His To Serve (Candy Cane Club #1)!

Check out the other blogs on the tour!