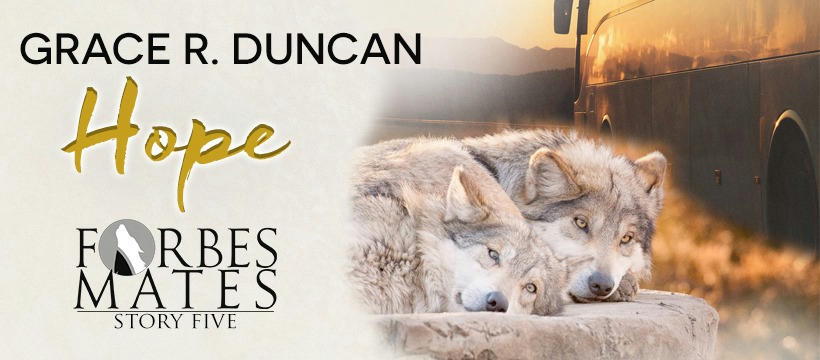 Hi guys, we have Grace R. Duncan stopping by today with the tour for her new re-release Hope, we have a great excerpt and a fantastic giveaway, so check out the post and enter the giveaway! ❤️ ~Pixie~
Hope
by
Grace R. Duncan
Miguel Garcia and Luis Rodriguez have been best friends all their lives. For the last year, they've been hiding the fact that they're also destined mates. When Luis's family finds out, they kick him out. Miguel's family would keep them… except their alpha has been known to be downright violent against gay wolves.
With the help of Miguel's mother, they set out to find a pack that will accept them. They run into more than a few obstacles before they end up in Denver, at the national wolf headquarters, meeting the alpha prime. They're stunned to find, not only offers to join more than one pack, but that their struggle can shine light on a bigger problem–and make things better for LGBT wolves across the country.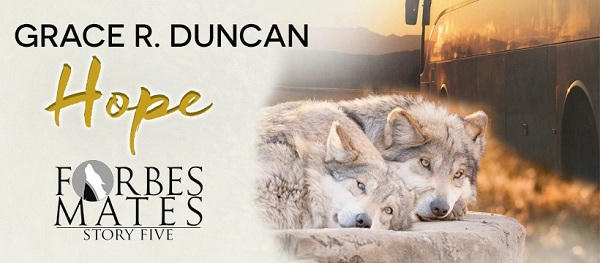 Character Interview!
First, thank you to MM Good Book Reviews for the space today!
Buenos tardes, boys.  Thank you for agreeing to sit down with me for this interview!
We often hear about how you just *know* that your destined mate is "the one" and how your wolf speaks to you.  What I'd like to know is what your first human-side thoughts were, since you grew up together and were best friends:
Miguel frowns. Not long after we learned what mating was and what destined mates were I started to suspect that we were. I don't know if it was something my wolf knew that I didn't—he didn't say so specifically or anything—but I had a feeling. Then, when Luis turned sixteen and we found out, I had a combination of yes! and oh shit because I wasn't sure how it would be taken.
Luis nods. I definitely had the "oh shit" thought because I knew that my papá would not appreciate the fact that we were mates and the same gender. I was glad, though, because I am not attracted at all to women and if I must have a male mate, I couldn't be happier that it is my best friend.
Have you considered having pups?  Do you have any females in mind to carry your child(ren):
Luis smiles. The couple we live with—Ben and Eric—have Diana and she is amazing. She has made me think about children. Before we left LA, I had never considered it, but I think when we are settled in our own house and happy in our jobs that I would like them.
Miguel grins. And if he wants them, then we'll figure it out. There are a couple of female wolves who have volunteered before. Finley Cooper's sister had the two for them and she said she doesn't mind. She doesn't want to keep any of them, but she's happy helping others have them.
What would each of you like to do after school?
I'm going to be a teacher in the pack school. They've been looking to expand it to include secondary students if they didn't want to go to the human high schools—and there are usually complicated problems when they go to the human schools—so I'm going to have the degree necessary to teach on the high school level. I'm hoping that being young will help them be willing to learn for me.
Luis pokes Miguel's side. Or make fun of you.
Miguel laughs. Yeah, or make fun of me.
Luis grins. I am not going to school. I am apprenticing under Eric to learn the leatherworking skills. I was fascinated by the pieces they had in their house and I have found I have a bit of a talent—
Miguel clears his throat. –A lot of talent
–Fine, some talent. Luis ignores Miguel's eye roll.
What is your favorite thing about each other?
Miguel snorts. His sense of humor. He can be very funny, especially when he's being modest.
Luis smacks Miguel's shoulder. And I like that he is more outgoing than me.
What do you think about the Forbes area?
I love it. Luis nods and grins. The area is so beautiful and there is so much space to run and play, both as our wolves and even as humans. I love that I can set outside and see trees for miles.
That's definitely the best part. Miguel nods. It smells so fresh. I like the city when I go down there—Pittsburgh is one of the prettiest I've seen—but the forest is amazing.
Considering what happened before the LGBT Rights Bill, has that harmed your views on travel?  If not, and you could pick one place to visit where money, time off, etc. were no object, where would it be?
At the same time, they both speak. Italy.
Miguel chuckles. I want to see where we are from, where everything started.
Jamie has talked about it a lot—how pretty it is, the library, the surrounding area—it's hard to not want to. Especially since we've been lucky enough to spend a lot of time at the headquarters here.
Luis nods several times. Yes, I may not be the…student… Miguel is, but I would still enjoy getting lost in that library. Just seeing everything would be amazing to me.
Muchas gracias, boys. I appreciate your time.
~~~
Thank you very much to MM Good Book reviews for the space today! I really appreciate it. I hope you enjoyed the time with our boys from Hope.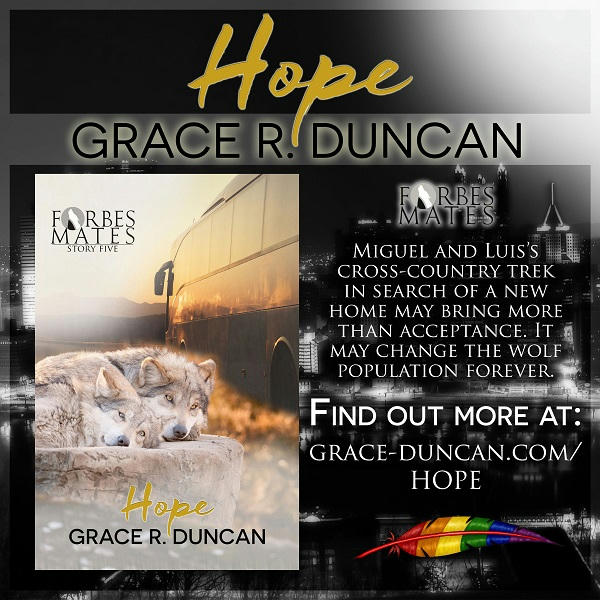 Excerpt!
When they pulled into the Phoenix station, Miguel found himself annoyed that there didn't seem to be anything nearby. He'd spent so much time in a city—a real, big city, with a McDonald's and an In-N-Out on every corner—that to step outside and see nothing besides the bus station but an airport and desert was disheartening.
He shoved the thought off and found the text from his mamá with the Tonto alpha's phone number. In a few moments, he had directions to a McDonald's a little distance away by city bus and where to pick it up. They stored their bags in a locker and headed out.
But barely two hours later, he and Luis were once more waiting for a bus, this time with an even less friendly suggestion to move on. He couldn't say the alpha was hostile necessarily, but the curled lip he got when he saw Miguel and Luis holding hands had said enough. The meeting had been very short, very tense, and ended with the alpha telling them there was a 2:45 a.m. bus from Phoenix going east and they "had better be on it."
Miguel was already tired of that reaction. While the pack in Palm Springs hadn't been nearly as mean, he knew quite well it was because they were same-sex mates. Three packs, so far—their original and two others—hadn't wanted them.
"Maybe we shouldn't tell them, Miguel."
Miguel sighed and kissed the top of Luis's head. "I was just thinking something like that. If we didn't, if we maybe… made something up about why we left, perhaps we could at least stay for a while."
Luis nodded. "We've only been gone, what… two days?"
Miguel had to think. "Just over twenty-four hours, actually."
"Damn. It feels a lot longer." Luis shook his head.
"It doesn't help that we haven't really slept. With any luck, Gila will want us. Or at least, let us stay for a bit. Maybe we can get jobs to earn some money."
"That would be good. How much do we have left?"
Miguel pulled out the cash they still had and carefully counted it, while trying not to be obvious that was what he was doing. The bus station was fairly empty, but he didn't want to start anything, especially because the best way he had to defend himself and Luis involved claws and fangs. "After the tickets to Deming, just over a hundred dollars. The tickets from Deming to Silver City are another thirty for the two of us. We could see about selling Mamá's ring in Silver City, if we need to."
"Let's… let's not do that until we are out of money."
Hugging Luis close, Miguel nodded. "Yeah, I don't want to either, if we can help it."
They fell silent, occasionally glancing at the television in the corner, while keeping an eye on the Border Patrol officer sitting in another corner. They both had US driver's licenses, but that didn't mean much if he wanted to cause problems for them. He reminded himself to speak English. Then, trying not to worry, Miguel did his best to simply enjoy holding Luis. Luis's breathing evened out, and Miguel did what he could to resettle his mate in the horribly uncomfortable metal nightmares they called bench seats.
He wasn't sure if he was more relieved or more nervous when they could start lining up for the bus. He so wanted Gila to be where they could stay, if for no other reason than they could stop moving from place to place for a while. He buried both emotions so he didn't alert Luis to anything, and they got in line.


About Grace!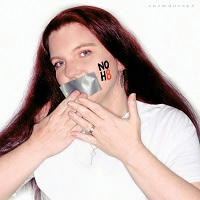 Grace Duncan grew up with a wild imagination.  She told stories from an early age – many of which got her into trouble.  Eventually, she learned to channel that imagination into less troublesome areas, including fanfiction, which is what has led her to writing male/male erotica.
A gypsy in her own right, Grace has lived all over the United States.  She has currently set up camp in East Texas with her husband and children – both the human and furry kind.
As one of those rare creatures who loves research, Grace can get lost for hours on the internet, reading up on any number of strange and different topics.  She can also be found writing fanfiction, reading fantasy, crime, suspense, romance and other erotica or even dabbling in art.
Find Grace here:
Website  ◊ Facebook ◊ Twitter ◊ Youtube ◊ Goodreads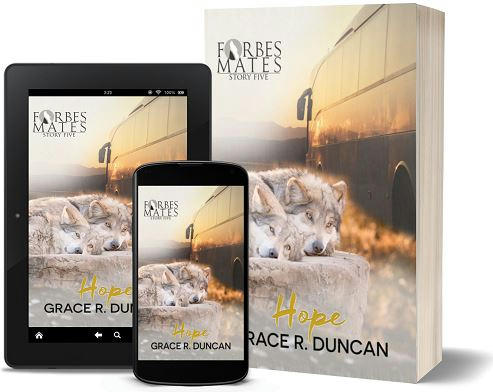 Giveaway!
Win an ebook copy of any Forbes Mates title (excluding Hope)!