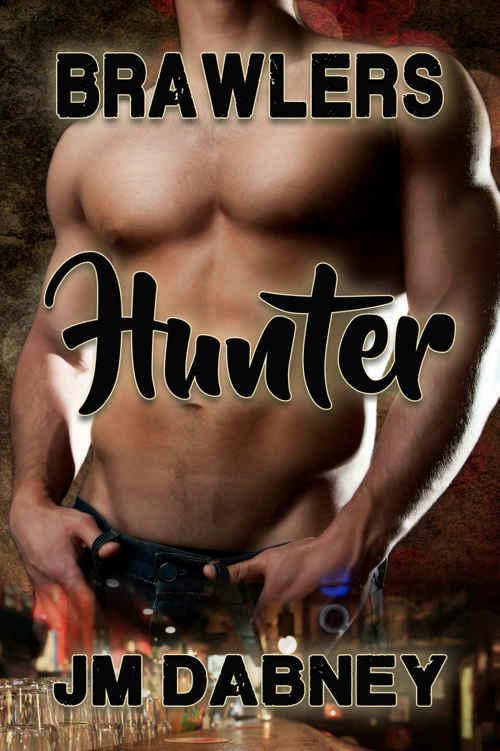 Title: Hunter
Series: Brawlers 04
Author: J.M. Dabney
Genre: Contemporary
Length: Novella (160pgs)
ISBN: 978-0-9988203-9-2
Publisher: Hostile Whispers Press (13th June 2017)
Heat Level: Moderate
Heart Rating: ♥♥♥♥ 3 ½ Hearts
Reviewer: Pixie
Blurb: Welcome to Brawlers Bar…
If there was a way to destroy his life, Hunter Black could do it. He was a catastrophe waiting to happen. Survival was his only priority and having to leave his old life behind that meant a job of the legal variety. He'd found one as a bartender at Brawlers Bar and a safe place in a huge house with the rest of the bar crew who quickly became the family he'd never had. The one thing Hunter didn't need was his old life tracking him down.
Deputy Wren Gramble hated his job and his weekend assignment of staking out a bar in the middle of nowhere waiting for drunks. Although he'd heard the homophobic and racist jokes going around about the crew and customers, he kept his head down and stuck to his job and nothing else. He despised being driven back into the closet, but he'd reached the end of the line and what he'd do if he earned another transfer he didn't know. 
Linus Trenton was considered the normal one in his family and according to the weird ones that meant he should be punished daily. He never came out one way or another, if he found someone attractive he was attracted. His life was complicated enough having a crush on the sweet and awkward Hunter but now he had to throw Wren into the mix. Linus didn't have time for dating or romance, most of the time he didn't even think about having a sex life, although, Wren and Hunter were ruining his calm.
Hunter was in lust with the handsome deputy the minute the man pulled him over, but a man like that wouldn't give him the time of day. His friend, Linus, was another matter altogether. Hunter wanted both. His bosses made it work with their man, why couldn't he? Could Hunter prove he wasn't as much of a screw up as he appeared or would he have to call in backup to claim his men?
Purchase Link: Amazon US | Amazon UK
Review: This book is part of a series and is best read in order.
Hunter is quiet, he doesn't think much of himself and he is very accident prone so when Wren shows an interest in him he hasn't got a clue what he should do. Wren has been watching Hunter from afar, he plucks up the courage to ask Hunter out and he discovers that there's another man who has his eye on Hunter. Linus has wanted Hunter for a couple of years but has held off approaching him, now with the deputy sniffing around Hunter Linus needs a dash of Dutch courage to break the cycle of just being friends with Hunter.
This is a great story that has a dash of danger. Hunter is a really sweet character who has no confidence in himself and thinks of himself as a fuck-up. Wren seems like a stand up type of guy, he likes being a deputy but could live without some of his colleagues. Linus is the more normal one in his family, he doesn't believe in monogamy but he's wanted Hunter for some time he's hidden his interest thinking that Hunter isn't interested in him.
What we have with this story is three men who desperately need to be loved, finding each other and forming a relationship between the three of them. They all have their own worries especially with Linus' really dangerous job (you'd think the deputy's job would be more dangerous but you'd be sadly mistaken). Their relationship sparks quite quickly once they get over that there are three of them interested in each other, but insecurity still plagues Hunter.
Danger comes in the form of the Sheriff, who has a hard-on for the Brawlers; the Sheriff is a bigot and hates the rough Brawlers and targets them as much as he can. We get a bit of excitement when Linus is asked to work his magic and help the State police investigate the corrupt Sheriff.
This story really should be read after reading the Twirled World Ink series and the other Brawlers stories believe me, this is the first book that I've read by J.M. Dabney and for the first couple of chapters I felt kind of lost as there were a lot of characters from the first three books and then in later chapters from the Twirled World Ink series so I felt really lost because I didn't have a clue who these people were of what connection they had to each other.
The actual story is interesting; we get some danger and a touch of action. We also have a great ménage romance between Hunter, Linus and Wren which is pretty hot. I must admit that there wasn't a great deal of relationship building but it was still good. While the title is Hunter, I actually felt it was more about Linus. I mean while we get a general overview of Hunter we actually find out more about Linus and seem to spend more time in Linus' view point than Hunter's.
I recommend this to those who love characters who need hard loving, a great storyline and a really happy ending.