Hi guys! K.A. Merikan is visiting today with their upcoming release I Love You More Than Pierogi, we have a fantastic guest post where K.A. chats about Polish food (mmm yummy) and we have a great excerpt. So guys, check out the post and enjoy! <3 ~Pixie~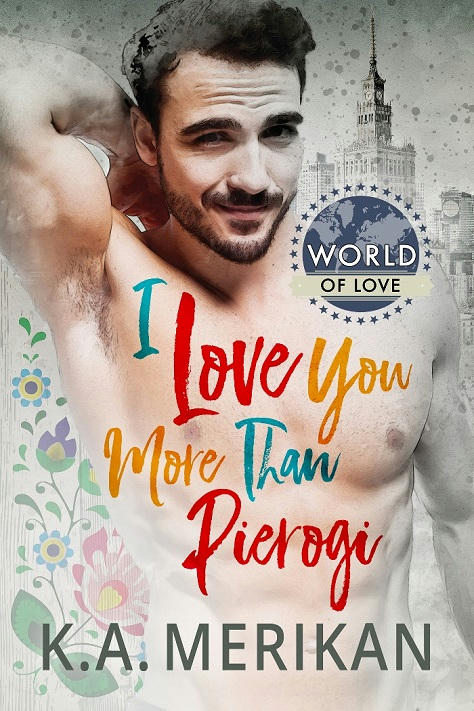 I Love You More Than Pierogi
(World of Love 03: Poland)
by
K.A. Merikan
Marek and Adrian dated in high school, but a bitter breakup led them to choose different paths. Adrian is out and proud while Marek is in the closet. Adrian embraces his eccentricity while Marek clings to a conservative image. And while Marek worked hard to build a successful life and financial stability by climbing the corporate ladder, Adrian threw caution to the wind and has spent the last five years backpacking across the world.
Now Adrian is back in Warsaw, Poland, but while Marek thinks they will have a hookup and have a blast from the past, Adrian is just looking for a place to crash. Worse still, Adrian turns up at Marek's advertising agency for help with his outrageous new business venture, and if Marek wants to get promoted, he might have to work with the guy who broke his heart.
World of Love: Stories of romance that span every corner of the globe.
Release date: 4th January 2017

K.A. Merikan!
We've been thinking about setting a book in our native Poland for quite some time now, and the submission call for "World of Love" helped us come up with an angle 🙂 The two main characters are former high school sweethearts who meet after several years, and after the bitterness that resulted of their breakup, the reconnection is everything but smooth. Through those characters we explored two conflicting feelings many immigrants face – the longing for home and everything it stands for, and the unstoppable curiosity that pushes them to explore. Who knows, maybe one doesn't have to choose 😉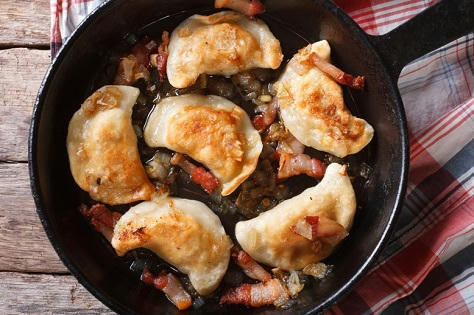 Food is an easily-attainable cure for nostalgia, and every immigrant or someone who temporarily lived in another country knows this. Without pre-packaged treats from home available, Adrian, one of the main characters of the book, learned to cook in order to satisfy his cravings. The problem is that the most ancient tastes of polish cuisine are difficult to recreate without ingredients that are not popular abroad.
Poles generally like trying new things, so all kinds of cuisine are popular, particularly in big cities, but there are certain elements that make a unique culinary tradition. Because Poland used to be (and still is) a country rich in woodlands, a wide variety of mushrooms and wild forest fruit became vital ingredients. To this day, it is extremely popular to make trips to the forest to gather those kinds of products. Sour flavors – both natural and produced by fermentation, are very common too in soups such as fermented rye soup, borscht, sorrel soup, as well as in drinks, which include the apparently 'infamous' fermented milk.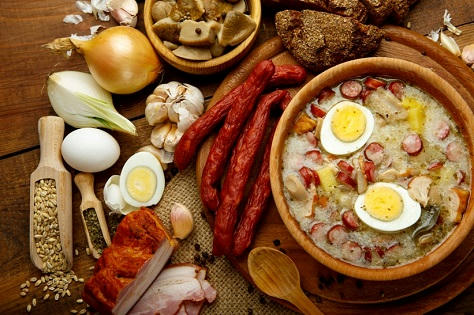 While modern Polish cooking style is vaguely "central European", it has undergone many changes due to history and politics. Medieval Poles ate large amounts of meat and cooked grains, but according to foreign visitors, spices and herbs (mostly pepper, juniper, and nutmeg) were used much more liberally than in western Europe, due to lively cultural exchange with the countries of "the Orient", which made those exotic ingredients relatively inexpensive. Those types of spices are still heavily used in Polish sausages and cold cuts of meat, which always have a very pronounced flavor, but they also sparked a long tradition of gingerbread making.
Already in the medieval period, partially fermented vegetables, such as sauerkraut, were being used, especially in Winter. The titular pierogi, a staple in most northern Slavic countries (though known under different names) were also an early element of Polish cuisine, along with drinks such as bread kvass, beer (often used to make… breakfast soups), and mead.
In the sixteenth century, after the Polish king married Bona of House Sforza, Italian cooking and ingredients became popular among wealthy Poles. Southern European vegetables and wine were added to the menu. This sparked the creation of local versions of noodles, which were added to soups and mixed with traditional ingredients, such as poppy seeds or bacon and lard.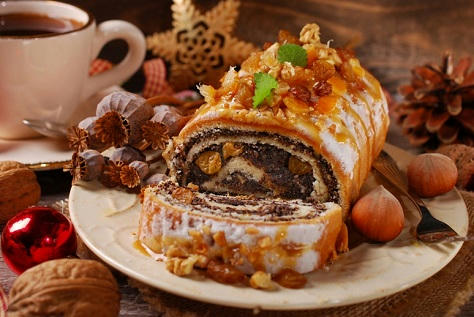 Another major addition to what we usually think of as "traditional" Polish cuisine is the Tatar and Ottoman influence, reflected in even more exotic spices, and dishes such as steak tartare. Coffee and delicacies like dates or figs started spreading among the Polish gentry in the seventeenth century and very soon became incorporated into the rich culinary tradition of a country that kept changing its borders. Other culinary styles that influenced Polish cuisine were the Jewish, German, and Czech traditions. Later, when France became the epicenter of European culture, the wealthiest Polish nobility imported French-style cooking, but it remained rather unpopular until the nineteenth century.
Today, young Poles are rediscovering culinary traditions much older than the simple foods cooked by their grandparents. Traditions that almost died out after the second World War but come with a richness of flavor and products that have been hardly used for the last seventy years. And through Adrian we wanted to show the kind of passion some people have for those foods.
Let's just say writing this book had been one big craving ;D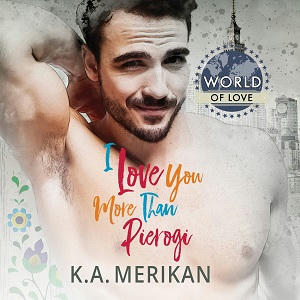 Excerpt
The ticking of the clock was unbearably slow, and as much as he wanted to leave the office, there was simply too much to do to go out for lunch. He ordered Chinese into the office with a couple of his coworkers, but they all ate at their own desks. Not the healthiest option, but it would do if he put in the hours at the gym later. He paid for the membership, so he would not miss a session.
If only he could combine the rare hours of free time throughout the year and glue them together into a vacation, he might have a week off. Preferably a real one this time, unlike last year's when his vacation time got swallowed up by a company integration trip that included paintball, drinking, and the most cringeworthy session of team yoga. He still found it hard to look Marzena in the eyes after his foot had slipped to her crotch when they attempted some convoluted position ordered by the instructor. The photos from that trip proudly adorned the staff room, and everyone had gotten a mug with a goofy photo of themselves. Marek hated his.
So what if the expenses for the trip were paid? If he couldn't go where he wanted, with the people he wanted to spend time with, free didn't matter much. He'd rather have divided that week between four days back in Łuków with his family and three days hiking in the mountains with a guy who'd also like to casually fuck before they went their separate ways.
No. Instead, he'd had to spend his technically free time with Bogdan, Piotrek, and Szymon talking about how Marzena's pussy felt on his foot while being mindful of not letting any female coworker overhear them. He needed to show Bogdan he was "one of the guys," no matter how many stupid things it entailed.
If only he could gain a managerial position, things would be different.
His phone buzzed next to him on the desk, and he noticed the text-message icon appear on the screen. He wondered whether he should bother opening it, as during work hours any texts he could expect were promotional codes from fast-food joints he patronized all too frequently, and electronic bills. But with the logo project he'd been working on barely visible through screen glare, he opened the message and for a moment was shocked by what didn't look like promotional material.
[I got this number from your mom] was the first line.
Marek frowned at the unknown number. Was an acquaintance from Łuków not aware he worked in Warsaw now? Or worse, it was someone from Łuków who was aware Marek worked in marketing and design, and wanted to get a cheap, quick logo or banner. Sucker would be getting nothing. Marek knew his worth.
But as he read the rest of the message, his thighs softened and his stomach rolled with heat.
[It's Adrian from high school. I'm in Warsaw, and someone flaked on me, so I don't have anywhere to sleep tonight. Could I crash at your place?]
Marek's mind went blank and then exploded in a plethora of memories. His first sexual experience in a cold tent on a rainy day. First blowjob after swimming in a lake deep in the woods. Months of sneaking around at school and stolen nights in the dusty attic. His first time bottoming on his late grandmother's bed, right under a picture of the pope.
All with Adrian.
Marek bit his lip, completely thrown off by this blast from the past. He'd been sure he'd never see Adrian again after their sour breakup. His fingers hovered over the phone, work and responsibilities forgotten.
[Hey, sure. I only have a room to myself, but the landlord never visits.]
Marek's breathing got heavier. Fuck. Would that make him seem like a loser? He couldn't afford to rent a whole apartment in Warsaw without compromising the rest of his budget. Adrian had spent years abroad, not gracing Łuków with his presence since he first left. Would he be used to more luxury?
Adrian wrote back right away. [Awesome. Are you home now? My backpack is super heavy ;P]
Marek froze. If he said he was at work, would Adrian look for a different friend? But he couldn't leave early with the project still barely started.
[No, sorry. I'm at work, but just go grab a coffee or something. I finish at 8:00 p.m.]
A compromise. He'd stay at work but pass on the gym tonight.
[Where do you work? I could come over and pick up the keys from you. How about that? I'll make dinner.]
Marek frowned. Since when did Adrian cook anything other than instant noodles?
[I work at Proxima]—he couldn't help boasting about that—[but we can't have guests at work. It's against company policy.] If the butterflies ever stopped fluttering in his stomach, he could come up with better texts. Adrian was clearly a different person now. Not angry with Marek anymore. Why would he be? It had been five years since they finished high school, and Adrian had gone backpacking through Asia like he'd wanted. Maybe he'd had a boyfriend, they broke up, and he was now looking for a rebound. Would they fuck tonight?
Marek's lips went dry.
Adrian answered. [That's fine. I won't take long. Proxima? That student music club?]
Marek frowned. How could Adrian not know about one of the biggest advertising companies in Poland? It was common knowledge… wasn't it? [No, it's advertising. I'm sure you've seen some of our ads.]
Adrian replied with a smiley face. [I don't watch television.]
Marek took a deep breath to calm himself. Of course he didn't. Freaking hippie.
[Okay, never mind. Just hang out wherever you are, and I'll pick you up after work.] A good opportunity to show off his Opel Insignia, which Marek could use as a prize won in an employee contest. Adrian didn't need to know it was a company car.
[See you soon], Adrian wrote and left Marek to his work in the too-bright office, next to coworkers who were too busy to talk and across from a boss who'd just had some coke and then casually put in eyedrops so the client he was about to meet wouldn't notice a thing.
About K.A.
K.A. Merikan is the pen name for Kat and Agnes Merikan, a team of writers, who are taken for sisters with surprising regularity. Kat's the mean sergeant and survival specialist of the duo, never hesitating to kick Agnes's ass when she's slacking off. Her memory works like an easy-access catalogue, which allows her to keep up with both book details and social media. Also works as the emergency GPS. Agnes is the Merikan nitpicker, usually found busy with formatting and research. Her attention tends to be scattered, and despite pushing thirty, she needs to apply makeup to buy alcohol. Self-proclaimed queen of the roads.
They love the weird and wonderful, stepping out of the box, and bending stereotypes both in life and books. When you pick up a Merikan book, there's one thing you can be sure of – it will be full of surprises.
Website | Twitter | Agnes Merikan's Twitter | Facebook | Pinterest

Check out the other blogs on the tour