Hi guys! We have Genevive Chamblee visiting today with the tour for her new release Ice Gladiators, we have a fantastic guest post, a great excerpt and a brilliant $10 Amazon GC giveaway, so check out the post and enter the giveaway! ❤️ ~Pixie~
Ice Gladiators
by
Genevive Chamblee
Dalek "Taz" Tazandlakova is the epitome of a hockey player—tall, broad, and powerful. As a forward for the Lafayette Ice Water Moccasins, he's also the physical embodiment of domination and intimidation.
He's everything Liam Jolivet isn't.
Liam possesses an inner strength and confidence Taz has never mastered. On the surface, Liam appears to be a perfect match for Taz. The problem is, Liam is dating Taz's roommate. It's not the only problem, either. Taz is a "playa" and has commitment issues—along with a pain-in-the-ass coach who's threatening to ruin his career, and a second roommate who wants to dictate his social life for his own personal gain.
Nevertheless, Taz wants Liam, and Liam appears to want to reciprocate. Do they dare cross the line?
Warnings: Elements of physical violence and sexual assault are some topics mentioned.

Genevive Chamblee!
How Long Does It Take to Write a Book
Whenever someone asks me how long it takes for me to write a book, my answer is always the same. It takes as long as it takes. This may seem like a cookie-cutter blow off, but it's the truth. Sometimes, I have an idea and the words flow easily. The time it takes is the time it takes me to type. Other works in progress have been in that state for years. These aren't stories that are forgotten or abandoned. Rather, they take longer to tell.
One story I've been working on for five years. People who follow me know that I call it "The Beast." Actually, it is a completed work in that it has a beginning, middle, and end. However, elements of the plot need fine-tuning, as well as a decrease in word count. Anytime I allow it to sit and marinade, it is inevitable that when I revisit it for an edit, I must update any parts of the story that has become dated to maintain its relevance. A lot has changed in five years.
Ice Gladiators, on the other hand, was a fairly quick write…once I got started. What I mean is that I had a general idea. However, I was clueless how to execute it. In fact, it was years before I wrote the first word to it. The idea to write about a minor league hockey player actually occurred during the writing of Defending the Net and was to be included there. When the idea didn't fit with the story, I disregarded it. It wasn't until I began receiving the feedback from Defending the Net that the idea was resurrected. Readers were asking for more, bigger, and faster. I pondered how I could fulfill the request and remembered the idea I'd chunked because I couldn't make work.
Interesting, Ice Gladiators is the first book I've ever written in order from start to finish. Generally, I write scenes. I try to start from the beginning, but as I write I find myself moving them or adding scenes before them. In the past, I've moved my opening scene to close to the end. But Ice Gladiators flowed in a way that no other story ever has for me. I completed writing the first draft in about two months. Typically, I tend to overwrite. Although there was plenty of editing to be made, I didn't have much extraneous material to cut. Perhaps this is due to the story being fast-paced and not much room to add any fluff.
Sometimes, it is a matter of time. Writing is a profession and need to be respected just as any other job would. Writers must be disciplined about setting aside time to write (a.k.a., work). A frequent problem is many family, friends, or associates may not view writing as being a job since the author isn't clocking in at a nine-to-five brick and mortar. This can be even worse for writers who work another full-time job. Interruptions may be frequent or writers find themselves distracted. I've been more than guilty of slacking off to doing other things besides writing. One huge issue has been that I enjoy writing in public places. Many times, I'll see people who I know who want to sit and have a long conversation. Other times, strangers will approach me out of curiosity and ask what I'm frantically typing. (Usually, I'm muttering to myself because I've misplaced something.)
The last scenario is sometimes I develop a block with a story and can't find the story to tell. I'll brainstorm but nothing will be inspiring. At times like those, I work on other writing projects such as my weekly blog. Sometimes, my mind needs to rest and reset, especially when I'm producing a lot of content. (I blog weekly but upped the ante for the release of Ice Gladiators. Then, I wrote daily post for a month along with other writing endeavors.)
There is one other thing that determines the length of time that it takes me to write a book, but it is rare. Sometimes, I savor the story. I write slowly because I don't want to rush it. Readers can tell when this is the case because those stories tend to have a slower pace (and be slightly longer). These also are the stories that I jam with Easter eggs. Just call me Peter Cottontail.
For more of how I write, my stories, and my shenanigans, giveaways, and more, check out my blog, Creole Bayou, www.genevivechambleeconnect.wordpress.com. New posts are made on Wednesdays, and everything is raw and unscathed. Climb on in a pirogue and join me on the bayou. If you have any questions or suggestions about this post or any others, feel free to comment below or tweet me at @dolynesaidso. You also can follow me on Instagram at genevivechambleeauthor or search me on Goodreads or Amazon Authors.
And also, don't forget to check out my new steamy, sports romance, Ice Gladiators, guaranteed to melt the ice. It's the third book in my Locker Room Love series.
Missed the two books in my sports romance series? No frets. Out of the Penalty Box, where it's one minute in the box or a lifetime, out is available at http://amzn.to/2Bhnngw. It also can be ordered on iTunes, Nook, or Kobo. Visit www.books2read.com/penalty. Defending the Net can be ordered at www.books2read.com/defending. Crossing the line could cost the game.
Until next time, happy reading and much romance.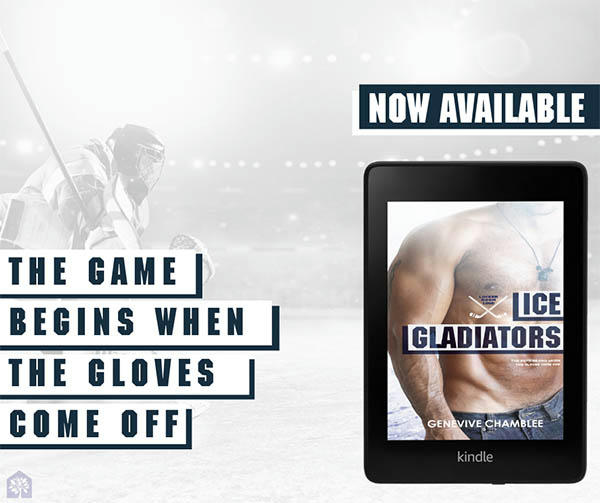 Excerpt!
"Actually, you're more likely to get jabbed in the ribs or guts than beat over the head. That's too obvious a penalty." Taz reclined on the sofa. "The entire point of sticking is to move someone out of your way or send a message without getting caught. Hockey's physical and intense, but it isn't vicious. We respect each other, even if we don't always like each other. We hit hard, but it's without malice. At the end of the day, it's our job. Besides, I thought this kind of thing turned you on. At least, that's what Jackson said."
"I said what?"
"You said he liked hockey. Obviously, he doesn't."
Spencer's brows furrowed. "I'm right here. You can talk to me."
"I said no such thing," Jackson, Taz's other roommate, rebutted, picking through the mixed nuts.
Victor set the bowl on a table. "And that's my cue to leave."
"What did I miss?" Liam Jolivet questioned, carrying three beers and two soft drinks.
"Nothing," Victor answered. "Hand them their drinks. You and I are watching the rest of the game in my bedroom."
"Pfft." Jackson snorted. "You're leaving to fuck."
At least someone's getting lucky tonight, Taz thought. And with a hottie like Liam, why not?
Victor frowned. "And what's it to you?"
Taz shook his head. "Wow, Jack, that was tacky, even for you."
"Calling them like I see them."
"You must have cataracts in both eyes, then," Taz huffed.
"What did you mean by sticking sending a message?" Liam asked, distributing the drinks.
"Not that kind of sticking," Jackson interjected before Taz replied. "But if you have to ask, Vic must not be handling business."
"Fuck you, Jack," Victor barked.
Jackson smirked. "That's what I meant."
"Shut up and drag your mind out of the sewer. Come on, Liam."
"Okay, just a minute. I want to hear Taz's answer."
"Suit yourself," Victor snapped, storming down the hallway and slamming a bedroom door.
Twisting the cap off his beer, Taz stared after Victor for a moment before turning his attention to Liam. "You'd better go."
"I will, but I'm interested in what you were saying." Liam plopped on the couch, his soulful brown eyes genuinely intrigued. He bore a meet-your-parents smile with a hint of danger that stirred Taz's curiosity. "I know you probably get sick of all my questions every time I come over, but search engines only tell so much—computer-compiled facts. You give not only the human aspect but spill an inside scoop. It's not like Victor ever tells me this stuff."
"It's an intimidation tactic," Taz answered. "If guys know you hit, they don't hit you or your teammates."
Spencer clicked his tongue. "As I said: barbaric."
Taz waved his hand. "It's part of the game—not a nice part, but there it is. And it's a lot tamer these days with league regulations than several years ago. Back in the day—"
"Liam!" Victor yelled from the bedroom.
"You're being summoned, fuck boy." Jackson laughed.
A flush swarmed up Liam's throat to his face as he rose and trekked to the bedroom.
"He's too easy." Jackson chuckled.
Taz rolled his head across the back of the couch to face his roommate. "Why do you do that?"
Jackson shrugged and took a swig of beer.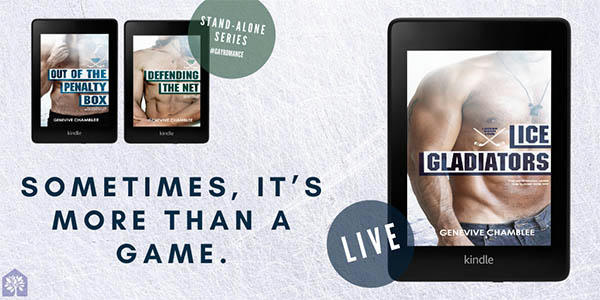 Locker Room Romance series!
Out of the Penalty Box (book 01)
.•.•.**❣️ Hot Tree Publishing | Amazon US | Amazon UK | B&N | Kobo | iBooks ❣️**.•.•.
Defending the Net (book 02)
.•.•.**❣️ Hot Tree Publishing | Amazon US | Amazon UK | B&N | Kobo | iBooks ❣️**.•.•.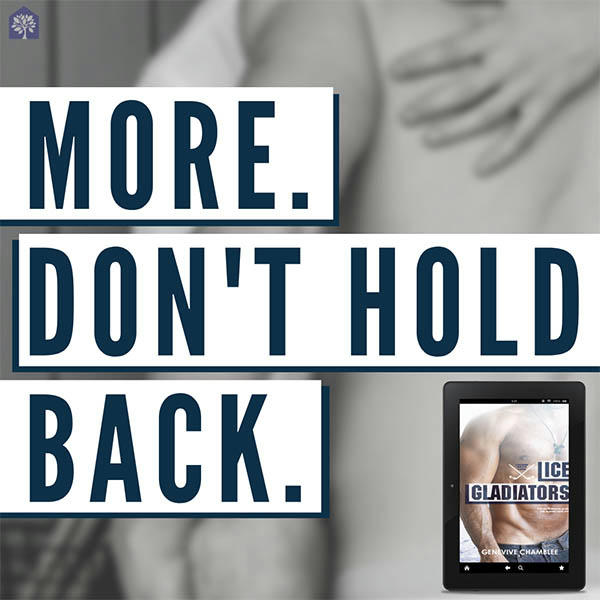 About Genevive!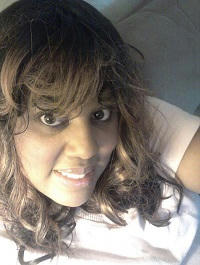 Genevive Chamblee is a southern darling and resides in the bayou country where sweet tea and SEC football reign supreme. She is known for being witty (or so she thinks), getting lost anywhere beyond her front yard (the back is pushing it as she's very geographically challenged), falling in love with shelter animals (and she adopts them), asking off-the-beaten-path questions that makes one go "hmm," and preparing homecooked Creole meals that are as spicy as her writing.
Genevive specializes in spinning steamy, romantic tales with humorous flair, diverse characters, and quirky views of love and human behavior. She also is not afraid to delve into darker romances as well.
Website | Facebook | FB Author Page | Twitter | Instagram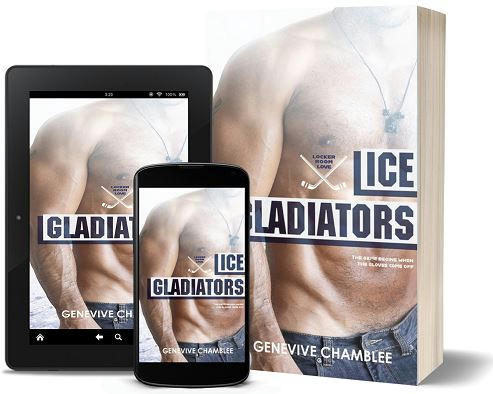 Giveaway!
Win a $10 Amazon GC!