Hi guys! We have G.R. Lyons stopping in today with the tour for his new release Illumined Shadows, we have a a brilliant guest post with an exclusive excerpt, and a fantastic giveaway so check out the post and enter the giveaway! ❤ ~Pixie~
Illumined Shadows
(Treble and the Lost Boys 03)
by
G.R. Lyons
When Victor Lucius was sixteen years old, a few cruel words out of his mouth led to a brutal tragedy, one that Vic has been trying to make up for ever since. Now, working as a missing persons expert, Vic tracks down and rescues people from abandonment or abuse, trying to alleviate the guilt constantly weighing him down.
His latest case—a boy who was kidnapped at the age of two and then held captive for nineteen years—is by far the darkest of his career. If there's any chance of Vic finally redeeming himself, helping this boy might be it.
But rescuing Colby from his basement prison is only the beginning, and brings a whole new struggle to Vic's life:
Temptation…
(Note: This story takes place in a fictional world, the same as in the Shifting Isles Series. There are multiple gods, different names for the days of the week, etc. A glossary is included.)

G.R. Lyons!
Puppy Love with exclusive excerpt
One thing I discovered very quickly after we had to put down the family dog was just how big a source of comfort she'd always been for me. It was one of those you-don't-know-what-you've-got-until-it's-gone kind of things. Whenever my anxiety spiked or the traumatic memories got to be too much, I'd automatically reach for the dog. Pick her up. Use her almost as a shield. A distraction from the world and my thoughts.

So, of course, when it came to developing the story for Illumined Shadows, and focusing on Colby's healing process, the idea of adding a dog to the cast of characters seemed all too fitting.
Besides, I've had it pointed out to me that my stories are sorely lacking in pets, and this was the perfect story in which to introduce one.
Or, two, rather, because while Colby's dog is huge and protective—a source of comfort for him—I also couldn't resist having something akin to a Jack Russell, in honor of the real-life dog we lost. The dogs also gave me just the scene I needed for the second plot point in the story, so it worked out even better.
Here is the scene in which Vic takes Colby to the dog shelter to pick out his new companion:
~~~
VIC SWITCHED off the car and turned to look at the boy curled up in the passenger seat. Colby had been nervous about leaving the house, bundling up in all his layers and huddling in a ball the whole way across town, but the prospect of seeing a puppy must have greatly outweighed his fear. After a long, serious talk about the responsibilities of owning a dog, Colby had gotten into the car with little coaxing on Vic's part, and peeked up at Vic with bright eyes as soon as they came to a stop again.
"We're here," Vic said, then leveled a look at him. "Now, there's gonna be a lot of dogs in there, and—trust me—it's really tempting to want to take them all home, but we can only pick one, alright?"
Colby nodded slowly, glancing at the building out of the corner of his eye. "What happens to the other ones?"
"They'll all get homes," Vic told him. "Someone else will come along and adopt them."
Colby hesitated. "You promise?"
Vic nodded. "I promise." He paused, then asked, "You ready to go?"
Colby gave the outside another nervous glance, then nodded. Vic went around to the other side of the car, picking the boy up right out of the seat and lifting him to his hip. Colby held on, ducking his head. Vic was tempted to make him walk, but Ahriman was still out and about in the world, and Colby was pushing his boundaries just by leaving the house, so at least they were making progress.
Vic walked up to the entrance and knocked on the door. The lights inside the entryway were off, but Vic knew Roz was in there. They had a long-standing arrangement that he could bring in rescues to pick out a therapy dog during off hours so that the experience wouldn't be as overwhelming. Sure enough, he spotted Roz through the window as she hurried across the entryway to open the door, a big smile on her face.
"Hey, Vic." She stepped aside. "Come on in."
Vic thanked her and carried Colby inside. The boy was hiding his face, but as soon as the front door was shut and locked again—and a series of excited barks reached their ears—Colby perked up.
The boy looked at Vic with wide, eager eyes.
"Oooh," Roz said, grinning at Colby. "I think they know you're here, kiddo. You wanna go meet them?"
Vic smiled at her enthusiasm. It was probably just what Colby needed to make the experience more comfortable. The boy looked shyly at Roz, but he gave a nod.
Roz beamed at them and hurried off, waving at them to follow.
The barks and yips grew louder as they reached the row of cages. Despite all the noise, Colby's gasp was easy to hear. The boy's eyes grew impossibly wide as he took in the sight of all those dogs dancing about excitedly in their separate spaces.
"What do you think?" Vic asked, watching Colby look from one dog to the other.
"There's so many," the boy whispered.
Vic gave a slow nod. There were probably only twenty dogs there—a mere handful compared to all the ones that existed in the world—but Colby had probably never imagined so many at once. Would the boy even understand that there were thousands upon thousands more out there?
"Do you see one you want to meet?" Vic asked.
Colby kept looking from one to another so fast, Vic wasn't sure he'd be able to pick.
"Hey, Roz? Do you think we could–"
"Way ahead of you," she said with a grin as she darted over to the wall and pressed a button, unlocking all the cages at once.
The dogs flooded out, some heading straight for Vic and Colby while others darted down the hallway to the large, indoor play area where toys were scattered about. Just beyond the play area was a door to a fenced yard. Vic considered taking them all outside to see if he could coax Colby out there, but that was probably pushing things. For now, he walked Colby over to the play area and set the boy down.
Colby went right to his hands and knees and started crawling about amidst all the dogs, a smile slowly growing on his face as one after another tumbled about, wagging their tails and showing off their toys.
It was like the boy hadn't even noticed Vic's absence. A bittersweet feeling shot through Vic, both glad for the boy's sake while also missing that clinging sense of being needed.
Roz came up to Vic's side, and they both watched the boy. "What a sweet kid."
Vic nodded.
"Looks like he's gonna have a hard time choosing," Roz teased.
"Yeah, I was afraid of that," Vic muttered, though the sight of Colby actually smiling was worth it. "Thank you again for this."
"Hey, like I told you before: anytime. Besides…" She nodded at Colby. "That little face just made my day. Hells, I wanna take him home."
Vic barked a laugh even as a stab of possessiveness shot through him. Mine. He shoved the thought aside. He couldn't be thinking that way. It wasn't right, and it certainly wasn't fair to either of them. Colby wasn't his. Would never be his. He couldn't keep him forever.
He shoved his hand into his pocket and clutched Cam's bracelet as he watched Colby play with the dogs. One of them curled up in Colby's lap and licked the boy's face.
Colby giggled—actually giggled—and Vic felt another piece of his shattered world settle back into place.
COLBY SANK his fingers into the puppy's fur, smiling at the sensation. He'd missed this so much. The soft touch. The sweet smell. The happy look on its face as it scampered about in play. His heart hurt, thinking of the poor, sweet puppy that Bad Man had killed, but seeing so many others running about, happy and free, gave him so much hope.
But he could only pick one? It seemed an impossible choice. He wanted them all. He wanted to keep them all and play with them, hold them and see them live. See them safe.
Eventually, the puppies all wandered off and played by themselves or with each other, except one that stuck close to Colby's side. It looked so much like the puppy that Bad Man had killed, except it was a little bigger. It nosed its way right into Colby's lap and curled up there, looking up at Colby with a happy, smiling pant. The puppy jumped up and licked Colby's face, then dropped back to his lap and just sat there, wagging his tail and looking around.
Colby smiled, hugging the puppy close. It felt like the puppy had chosen him, like it wanted to stay right there in Colby's lap forever. And Colby wanted that one, too. If he could only pick one, this would be it.
He was just about to turn around to find Vic, then spotted Cam on the other side of the room. The ghost was laughing, rolling around on the floor with a small dog that kept darting forward and back and jumping all over Cam, its tail wagging like crazy. Cam looked so happy.
And none of the other dogs seemed to notice him.
Colby glanced down at the puppy in his lap, hugging it close even as he got ready to let it go.
VIC WALKED over and crouched at Colby's side. It looked like he'd taken a liking to one of the dogs in particular, so Roz ran off to grab a leash while Vic had a talk with the boy.
"Hey, kiddo."
Colby looked up at him with such happiness in his eyes, Vic thought his heart might burst.
"Who's this?" Vic asked, reaching out to the puppy in Colby's lap and scratching behind its ears. He trailed his hand down to the dog's collar and read the tag dangling from it. "Sharma, huh? He seems like a good boy. What do you think?"
Colby nodded, his eyes full of longing.
"Is this the one?" Vic asked. "Or do you want to think about it some more?"
Colby curled his arms around the puppy, then slowly let go and looked across the room, pointing. "That one."
Vic frowned. The other dog was playing on its own and had barely spared Colby any attention. "Are you sure?"
Colby nodded, a solemn, determined look on his face.
"Colby." Vic waited until he had the boy's attention, then asked, "Can you tell me why that one and not this one?"
"Because that one can see Cam," Colby told him, "and Cam really wants a puppy, too."
Vic blinked, that bittersweet feeling rushing through him again, his heart both breaking and bursting with joy all at once. He looked across the room, watching the lone dog. He couldn't see Cam, but the longer he looked, the more he could imagine his brother there, playing with it.
It was all he could do to stop himself from yanking Colby into a hug, not wanting to frighten or overwhelm the boy, yet desperate to show him how grateful he was.
Roz skipped back over. "Alright, Vic, we've got–"
"Hey, Roz?" Vic interrupted her. "We're gonna need two."
~~~
In loving memory of Aubbie (13 March 2001 to 13 July 2015). If you have a fur-baby of your own, give it a hug and a kiss for me. Maybe take it for a walk or spend a few extra minutes in play. They're gone before you know it.
Treble and the Lost Boys series!
Ice On Fire (book 01)
Heavens Aground (book 02)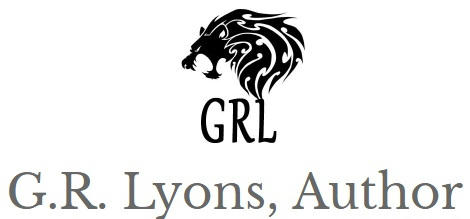 About G.R!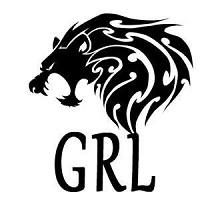 While daylighting as office manager for the family auto repair business, G.R. Lyons can often be found working on one of multiple manuscripts or desperately trying to keep up with the TBR pile.
Anarcho-capitalist, quietly 'out' trans guy, former belly dancer, coffee guzzler, highly-sensitive introvert, CrossFit enthusiast, and lover of m/m romantic fiction.
.
Facebook | Twitter | Goodreads | Pinterest | Amazon | Email: grlyons@grlyonsauthor.com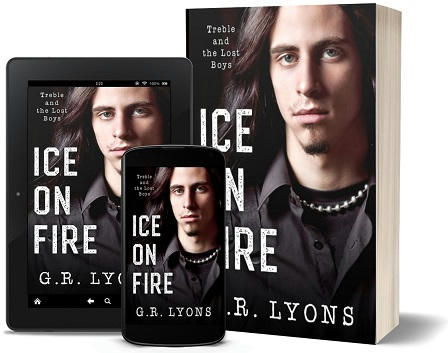 Giveaway!
Win an Ebook of Ice On Fire (Treble & The Lost Boys #1)!

Check out the other blogs on the tour!