Hi guys, we have Queer Sci Fi's Annual Flash Fiction Contest popping in today with the tour for their new release Anthology Impact, we have a brilliant guest post from J. Scott Coatsworth about writing Flash Fiction, some great snippets from a selection of the stories and a $25 Amazon GC giveaway, so check out the post, enjoy Scott's post and then enter the giveaway! ❤ ~Pixie~
Impact
(Queer Sci Fi's Annual Flash Fiction Contest 04)
by
Queer Sci Fi
IM * PACT
(noun)
1) One object colliding with another
2) An impinging of something upon something else
3) An influence or effect on something or someone
4) The force of a new idea, concept, technology or ideology
Four definitions to inspire writers around the world, and an unlimited number of possible stories to tell, but only 110 made the final cut.
A difficult choice to be made. An object hurtling recklessly through space. A new invention that will change the world. So many things can impact a life, a society, or a planet.
Impact features 300 word speculative fiction ficlets from across the queer spectrum from the minds of the writers of Queer Sci Fi.
Welcome to Impact.
Series Blurb:
It's hard to tell a story in just 300 words. Each year we ask writers to take the challenge, turning in stories across the queer spectrum. The rules are simple. Write a complete sci fi, fantasy, paranormal or horror story, include LGBTIQA characters, and do it all with just 300 carefully chosen words.
This book contains 110 stories of 300 words or less each.
So You Want to Write Flash Fiction – How to Nail It
by J. Scott Coatsworth
So we've been doing these flash fiction contests on Queer Sci Fi now for five years, and we've learned a few things about how to write a good flash story (and how to write a bad one). I thought I'd share a few tips about how to capture the judges' interest from some our previous winners.

1, Keep em guessing: "For me it's having a twist. Flash fiction is so short and to the point that I don't have time to draw out conflicts, so I try to put a "Lady and the Tiger"-style twist into it." —Cari Zee. Some of my favorite flash fiction stories are ones that have gut-punched me in the end—shocked me, or given me a pleasant surprise that made me smile or laugh outloud. If you can do that, your story will stand out.
2, Grab them by the short hairs: "You need to try to hook the reader instantly (bc limited space!) and then give them a payoff while still telling a complete story." —Jenn Burke. Start the story out with a bang. With any story, it's good to get the reader right into the action, but with flash fiction it's imperative. You don't have a few thousand words to lay out the situation. You have to be in, and then out.
3, Make it tight: "A short story usually has conflict, plot, setting (which includes worldbuilding and description), character development, and a theme. In a flash piece you don't have room for all of those at once — one or more may have to go, or at most be conveyed in one line. That's my real point — the story has to be dense with information." —Siri Paulson Every word counts, so make it tight, and move your reader along.
4, Connect with emotion: "I write more than one story with different takes on the theme but I usually try to pick one 'emotional goal' for each and put all the action around that. You don't have long to hook readers, so you want to make sure it's a very relatable scene. I find emotions are the best way to connect with readers." —Alicia Nordwell. She said it better than I could.
I hope you'll consider submitting next year—every year, we crown new winners, and many of them have written very little fiction before or are relatively unknown. These tips may help push you to the top. 🙂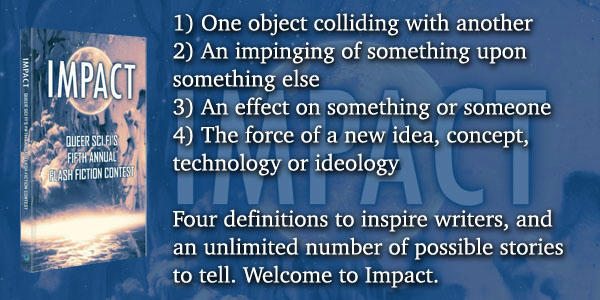 Excerpt Snippets!
"She'd needed new oil. She felt her joints grow stiff, her muscles grow tight, her follicles thickening. If she didn't get fresh quarts soon, people she passed would start calling her sir, asking, Where's your gun?" —Crossville Station, by Nathan Alling Long
"The mallet's impact on the hard, bright disk shattered the silence in the talking chamber. The resulting deep tone reverberated through the vault, through Saskia, as she fidgeted beside her lover." —Settled, by Aidee Ladnier
"This is how the world ends, or so they say. From where I'm standing, it simply looks like a rolling darkness as distant lights flicker and die." —Visitors, by LJ Phillips
"'What have you done?' The mechanical eyes came to rest on his face, the droning beep sounding loud in the small room." —Identity and Change, by Jo Tannah
"'Once upon a world, we were the same,' he said, lifting my hand to his lips; the ground shaking beneath us." —Impact, by Jack Ladd
"I been a tinker and soothsayer long enough to know this country's at the cusp of war. They stir up hate easy as breath. And, oh, it pains my soul to see it. " —Impact of Intervention, by Patricia Scott
"All lives begin with a messy impact of some kind. The crash of zygotes and gametes. Splats of silica gel between cybernetic synapses. Two women slam into each other carrying full cups of coffee." —Quintessence, by E.M. Hammill
"If I venture far enough into the house, I'll find my closet." —The Closet, by K.S. Trenten
"It touched Ligaya when she was a child. Or she touched it. A half-glimpsed shape under her bed." —Mas Mabuti An Answang, by Foster Bridget Cassidy
"Jam zipped down the neon track, feather-light in low gravity. She rocketed forward, a glowing haze in her starred helmet, and shot past the pack. "Space Jammer!" echoed as she neared the line. Time to rack up the points." —First Bout: Andromedolls Vs. Crotch Rockets, by Ginger Streusel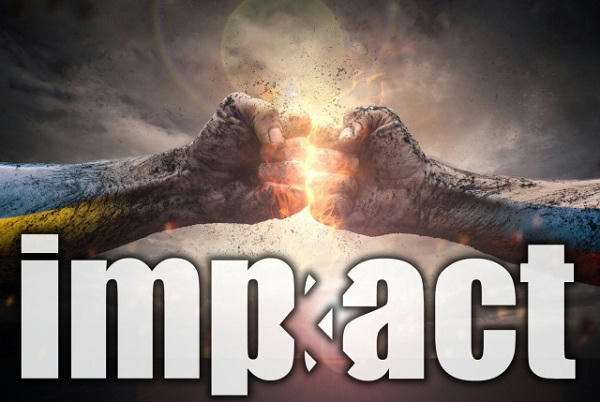 Author & Story list!
20-20 Hindsight – Rose Blackthorn
A Coven of Three – Daniel Linde-Zwirble
A Date With History – Jayne Lockwood
A Fair Trade – Enne Lily
A Little Bump – Ava Kelly
A Roll of the Dice – Katelyn Kivel
A Terrible Beauty Is Born – Rory Ni Coileain
A Test of Loyalties – Louise M. Kiner
All About Eve – Clare London
Amends – Isa Prospero
"Anything is Possible" Day – Jean-Paul Whitehall
Apparition Adventure – Jana Denardo
At Cliff's Edge – Mindy Leana Shuman
Athena – Victoria Zelvin
Awaken=[ME] – Robert A. Morrison
Changeling – Pelaam
Civil War – Kevin Klehr
Clickbait – Dave Ring
Come to You – Jillian Bost
Counter Strike – Joshua Ian
Cradled in Space – Tia Liet
Crater Lake – Kora Knight
Crossville Station – Nathan Alling Long
Cyborg Hearts Don't Break – M. X. Kelly
Day One – KC Faelan
Deadline – Ilona Fenton & Ayla O'Donovan
Death's Kiss – Kethric Wilcox
Disappear – April Kelley
Dream a Little Dream – Morticia Knight
Earth to Earth – J. P. Egry
Eye of the Beholder – Lloyd A. Meeker
Fangs & Floss – Eytan Bernstein
Final Impression – Elizabeth Kilcoyne
First Bout: Andromedolls vs. Crotch Rockets – Ginger Streusel
Godfather of the Brides – Trip Galey
Golden Fleece – Naomi Tajedler
Grand Aspirations – Riza Curtis
Half Light – Wendy Rathbone
How Humanity Survived A Fisting From The Titans – LE Franks
I, Enlil – Harry F. Rey
I.M.P.A.C.T. (Interplanetary Military Police Alien Control Team) – LM Somerton
Identity and Change – Jo Tannah
If You Fall Off, Don't Let Go – Belinda McBride
Imp Act – Kim Fielding
Impact – Jack Ladd
Impact of Intervention – Patricia Scott
In Five… Four… Three… – Jude Dunn
Indestructible – Amir Lane
Jealousy – Dianne Hartsock
LA, Circa 1980 – Colton Aalto
Legacy – L.V. Lloyd
Line of Fire – Steve Fuson
Little Head, Big head, Big head – Rob Rosen
Long Live the Tyrant King – Olivia Helling
Love and Sacrifice – Bryony Kayn
Love Tap – Dale Corvino
Low Tech Impact – Tray Ellis
Mas Mabuti Ang Aswang – Foster Bridget Cassidy
Maybe So – Hildie S. Block
Misfortune – A.M. Leibowitz
Moment of Awareness – Cynthia Kimball
Momentary Impact – Brett Steven McKenzie
Moon Shadow – RL Mosswood
Mourning – Nevi Star and Dani Hermit
Moutoa – Anne Barwell
Move – Liz Tetu
No Good Deed Goes Unpunished – Siobhan Muir
Not Really a Choice – Faith Gibson
Oh Muddy Day – Cam Kennedy
Quiet – Andrea Speed
Quintessence – E.M. Hamill
Railgun Impact – R.R. Angell
Remember – Lucy Marker
Renovations – MD Grimm
Ripples and Regret – Hannah Henry
Rivalry – Laure Nepenthes
Secret Identity – Rob Colton
Settled – Aidee Ladnier
Shatter – Lou Sylvre
Sickle in the Sky – Rin Sparrow
Signing Off – Rodney Ross
Stranded at the Mouth of the Time-Tunnel, Gilchrist Loses a Lucky Penny – Carey Ford Compton
Taking Her Place – Sally Bend
Tap-Tap-Tap – R.L. Merrill
The Bargain – Sara L. Uckelman
The Closet – K.S. Trenten
The Dead – Andrea Lambert
The Earth Looks After Her Own – Evelyn Benvie
The Festival of the Arrival – C. M. Taylor
The Heat of the Dragon – Riley S. Keene
The I in Consent – Albert Stewart
The Last Goodbye – E.W. Murks
The Moment Of – Monique Cuillerier
The Sacred Shadow – Kellie Doherty
The Soul Star – Matt Doyle
The Stars Are Knocking – Alicia Cole
The Tiger's Tooth – E R Zhang
The Touch of G – Eloreen Moon
Thirteen Nails – Bradley Robert Parks
Three Grains of Sand – G. Halasz
Thunk – Karen Thrower
Together, Again – Steve Carr
Two Hearts – J.R. Frontera
Unparalleled – Christine Wright
Visitors – LJ Phillips
Waiting for Michael – Sadie Rose Bermingham
Welcome – Blaine D. Arden
Whither Ararat – Andi Deacon
Wind Tossed – Ashby Danvers
You Can't Rush the Kimchi – Brenda Noiseux
Queer Sci Fi!
At Queer Sci Fi, we're building a community of sci fi, fantasy, paranormal and horror writers and readers who want a little rainbow in their speculative fiction. We run a great discussion group on Facebook, a twitter feed, and have a website full of useful materials, news, and announcements for readers and writers of queer speculative fiction.
Website | Facebook Discussion Group | Facebook | Twitter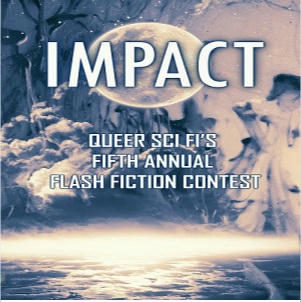 Giveaway!
Win a $25 Amazon GC!