Hi guys! We have Keira Andrews popping in today with her new release In Case Of Emergency, we have a great excerpt and a brilliant giveaway, so check out the post and enter the giveaway! <3 ~Pixie~
In Case Of Emergency
by
Keira Andrews
Former stepbrothers find Christmas romance under the tree.
After years alone, Daniel Diaz is finally ready to shake up his orderly, solitary life. He's about to leave for a cozy Christmas getaway with his new man when he gets the call from the ER that his former stepbrother has been admitted with a concussion and a broken hand—and Cole put him down as his emergency contact. Why the hell would he do that? Daniel barely knows the guy. After all, their parents' marriage lasted less than a year and it was a decade ago!
But Cole has no one else to look after him and strict doctor's orders not to be left alone. So fine, Daniel will bring him along on vacation to make sure he doesn't starve or fall into a coma. This is supposed to be Daniel's chance to explore romance again after locking down his feelings for too long—except it turns out his could-be boyfriend is more interested in partying and being an obnoxious jerk. Daniel sends him packing, and now he's stuck with a virtual stranger in an isolated mountain cabin.
Cole Smith crushed hard on cranky Daniel when they were teenagers. Alone with him in a romantic winter wonderland, those feelings roar back to life. Glimpsing the caring, vulnerable man under Daniel's frosty shell, he yearns to get closer. Christmas is a time for surprises, and Daniel and Cole discover a scorching connection that just might melt their hearts.
This fluffy gay Christmas romance from Keira Andrews features former stepbrothers reconnecting as adults, sexy hot-tub shenanigans, cuddling by the fire, and of course a happy ending.
Excerpt!
Daniel wasn't sure how many ways he could say it, but he tried again. "I don't know a Nicholas Smith."
The woman on the other end of the line somehow persisted. "But this is Daniel Diaz?" She rattled off his number.
Daniel took the cell phone from his ear for a moment to glance at the screen. It definitely said Carleton University. Was this some student prank? Did people even make crank calls anymore? He said, "Yes, that's the correct number, but there's been some mistake."
"But you are Daniel Diaz, aren't you?"
He sighed. "Yes, but as I said, I don't know a Nicholas Smith." Ugh, he just wanted to get home so he could pack and get back on the road. He was actually taking an honest-to-God vacation. With his new, maybe-could-be boyfriend. Which might be a complete disaster. Stomach tightening, he pushed away the unease as the woman spoke again.
"I'm so sorry to bother you, but he's one of our students. He's had an accident. Your name and number are listed as his emergency contact."
"I don't know what to tell you. I have no clue who this guy is." He switched his wipers to the next setting, the rubber squeaking a little faster as it cleared the wet snow on the windshield.
Traffic crawled along the slushy 417 toward Kanata, a sea of red lights in the December darkness. Normally Daniel came home after eight and missed rush hour. He usually would've ignored the call while driving, but at five kilometers an hour, he figured he was safe. He really needed to get Bluetooth set up, but most of his communication was by text anyway, even for work. These days the only person who called him was his mother—
"Shit," he muttered with a sinking sensation, gripping the steering wheel, the heated leather warm under his fingers.
"Uh, excuse me?"
"Sorry. It just hit me. Is this Cole Smith? Our parents were married for, like, five minutes. It was a million years ago, but a few months back my mom mentioned he was moving to Ottawa. Grad school, or something."
"Yes, Nicholas Smith is enrolled in our master's degree in environmental engineering."
"Why the hell would he put me down for his in-case-of-emergency person? We haven't talked in years." He did the math. "Ten years."
"Well, I'm not sure. But he's been taken to the hospital, and it's policy that we inform his emergency contact. That would apparently be you, Mr. Diaz."
The woman didn't sound that worried, so it couldn't be a big deal, but… "He's okay, right? It's not anything serious?" He barely remembered nerdy, knobby-kneed little Cole, but he didn't want anything bad to happen to the guy.
"All I know is that there was an accident, Nicholas was injured, and an ambulance was called. But, no, I don't believe it's a life or death situation. However, the campus is closing now for the next three weeks, and I imagine Nicholas's classmates are already gone. Yours is the only contact number we have."
 Shit, fuck, fuck. As the traffic came to a complete standstill, he closed his eyes for a moment and rubbed the bridge of his nose.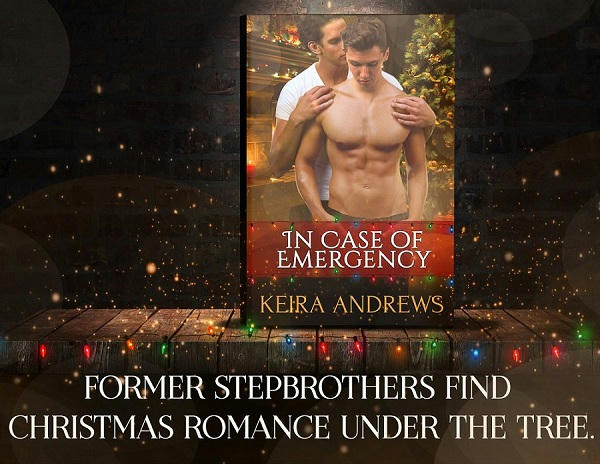 About Keira!
After writing for years yet never really finding the right inspiration, Keira discovered her voice in gay romance, which has become a passion. She writes contemporary, historical, fantasy, and paranormal fiction and — although she loves delicious angst along the way — Keira firmly believes in happy endings. For as Oscar Wilde once said:
"The good ended happily, and the bad unhappily. That is what fiction means."
Facebook | Twitter | Instagram | Bookbub
Giveaway!
Win a Backlist Ebook from Keira Andrews!