Hi guys! We have Ann Grech stopping by today with the tour for her new release In Safe Arms, we have a brilliant Q&A, a great excerpt and a fantastic $20 Amazon GC giveaway so check out the post and enter the giveaway! ❤️ ~Pixie~
In Safe Arms
by
Ann Grech
When a damaged man stumbles on a second chance, it's all too easy to turn and run. It takes a determined photographer to convince him risk is worth it all.
People deserve a second chance, right? How about a third or fourth?
But what if I can't even admit to myself who I am? I was truthful once before. I came out to one other person, and he left me broken and scarred. He destroyed the boy I was. I don't even use the same name anymore; I go by Trent now. But I survived the streets. I got lucky and I made something of myself. I'm happy, sort of.
It's Angelo who lights up my life. He's my world. My rock and my family. He's always there for me. But I keep hurting him. I say stupid things, and I always keep him at a distance. Still, he knows me better than anyone.
And I want him. But I can't let myself go there. Not again.
I've lived in denial for so long and it's killing me. In my weakest moments, I reach for Angelo and when he slips into my arms, I can breathe. He's my solace. Selflessly, he's there and he never expects anything in return. No judgment, not even an explanation. Having him in my arms is everything, and it's getting harder to push him away. I'm not sure I want to anymore.
He doesn't date, but he deserves to be loved. Cherished. Then he drops a bombshell—he's found The One. I wish he'd fallen for me. I need that second chance to tell him. I need to risk it all because in his arms, I'm safe. I'm me.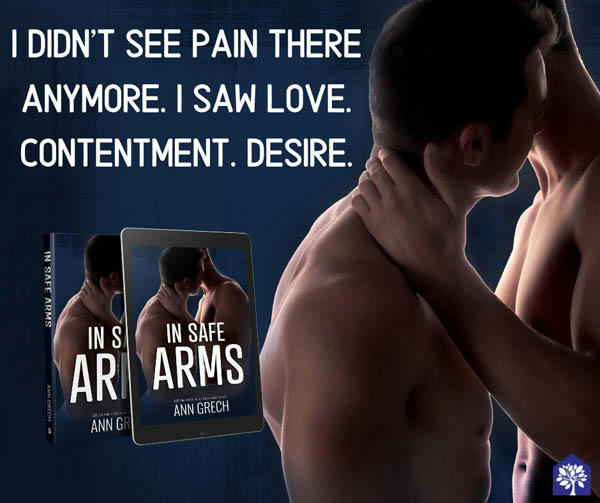 Ann Grech Interview!
A note from Ann Grech: In Safe Arms is my most recent novel. Ten in total, and my fifth inspired by a trip to Queenstown. This story means the world to me. It's more than words on the page. These boys truly have my heart. I fell for them the moment they started talking to me. Trent's brash and angry and hurting. Angelo is like a balm, healing him. Trent doesn't understand how strong he is. It takes Angelo to show him. Best friends through thick and thin, their story is one of redemption and healing. Of kindness overcoming darkness. Of love strengthening the strong of heart. 
Do you ever base your characters on real people? If so, what are the pitfalls you've run into doing so?
My characters are their own people, but I'd be lying if I said they don't represent some features I find inspiring or frustrating in other people. I never try to create a fictional version of a person because there's no way I could do them justice. Trent in In Safe Arms was inspired by a person I met at work. It's not his story, but he was my muse. I do name characters after people I know and villains are absolutely named after people like shitty ex-bosses, ex brother-in-laws.  
How long do you write each day?
I'm laughing and crying at the same time as I write the answer to this question. I wish I wrote every day. I write part-time rather than it being my main gig, so I have to juggle a full-time job which is much more than your average 9 to 5er, kids, the business of writing (which I fail spectacularly at) and adulting generally and sleeping within each 24 hour period. I wake up at the butt crack of dawn to do a couple of hours in the morning, then try to get the same in at night, but that covers everything to do with my writing 'business', so I may not get any words down for weeks at a time.
Do you reward yourself for writing, or punish yourself for failing to do so? How?
Like any writer I like to see the word count going up, but I do exactly what everyone tells you not to do—I review what I last wrote before continuing on, so I can't judge the number of words I add as an indication of how successful the session was. Last week I spent an hour working on a five-line paragraph, nailed it and felt really good about it, went back the next day and was horrified by the utter crap that I'd written. I scrapped it and started again. After my third attempt, I felt good about it. Don't tell my kids but I stole the last of the MnMs doing that!
Do you read your book reviews? How do you deal with bad or good ones?
I do. Every one of them, good or bad. I'm probably a masochist, but it's one of the ways I learn what my readers think. From the bad I try to take any constructive criticism given (after I pick my ego up from where it's rocking in the corner). I've got a fairly thick skin from my day jobs over the years, so I try to suck it up and get on with it. The story is the best I can make it by the time I reach the release date and at that point, unless I'm 100 per cent happy I don't hit publish. So, while I don't change anything on that story, I keep it in mind for the next one while balancing my need for artistic creativity and the story that my characters want to tell.
When writing In Safe Arms, I had the amazing ladies at Hot Tree Publishing on my side. They've been fantastic to work with and have given me so much great feedback and suggestions on the story that the end product is something I'm thrilled with. Here's hoping readers love Trent and Angelo as much as I do!
How long on average does it take you to write a book?
That depends entirely on the book. I wrote my 25,000 word novella, Dance With Me, in three weeks, but In Safe Arms took me about 10 months to get a completed first draft. It's my longest novel to date and I argued for what felt like months with Trent and Angelo about their story. When I finally gave in and let them tell it, the whole thing flowed like a dream. RL also gets in the way a lot too (so inconvenient when you have to cook and clean!), so getting the words down took longer than I would have liked, but I'm so proud of the finished product that I'm choosing to forgive the timeframe. *Boys, don't get any ideas for a comeback just yet, okay? Give me until the end of the year before you start interrupting my thoughts again!*
What do you do if you get a brilliant idea at a bad time?
What like in the middle of a class I'm running (my day job)? In that case, I paused, told my students to hang on a minute, scrawled down the notes and explained that I'd just had a lightbulb moment for a manuscript I was working on (what, it's not a total lie!). I was in the middle of teaching Sport Law when Caden's whole backstory came to me and it helped me finish writing Whitewash, which led into All He Needs. That wasn't the first or last time it's happened, so I always carry a notepad.
What are you working on now, and when can we expect it?
I'm writing about two really fun characters now, Pete McKenzie and Scottie Pearce. I haven't named the story yet, but it's very different to In Safe Arms. I'm enjoying stretching my wings while I'm writing it. The story is set in the Aussie outback. Scottie is a fifth-generation cattle station owner in western Queensland and is surrounded by strong, amazing women and an extended family of his station hands. Pete is a history nerd and an expert on the Australian myth that there's a reef of gold somewhere in the outback discovered in the early 20th Century, but unable to be relocated since. He believes he knows where the reef is and goes in search for it.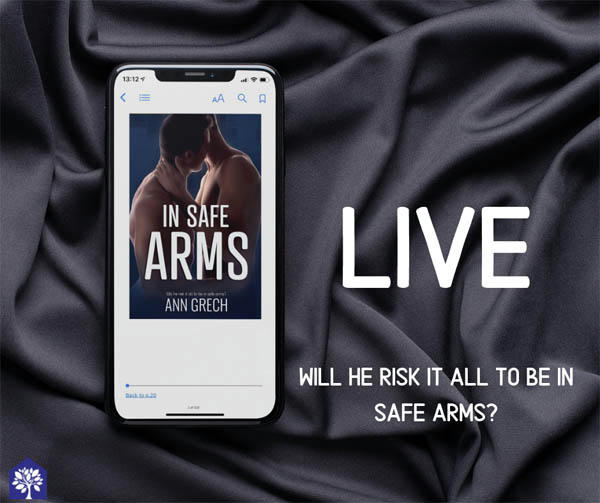 Excerpt!
"The cat you're minding?"
"Yep." He nodded. I bit my lip trying not to laugh. It wasn't funny. He was telling me about some shit that'd gone down that had upset him, but come on. How was I supposed to react? He'd used needing food for the cat he was sitting as an excuse to get out of a date. And the cat's name was Dodge? You couldn't make that shit up. I snorted, unsuccessfully trying to stifle my laugh, and wiped my eyes, tears welling from the effort. Trent paused and looked at me, confused, and I couldn't hold it in any longer. I laughed and shook my head, holding my hand up to him.
"I'm sorry, I don't mean to laugh at you, but seriously?" I sucked in a breath, my side hurting because I was laughing so hard. "Cat food? For Dodge?" Trent's lips twitched, and I could see him fighting the smile. I looked at him again and laughed once more, nudging him with my shoulder. "You didn't even realize how it sounded until now, did you?" When he shook his head and finally let that smile loose, I sucked in a breath, happy for a whole other reason. It was his story and he'd told it, but he was smiling and I couldn't help but take a little pride in that.
"Fuck me. She looked so damn horrified when I said that, but all I could think about was getting out of there." He chuckled and ran his fingers through his hair. "I'm such a dumb ass."
"Nah, you just didn't think." I nudged his shoulder playfully, letting him know that it wasn't all bad. "At least tell me you got the food."
He nodded and sobered up. "I couldn't wait to get out of there, but I didn't want to go home either. Figured you would have been busy, so I stopped by the sports bar. Watched a footy match. Haven't done that by myself in years, and I hated every minute of it. Suppose I had too many drinks."
My heart clenched, and I wanted to reach out to him. Instead I leaned closer, my side pressed against his, and asked, "You didn't drive home, did you?" I wasn't sure whether I was begging him or scolding him for being so damn stupid. If he'd been drinking and driving not only could it be the end of his career, but more importantly, he could have killed someone. And it was all because he didn't call me.
"Nah, I walked it. The night air sobered me up pretty fast."
Thank God. I let out the breath I was holding, relief winning my emotional tug-of-war.
"So what happened yesterday and today? You just kept drinking?" It was none of my business, I knew that, but I didn't care. I needed to know.
"Something like that," he muttered. This was him shutting down. A noncommittal answer followed by either a subject change or him going quiet, but I couldn't do it. I needed him to be able to talk to me.
"Look, I'm not going to push you, but maybe it'll help if you spoke about whatever is bothering you. I'm here. I'll listen, and I'll do my best to help, but I can't unless you talk to me. If not me, then pick someone else. I'm worried about you."
"Some bad shit happened when I was younger. This time of year always drags it back up, but I'll get through it." He paused and added, "This—walking and being outside, spending time with you—it's helping. You're helping."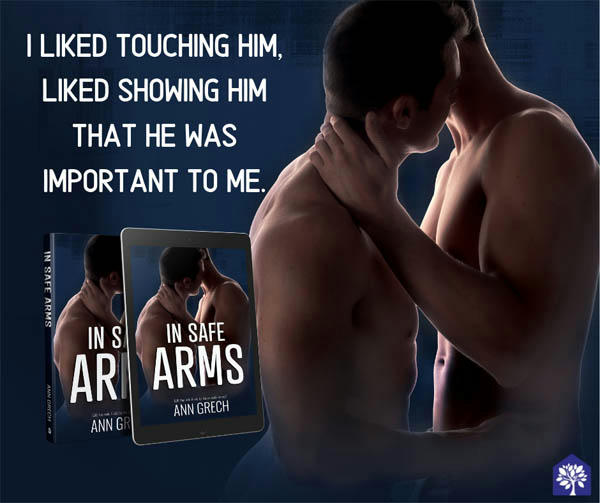 About Ann!
By day Ann Grech lives in the corporate world and can be found sitting behind a desk typing away at reports and papers or lecturing to a room full of students. She graduated with a PhD in 2016 and is now an over-qualified nerd. Glasses, briefcase, high heels and a pencil skirt, she's got the librarian look nailed too. If only they knew! She swears like a sailor, so that's got to be a hint. The other one was "the look" from her tattoo artist when she told him that she wanted her kids' initials "B" and "J" tattooed on her foot. It took a second to register that it might be a bad idea.
She's never entirely fit in and loves escaping into a book—whether it's reading or writing one. But she's found her tribe now and loves her M/M book world family. She dislikes cooking, but loves eating, can't figure out technology, but is addicted to it, and her guilty pleasure is Byron Bay Cookies. Oh, and shoes. And lingerie. And maybe handbags too. Well, if we're being honest, we'd probably have to add her library too given the state of her credit card every month. What can she say? She's a bookworm at heart.
Website | Facebook | FB Page | Twitter | Goodreads | QueeRomance Ink | Amazon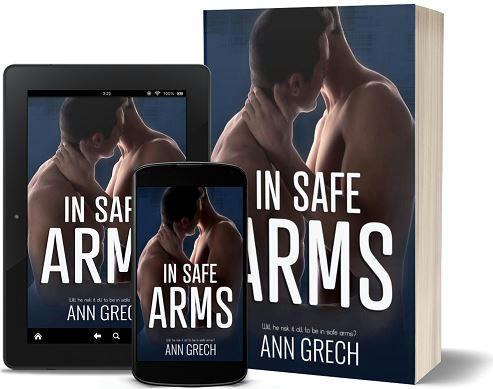 Giveaway!
Win a $20 Amazon GC!