Hi guys, we have debut author Reece Pine popping in today with her upcoming release In Your Court, we have a brilliant guest post and a great excerpt so check out the post and enjoy! <3 ~Pixie~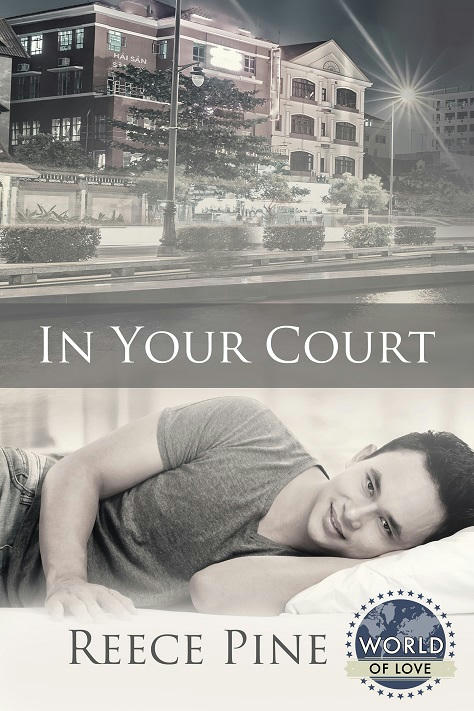 In Your Court
(World of Love 04: Vietnam)
by
Reece Pine
With a shot at happiness in sight, it's no time to drop the ball.
A back condition ruined Ray's basketball ambitions, but he wants one last opportunity to play before hanging up his sneakers. While volunteering as a coach at a special needs school in Ho Chi Minh, Vietnam, he meets Singaporean Xin, who works matching wealthy corporations with compatible charities. Xin helps the American navigate the local customs in order to see the smile Xin fell for at first sight, but Ray makes sure no one sees how hard it is for him to keep upright, let alone keep enjoying Vietnam and playing the sport he loves.
When Ray's back pain becomes too great to hide, Xin accommodates him in Ho Chi Minh and in Singapore—and in bed. Ray wants to imagine a future for them but fears he's damaged goods, and Xin's obligations in Asia aren't easily forgotten. Ray won't be another charity of Xin's, especially when Xin also needs someone by his side. Their romance will be cut as short as Ray's basketball dreams unless he can close the Pacific-sized distance between them.
World of Love: Stories of romance that span every corner of the globe.
Release date: 18th January 2017

Reece Pine!
Hi, and thanks for letting me talk about my new release, In Your Court! Dreamspinner's World of Love series showcases romances in many different countries, and I was super happy to be able to spotlight Vietnam's Ho Chi Minh City as a beautiful, humid backdrop to two dudes falling in love.
I like romances where people discover it's their flaws that suit one another, and end up accepting that their 'flaws' are actually their strengths (er, or at least their charms) just as their partner does. So volunteer English teacher and basketball coach Ray's not a typical hero or anti-hero – he's not self-assured when facing or steering clear of action, and as much as he wants to swagger, he physically can't. That's sure not his problem, though – his fault lies in secrecy. He has chronic pain which is invisible enough that he can deny its existence to others, but only in the short term. Deep down he wants to (and should!) speak openly but can't manage it, mirroring his inability to fully grasp Vietnamese customs and its language while staying in Ho Chi Minh.
Enter self-proclaimed middleman Singaporean-Australian Xin, who's got a need to please and is immediately interested in tapping Ray's joy for life (and what else is on offer) but is very not okay with his keeping harmful secrets. In other words, just what the doctor ordered.
To me, discussing disabilities is part of embracing diversity, and Ray's experience with spinal degeneration lends him an interesting perspective on life and travelling. Some of his actions definitely earn the warning 'Don't do this at home', but I give him points for trying his hardest to be happy! 
In this excerpt, the pain in Ray's back is approaching his limit, and so is he regarding Xin, who's carted him back to their shared accommodation after a drunken dinner with their host school's staff.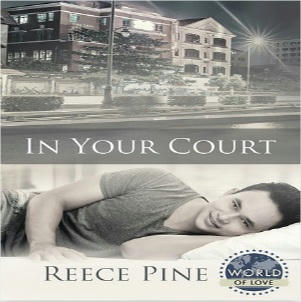 Excerpt
My body doesn't give a shit if this is a terrible idea or whether Xin's in the mood. It's screaming out for more, and burying my face in Xin's sheet, infused with his scent, is both sobering and intoxicating. I shouldn't do this. It isn't right. But I'm on holiday. Right now I'm even anesthetized by booze.
So is my common sense, but not my mouth. "Aren't I fucking cute? You said I was fucking cute."
"You're fucking drunk."
"Am not." My tolerance for alcohol is… well…. I don't know if I'd call it good or bad, because I didn't ask for it and I don't like it, but it's pretty high, thanks to my weaning on and off far more powerful relaxants the past couple of years. I'm tipsy. I close my eyes and think hard. I've heard enough games of HORSE the past few days to be able to recite the entire Vietnamese alphabet. I think. That'll show him. I hope. "A, E, Oh, Ba, Say, Ya, Day."
Xin assails my hair with chaste rubs to the rhythm of my spoken letters, carefully untwisting my elastic tie and brushing his nails through my tangles until I almost believe he's honestly being kind, not sadistically teasing me. I make it through the whole twenty-nine letters in order. Holy shit, I can't believe I made it. We both sigh with relief.
"I'm honestly not that drunk. I'm fine." I bunch his sheets by my nose and try not to be too obvious about taking a drag of his scent.
"You are fine." He sighs. "I know you are, sunshine."
Someone else—a TESOL teaching student or special needs teacher or real coach should be here, not me. Someone who would be better for the kids, useful, not selfishly hung up on basketball, someone who could show off the US in a good light. Someone who could dote on Xin like he deserves.
"I'm sorry I'm moody."
"Ray, you're cute, cool, unfairly fucking hot, and killing me. Are you homesick?"
Maybe. For who I was. But who I was wouldn't be here. Shrugging pings off a fiery arrow down my spine, and I close my eyes to hide a wince.
Xin's  warm  hand  trails  down  my  goose-bumped  back  and  settles, curving into the small of my back, causing my breath to hitch on a long sigh. Holy fuck, that pressure right there is everything I want in the universe reduced to fifteen square inches. My fists twist into vises pinning the sheets to my mouth, muffling my plea, "Stay like that for a second."
He doesn't. Shoes hit the floor with dual clunks. He slides to lie against the length of my stiff back, pressing his body to mine instead. The hot, hard length that fits into my back where his hand was makes me shiver from scalp to toes. "Fuuuuuuck me." My eyes fly open as I hear what I've said. "No, don't—"
"Shh, it's okay." His words soothingly scald my nape, followed by soft pressure I realize is his lips only when gentle, wet nips ensue, pulling apart the seams of my spine. My long sigh almost drowns out his soft, "Anything you want, Ray. Nothing you don't."
"You don't have to."
"May I, moron?" he growls.

About Reece
Reece is an own-voices writer of queer romance. In addition to upcoming publications with Dreamspinner Press and Less Than Three Press, she plans to release several further works in 2017, including novellas and novels featuring characters identifying with various genders and orientations.
Currently based in Australia, Reece has lived in the UK, Vietnam, and Japan. She very happily translates bits and bobs from Japanese to English, and enjoys digitally painting photorealistic portraits whenever she's not obsessively writing romance (with which her black and white cat kindly assists).
Social media links:
Website | Twitter | Tumblr