Hi peeps! We have Jenny Holiday stopping by today with her new release Infamous, we have a great excerpt and a brilliant giveaway where you could win a $20 Amazon gift card, so guys check out the post and leave a comment to enter the giveaway! <3 ~Pixie~
Infamous
by
Jenny Holiday
All that up-and-coming musician Jesse Jamison has ever wanted is to be on the cover of Rolling Stone. When a gossip website nearly catches him kissing someone who isn't his famous girlfriend—and also isn't a girl—he considers the near miss a wake-up call. There's a lot riding on his image as the super-straight rocker, and if he wants to realize his dreams, he'll need to toe the line. Luckily, he's into women too. Problem solved.
After a decade pretending to be his ex's roommate, pediatrician Hunter Wyatt is done hiding. He might not know how to date in the Grindr world, how to make friends in a strange city, or whether his new job in Toronto is a mistake. But he does know that no one is worth the closet. Not even the world's sexiest rock star.
As Jesse's charity work at Hunter's hospital brings the two closer together, a bromance develops. Soon, Hunter is all Jesse can think about. But when it comes down to a choice between Hunter and his career, he's not sure he's brave enough to follow his heart.
Excerpt!
Hello! I'm Jenny and I'm happy to be here to celebrate the release of Infamous. Infamous is book two in the Famous series, which mixes m/f and m/m romance. (And mixes famous musicians and regular people!) In Infamous, Jesse, our resident bad-boy rock star has to decide if he's willing to risk his career to be with Hunter, a doctor he's rapidly falling for. I hope you enjoy it!
****
This was the part where the rock star would freak out.
Which was fine, because Hunter's dog was dead, his sickest patient was going to keep getting sicker, and his ex, Julian, was still a closet-case bent on sucking all the life out of Hunter.
So a little straight-boy panic induced by accidental proximity to a homo was nothing.
He wasn't into pretending to be anything he wasn't—not anymore, anyway—so the testosterone-oozing musician in the next seat could just feel free to panic.
And he was panicking.
But apparently not over the fact that Hunter liked dick.
"Holy shit."
His phone had chimed, and he'd picked it up and was scrolling through what looked like an article illustrated with pictures. Whatever it was, it wasn't good news.
'Twas the season, apparently.
"Holy shit," Jesse said again, closing his eyes and letting his chin fall to his chest.
"What's the matter?" Hunter asked, because it seemed rude to check out now.
Jesse opened his eyes and blew out a long, slow breath. "Well, it's nowhere near as bad as your news. That's a good perspective to remember."
"Less-bad bad news. That sounds delightful right about now. Hit me."
He didn't answer, but he handed over his phone.
It was an article on a website called GossipTO, headlined Jesse Jamison making out with mysterious blond—and she isn't Kylie Cameron.
He read on. Apparently his seatmate was notorious for his stereotypical rock star ways. Before his current girlfriend—this Kylie person—Jesse had enjoyed the groupie lifestyle, if this site was to be believed. Everyone had been shocked when he'd gotten together with Kylie, the story reported. There was also something in there about a trashed hotel room incident.
"I thought you said you weren't a rock star," Hunter said.
"I'm not. Not really."
Hunter chuckled and read part of the article out loud. "'We all know Jesse likes his sex, drugs, and rock and roll, but'—"
Jesse cut him off. "I mean, I have a band. We're doing pretty well in Canada. No one knows our name in the States. Yet. This"—he gestured toward the phone—"is a sensationalistic, B-list Canadian gossip website. But damn, they're out to get me. I can't do anything without them all over my ass. So I enjoy having a little fun from time to time. It's not like I'm breaking any laws." He quirked a grin. "Mostly."
"So they got you making out with this woman who isn't your girlfriend?"
"Yep."
"And your girlfriend is also some kind of celebrity?"
"She's a model."
Hunter couldn't really see anything about the person Jesse was kissing in the blurry shot. Jesse had his back to the camera, and his companion was leaning against a brick wall. She was as tall as Jesse, and models were tall, right? All that was visible of the kiss-ee was shoulder-length, dirty-blond, almost-messy hair—which also seemed kind of model-esque, in that way that models sometimes seemed to strive to look bad in the name of fashion. "So there's no way this could be her?"
"You don't know Kylie Cameron?" Jesse asked.
Hunter searched his mind. "I don't think so?"
"She's Asian. She has long black hair."
"Ah," Hunter said. "I guess you're busted."
"Yeah, and in addition to that not being her, Kylie is like, Canada's sweetheart. She was on Degrassi as a kid—before she moved into modeling."
"I'm kind of out of the pop culture loop," said Hunter, though of course he did know the iconic TV show. Everyone who grew up in Canada knew Degrassi. Hell, Drake had been on Degrassi.
"Yeah, well, everyone loves her. Now I'm the asshole who publicly broke Kylie Cameron's heart."
Hunter squinted at the phone again. If the Kinsey scale was a reliable measure—as a medical doctor, he had his doubts—Hunter was a solid six. Unambiguously gay. And usually he was ruthlessly adept at not developing crushes on straight guys. (Gay guys who pretended to be straight in certain circumstances were another question. Unfortunately.) So the image of Jesse Jamison kissing Ms. Anonymous should have had no effect on him. He should have been immune.
But damn, there was something about that picture. The way Jesse was crowding his not-girlfriend up against the wall. The way he was framing her face with his hands. That was why only her hair was visible—Jesse's hands were clamped possessively on her face.
And if Jesse had this much to lose by being spotted, the fact that this kiss had gone down in public must have meant they'd both been pretty carried away. Hunter shifted in his seat.
"What's her name?" He handed the phone back with an odd reluctance.
"My girlfriend? You mean her real name? It's Kylie—she never used a stage name. And I should probably start calling her my ex-girlfriend. 'Cause she is not going to stand for this shit."
"No." Hunter gestured to the phone. "What's the other woman's name?"
Jesse paused before answering. "It doesn't really matter."
"You don't know it!" Damn, this guy was a rock star, or at least well on his way to becoming one. Hunter cracked up; he couldn't help it. Jesse certainly looked the part. Choppy dark, messy hair hung around his face. His forearms—he wore a ratty flannel shirt with the sleeves rolled up—were covered with tattoos. He had that kind of sexy-sleazy look.
That was not a look Hunter went for.
Historically.
He liked a more polished look.
Usually.
"Haven't you ever made out with someone whose name you didn't catch?" Jesse asked.
"Not for a really long time." Not since before he'd met Julian. And even before Julian, Hunter had been a serial monogamist. He could count on one hand the number of casual hookups in his past.
Maybe that was what the move to Toronto had been missing so far—some casual sex to break him out of his slump. The prospect was kind of terrifying.
"Well, you should try it," Jesse declared. "Quickest way to get over your loser ex."
"Why do you assume my ex was the loser? Maybe I was the loser."
"Nah."
Hunter wanted to ask how Jesse could possibly know this, but he didn't want to make it seem like he was fishing for compliments.
Jesse's phone buzzed. He picked it up again. "And there it is."
"What?"
Jessie scrolled for a moment, then said, "The breakup text." He sighed resignedly.
"Really?" Hunter was taken aback by the idea of breaking up with someone via text, but he supposed that was part of the jet-set, rock star life his seatmate lived. "Jesus, I'm sorry."
Jesse shrugged. "It's okay. Saves me having to do it. The writing was already on the wall."
"The writing on the wall being something other than you making out with someone else against the wall? It seems like your whole problem here is the wall."
All he got in response was a chuckle.
Clearly, Jesse was not the type to invest his heart and soul and the better part of a decade into a relationship.
Hunter should learn from Jesse.
He was downloading Grindr as soon as he got home.
"The more important question is whether my manager is going to dump me over this."
"You're more concerned about getting dumped by your manager than your girlfriend?" Hunter asked, though he wasn't sure why—the answer was clear.
"I have a bit of a work-life balance problem?" Jesse shrugged. "And also a manager who basically has me on probation."
"Wow." Who was this guy? Hunter had never seen anyone so . . . unapologetic.
"What are you drinking?" Jesse asked.
"What?" Oh, the service cart was making its way down the aisle.
"I'm guessing whiskey isn't your preferred poison."
When Hunter didn't answer right away, Jesse dropped his magazines into the seat pocket in front of him and said, "Fuck career-ruining photographs." Then he did the same with his phone, holding it between one finger and a thumb like it was contaminated. "Fuck dying kids. Fuck everyone. We're single and free. We should toast that shit."
Read more at: https://riptidepublishing.com/titles/infamous (just click the excerpt tab)

About Jenny!
Jenny Holiday started writing in fourth grade, when her aging-hippie teacher, between Pete Seeger songs, gave the kids notebooks and told them to write stories. Jenny's featured poltergeist, alien invasions, or serial killers who managed to murder everyone except her and her mom. She showed early promise as a romance writer, though, because nearly every story had a happy ending: fictional Jenny woke up to find that the story had been a dream, and that her best friend, father, and sister had not, in fact, been axe-murdered. Today she is a USA Today bestselling author of historical and contemporary romance. She lives in London, Ontario.
Connect with Jenny:
Giveaway!
To celebrate the release of Infamous, one lucky winner will receive a $20 Amazon gift card!
(Just leave a comment with your contact info to enter the contest.)
Thanks for following the tour, and don't forget to leave your contact info!
(Entries close at midnight, Eastern time, on December 2, 2017. Contest is NOT restricted to U.S. entries.)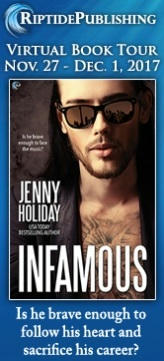 Check out the other blogs on the tour!