Hi guys, we have Sean Michael popping in today with their upcoming re-release Inheritance, we have a great guest post from Sean and a great excerpt, so check out the post and enjoy! <3 ~Pixie~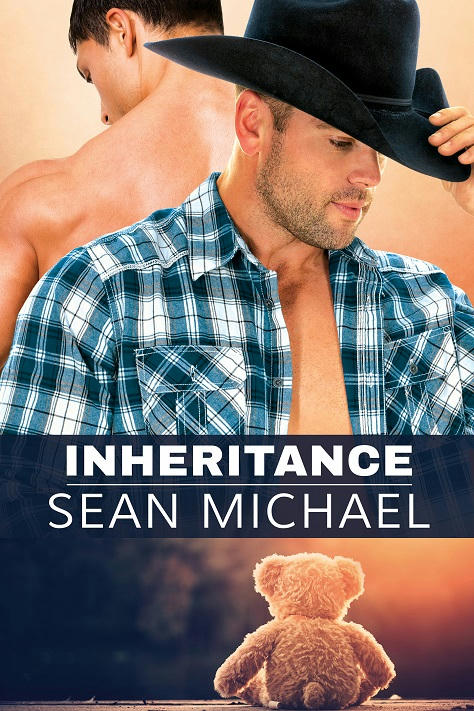 Inheritance
by
Sean Michael
Cash McCord's life is pretty much perfect. He owns the family ranch, loves his work, and invites the occasional cowboy into his bed. But everything is turned upside down when his brother Jack and Jack's wife Val are killed in a car crash, leaving behind six kids.
Cash is made guardian of the children, along with Val's brother, Brad Rafferty—a man who couldn't be more different from Cash if he tried. A Yankee, Brad is a video-game developer who works twelve-to-fourteen-hour days at his desk. They lock horns as soon as they set eyes on each other. Neither man is happy to have the other around, but neither is willing to give up custody of his nieces and nephews.
It's up to these two polar opposites to keep the kids together and give them a family again. But first they'll have to keep from killing each other.
First Edition published as Inheritance in Family Matters by Torquere Press, 2008.
Second Edition published by Torquere Press, 2013.
Release date: 1st February 2017

Sean Michael
Thank you to MM Good Book Reviews for having me today.
Opposites Attract
I guess it's one of the biggest tropes out there – opposites attract. It's a trope for a reason, though. Because so often it's how things work, in both real life and in fiction. And it's fun! All that getting to know you and all that friction potential.
The guys in Inheritance couldn't be more different. One's a cowboy from Texas, the other's a Yankee and under normal circumstances, they wouldn't touch each other with a ten foot pole. Actually, they wouldn't even be anywhere near the same places, so touching would be entirely out of the question, ten foot poles or not.
But they are brought together in Inheritance, under terrible circumstances and different as they might be, both men step right up and do the right thing. And along the way, they get to know each other, warts and all, and discover that maybe their differences aren't as important as the ways in which they fit together.
Sean Michael
smut fixes everything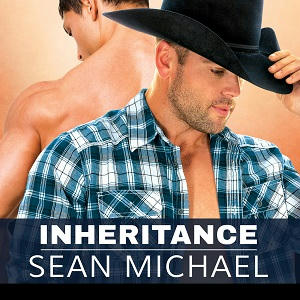 Excerpt
Prologue
Fuck, but Cash did love himself a nice, well-hung cowboy.
Cash let the little bronc rider shuffle him across the floor, humming along with the jukebox. There was a sweet, heavy prick rubbing and loving on his thigh, a smooth-shaven cheek on his chest, and shit, but it looked like he was fixin' to get lucky tonight. Real lucky. He'd seen that boy ride.
The lights went down, and Mr. Buckin' Bronc's hand slid down to squeeze his ass a little.
Oh hell yes.
He pushed back, jonesing on the smell of horse and hay and Old Spice and soap. They hadn't shared more than six or seven words, but then, they hadn't had to. They were talking just fine.
Least until his front pocket started vibrating.
Cash ignored it, kept rubbing and dancing. Then it went off again.
And again.
And again.
That pocket cowboy looked up at him, tilting his head. "Jealous boyfriend?"
"Not fucking likely."
"Wife?"
He snorted. "Right. Let me check this." He didn't recognize the number, but the area code was the same as his brother and sister-in-law's.
He flipped the phone open. "I swear to God, Jackie. This best be good."
"Mr. McCord?"
Well, that wasn't Jack. "Yeah. Who the hell is this?"
"This is Frank Boucher from the Bangor Police Department. I'm afraid I have…."
Cash sorta stopped actively listening after that, just turned and headed for the door, for his truck. For his house. For his suitcase.
It wasn't until he was back on the road, heading for Austin-Bergstrom, that it really hit him.
Jack and Val. Dead.
Both of them.
Jesus Christ.
Cash's fingers tightened on the wheel.
Jesus Christ.
About Sean
Best-selling author Sean Michael is a maple leaf–loving Canadian who spends hours hiding out in used book stores. With far more ideas than time, Sean keeps several documents open at all times. From romance to fantasy, paranormal and sci-fi, Sean is limited only by the need for sleep—and the periodic Beaver Tail.
Sean fantasizes about one day retiring on a secluded island populated entirely by horseshoe crabs after inventing a brain-to-computer dictation system. Until then, Sean will continue to write the old-fashioned way.
Where to find the author:
Facebook | Facebook Author Page | Twitter | Blog