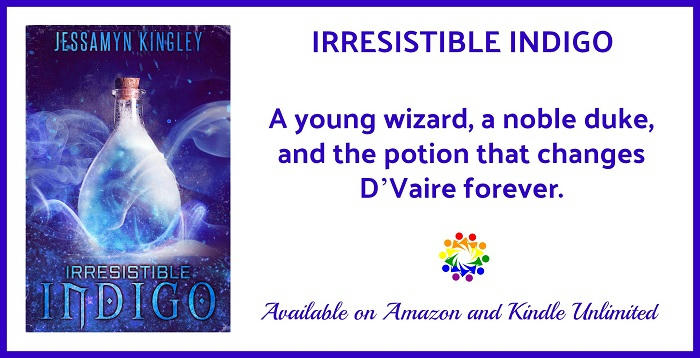 Hi guys! We have Jessamyn Kingley stopping by today with her new D'Vaire release Irresistible Indigo, we have a great excerpt and a fantastic giveaway so check out the post and enter the giveaway! ❤ ~Pixie~
Irresistible Indigo
by
Jessamyn Kingley
A young wizard, a noble duke, and the potion that changes D'Vaire forever.

Since arriving at the Draconis Court of D'Vaire at the age of sixteen, Idris has done everything he can think of to make his new family proud of him. After five years of challenging work, he is finally poised to reach the highest rank within the Spectra Wizardry. The only glaring thing missing is his mate. While he may be young, Idris wants to share his heart with his other half, so he asks Fate to send him a nice dragon who will be kind to him and his familiar. He does not want to be demanding but Idris knows without him he won't be complete.

Duke Macardle "Mac" Stenetdraconis's days are centered around his amazing grandparents who raised him. When his grandfather suggests he apply for a new duke position at Court D'Vaire, he is intrigued. It is a place that has opened its doors as a sanctuary and he's drawn to the idea of helping others. When he arrives, he finds himself with a small dragon familiar on his lap. Minutes later, the owner of that familiar saunters through the door and Mac's heart is instantly hooked on the irresistible wizard. Determined to make Idris his, the pair soon find themselves tested by life. Their love turns out to the anchor Mac cannot do without while Idris opens the door to a new future for his family.
.•.•.**❣️ Amazon US | Amazon UK  ❣️**.•.•.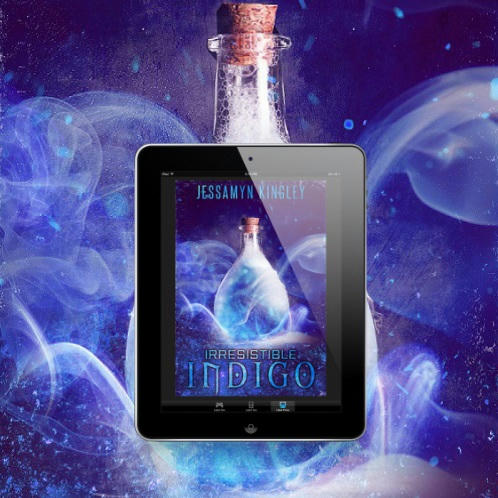 Excerpt!
"Does anyone have a ball or anything?" Mac asked.
Idris lifted a hand and within seconds, an indigo sphere appeared. He tossed it to Mac, who bounced it in Greggory's direction. When the familiar used his head to return it, Roger flew off his shoulder and landed on the floor, so he could play too. Two of the young men Mac was sworn to protect were sitting at a round table placed in the office designed for Delaney and Idris. The sorcerers were painstakingly going through the two boxes of warlock books and scrolls found in the Arch Lich's library. Dra'Kaedan insisted the two get first crack at everything since they were still seeking research ideas. Duff was presumably in his room working on his own studies.
It left Mac with barely anything to do. When Mac discovered how little he knew of sorcery, he went to Aleksander and explained his problem. He wasn't content to spend his days sitting around. If he was going to oversee the protection of two wizards, he needed to be able to assist them in some way. Aleksander agreed and called the Prism Wizard. Vadimas was receptive to the problem, and Mac was expecting his own box, full of basic magic books, to arrive soon. He might not be able to cast but he could learn, and he was determined to be an asset to Delaney and Idris. If they weren't trying to reach the pinnacle of their education and power, he would've asked them for help, but Mac wasn't going to get in their way.
In the meantime, Mac could be close to them and entertain the cute dragons who were taking to playing with the ball Idris provided with enthusiasm. He tossed it again and cringed as the two familiars crashed into each other and wiped out. "Sorry, guys," he offered. Growls were hurled in his direction, but they allowed him to help them off the floor and both waited patiently until he threw their toy again.
"I think I might've found something interesting," Idris announced.
"What is it, sweetheart?"
"It's written in archaic warlock. I need Dra'Kaedan to translate some of this. It's a language I'm still learning, but what I can read is really intriguing."
"Are you going to tell us why?" Delaney inquired.
"Not until I'm sure I am reading this right," Idris remarked as he stood. "I'm going to go find him."
"I'm coming too," Delaney said.
"We'll play ball later," Mac told his scaly friends. Roger soared up to his shoulder as soon as Mac was on his feet, and Greggory flew behind them all as they headed toward the office down the hall which housed the Coven of Warlocks. Inside they found Dra'Kaedan, his twin, and his familiar.
"Do you have a minute, Dra'Kaedan?" Idris asked with the scroll held protectively in his hand.
"For you guys, always. What's up?"
"I found something I can only read parts of. Can you translate the rest?"
Dra'Kaedan took it from Idris's hand. The small blond's eyes grew wide with shock as they moved down the parchment in his grasp. When he was finished, he handed it to his brother. Dre'Kariston's reaction was the same as his twin's; then it was passed to Renny.
"This can't be real," Renny declared when he was done. "I mean really. This can't be fucking real. How's this possible? Because if it is, my brain's going to explode."

D'Vaire series!
Dra'Kaedan's Coven (book 01)
Sentinel's Dagger (book 02)
Vengeance From the Dark (book 03) 
Resurrection Of The Fallen (book 04)
Rise of the Lich Sentinel (book 05)
Fall of the Arch Lich (book 06)
The First Sentinel (book 07)
Disregarding Fate (book 08)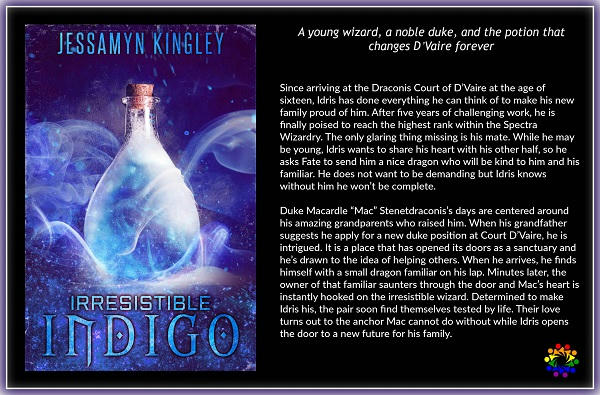 About Jessamyn!
Jessamyn Kingley lives in Nevada where she begs the men in her head to tell her their amazing stories which she dutifully writes it all down in what has become a small mountain of notebooks. She falls in love with each couple and swears whatever book she wrote last is her absolute favorite.
Jessamyn is married and working toward remembering to start the dishwasher without being distracted by the scent of the magical detergent. For personal enjoyment, she aids in cat rescue while slashing and gashing her way through mobs in various MMORPGs. Caffeine is her very best friend and is only cast aside briefly for the sin better known as BBQ potato chips.
Visit her website
Follow her on Facebook
She loves to engage with readers there.
Other Author Links
Twitter | Google+ | Pinterest | Tumblr
Giveaway!
Win one of five copies of any ebook (reader's choice) from the D'Vaire series (1 – 8)