Hi guys, we have Mia Kerick popping in today with the tour for It Could Happen, we have an exclusive excerpt and a fantastic giveaway, so check out the post and click that giveaway link! <3 ~Pixie~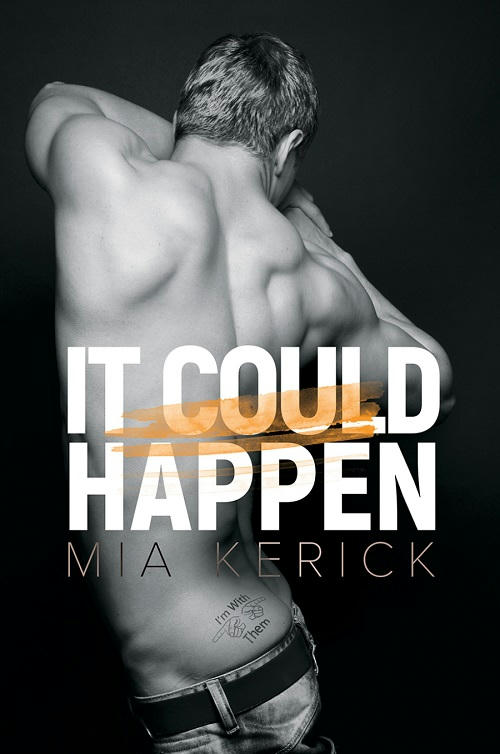 It Could Happen
Mia Kerick
Three misfits, mismatched in every way—Henry Perkins, Brody Decker, and Danny Denisco—have been friends throughout high school. Now in their senior year, the boys realize their relationship is changing, that they're falling in love. But they face opposition at every turn—from outside and from within themselves. Moving to the next level will take all the courage, understanding, and commitment they can muster. But it could happen.
Henry is a star athlete and the son of religious parents who have little concern for the future he wants. Brody is a quirky dreamer and adrenaline junkie, and Danny is an emo artist and the target of bullies. Despite their differences they've always had each other's backs, and with each of them facing a new and unique set of challenges, that support is more important than ever. Is it worth risking the friendship they all depend on for the physical and romantic relationship they all desire?
In this unconventional new adult romance, three gay teens brave societal backlash—as well as the chance that they might lose their treasured friendship—to embark on a committed polyamorous relationship.
Dreamspinner Press ebook / Dreamspinner Press paperback / Amazon / Barnes & Noble / Kobo / Goodreads
Exclusive Excerpt!
Henry: My life
Danny marches out the front door of his apartment building the second I step onto the snowy walkway. I turn around and follow him back to the minivan that I left running on the road. We get in, and Danny stares straight ahead.
"We've gotten about six inches already," I tell him. "And the wind is picking up."
"Thanks for the update, Mr. Weatherman. Now let's figure out where the hell Brody is."
My stomach does a somersault. I'm out of my league. Brody was always the one to guide us through the shit. "Well, first let's find a place I can park, and we can talk."
"Go to Cullfield Pizza. They always keep their lot plowed."
We drive there in silence. But what is there to say? The only thing we have in common is that we both want to find Brody.
Once I park I ask, "Do you think Brody would go to Branton Beach? He was really into it during that hurricane."
Danny turns in the passenger seat so he can look my way, but not at me. "Yeah, he could be there. He loves the wind."
"Remember he went to that hill on the night of the really bad lightning storm last summer?"
"Pierce Hill. That's another place he could be." Danny smiles, probably thinking about Brody. "He told me he almost got struck by lightning that night."
"He's reckless."
"He always has been. It's like he has a death wish or something." For the first time, we look each other straight in the eyes. It's been so long. We both shudder, and my eyes begin to burn and fill. 
"Don't you dare fuckin' cry, Perkins. This whole thing is your fault. If he dies today, it's all on you." 
Free Verse Poetry by Danny D
"The good stuff"
waking up between them
 touching without thinking 
laughing about nothing 
holding hands in public 
planning nights together 
believing it can happen 
trusting it won't end s

About Mia!
Mia Kerick is the mother of four exceptional children—all named after saints—and five nonpedigreed cats—all named after the next best thing to saints, Boston Red Sox players. Her husband of twenty years has been told by many that he has the patience of Job, but don't ask Mia about that, as it is a sensitive subject.
Mia focuses her stories on the emotional growth of troubled young men and their relationships, and she believes that sex has a place in a love story, but not until it is firmly established as a love story. As a teen, Mia filled spiral-bound notebooks with romantic tales of tortured heroes (most of whom happened to strongly resemble lead vocalists of 1980s big-hair bands) and stuffed them under her mattress for safekeeping. She is thankful to Dreamspinner Press for providing her with an alternate place to stash her stories.
Mia is proud of her involvement with the Human Rights Campaign and cheers for each and every victory made in the name of marital equality. Her only major regret: never having taken typing or computer class in school, destining her to a life consumed with two-fingered pecking and constant prayer to the Gods of Technology.
Website / Goodreads / Facebook / Twitter
GIVEAWAY!
Win a $25 Amazon gift card!
(Just click the link below)
(Ends 2nd August 2017)