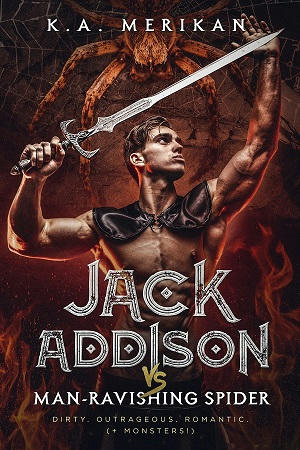 Title: Jack Addison vs. Man-Ravishing Spider
Series: Jack Addison vs. a Whole World of Hot Trouble 01
Author: K.A. Merikan
Genre: Horror-Comedy, Science Fiction, Romantic Erotica
Length: Short (36pgs)
Publisher: Acerbi & Villani Ltd. (November 3, 2018)
Heat Level: Moderate – Explicit
Heart Rating: 💖💖💖 3 Hearts
Blurb: "Please write down my name. Jack Addison."
Jack Addison. Son of a famous monster hunter. Grandson of a celebrated inventor. He has a lot to live up to, but his ego is as big as the expectations of his family. At just nineteen, he's fresh out of a prestigious academy, set to make a name for himself in a world where people need protection from strange and dangerous creatures.
During the annual hunt for the Loch Ness monster, Jack finds a rival in Roux Chat-Bonnes, a cat-like being who recently joined the same profession and is set to steal the bounty—and fame—from under Jack's nose.
Jack won't let that happen. He sets out on the hunt alone, but the creature that he finds in the cave near Loch Ness doesn't have tentacles. Instead, it's got hairy legs, eight black eyes and a taste for human flesh.
POSSIBLE SPOILERS:
Themes: living up to expectations, pride, dreams, self-discovery, tolerance, fame, monster hunting, inter-species relations
WARNING: This story contains morally ambiguous characters and scenes that might be considered taboo.
ISBN: B07JR6C4BC
Product Link: Amazon US | Amazon UK
Reviewer: Shorty
Review: Jack acted like he was better than others due to his last name which I did not like. He gets into a fight with another inventor who he despises due to the man being non human. When the call goes out that Nessie's been spotted he takes off and enters a cave only to be trapped by a huge arachnid.
Roux saves Jack in the end much to his embarrassment. I would have actually liked for some monster fighting on the page as opposed to off page as is the case in this story.
I would have preferred more story line to this short story than detailed sex scene between Jack and the spider which was non con due to the spider trapping Jack and injecting him with venom.
O.k. read.