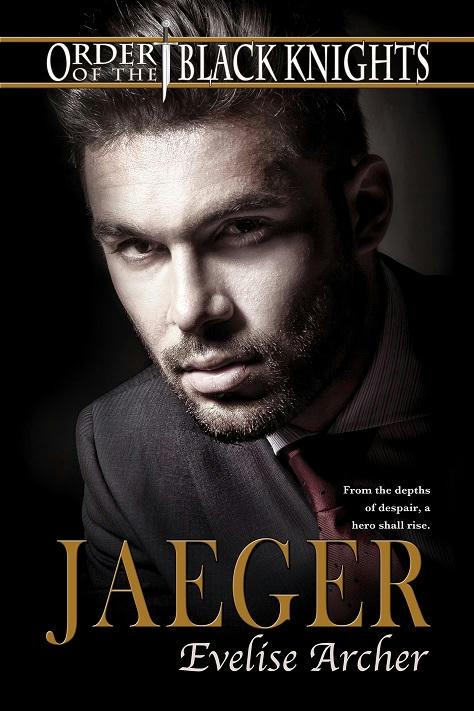 Title: Jaeger
Series: Order of the Black Knights # 4
Author: Evelise Archer
Genre: Mystery, Suspense, Urban Fantasy
Length: Novel (200 pages)
Publisher: Dreamspinner Press (February 10, 2017)
Heat Level: Moderate
Heart Rating: ♥♥♥♥♥ 4 ½ Hearts
Blurb: US Marshal Jaeger Tripp is assigned to the Federal Witness Protection Program. The hurt and destruction he's seen—along with protecting criminals who are only cooperating with the authorities to keep themselves out of jail—have left him with a bleak and jaded view of both life and people. His current assignment is Wren O'Riley, a computer wizard who witnessed a high-profile cartel hit.
To Jaeger, Wren is the same as any other job. He must protect him long enough to get him to testify at trial, and his personal feelings have no place in his work and must be set aside. But that's easier said than done. On the run and fighting for their lives, Jaeger and Wren can't help but grow closer. And Jaeger can't help seeing beyond Wren's nerdy exterior to a man who might be just what Jaeger needs to settle his soul and capture his heart—if they survive long enough to get that chance.
ISBN-13: 978-1-63533-301-5
Product Link: https://www.dreamspinnerpress.com/books/jaeger-by-evelise-archer-8133-b
Reviewer: Shorty 
Review: We have another of Moriel's Order of the Black Knights in this installment. US Marshal Jaeger Tripp is tough, knows his assignments and carries them out. Lately he is feeling like something is missing. His current assignment is to protect a witness and get him to trial. He hates it. He does not like protecting those he feels is a criminal.
Wren is more than he appears. He is also innocent unlike his family. What has been put in motion is so devious that it blew my mind when it all came to light.
I was impressed with the lengths and details the story went to. Well written and action packed with danger and suspense all throughout. This story will have you on the edge of your seat. 
Great installment to an already good series.