Hiya guys! We have Julia Talbot stopping by for a visit today with her upcoming re-release Just A Cowboy, we have a brilliant guest post from Julia and a great excerpt, so check out the post and enjoy! <3 ~Pixie~
Just A Cowboy
by
Julia Talbot
Can an old-fashioned cowboy and a young man on the run from his dark past find a future together?
Herschel is a simple rancher who believes everybody deserves a second chance, which is why he tends to hire underdogs—like Dalton, a young cowboy who needs all the support and TLC Herschel can offer.
Dalton doesn't think anyone can forgive him for what he did, but Herschel seems willing to try. In fact, he might be the best thing that has ever happened to Dalton. He might even be the one to help Dalton trust in the future again. Just when he's about to tell Herschel everything, all hell breaks loose. Herschel must help Dalton break free from everything that's haunting him, or they'll both end up alone.
First Edition published by Torquere Press, 2010.
Release date: 5th April 2017

Cowboys From All Over!
by Julia Talbot
Hey y'all!
I'm Julia Talbot, and the folks here have graciously let me come babble about my upcoming release at Dreampsinner Press, Just a Cowboy.
Long ago I wrote a novella called Jackass Flats. Jackass Flats is what old timers call the area out between Las Cruces, New Mexico and the little town or Organ, which leads up into the mountains. I grew up there, and I love it so. The Organ mountains were my view for so long…

Anyway, when Jackass Flats came out, a lot of people asked for another book. I didn't want to write another book about Tate and Dave, the protagonists from Jackass Flats, so I took on Tate's bestie, a salt of the earth cowboy named Herschel.
If Tate in Jackass Flats was an homage to my grandpa, Herschel was a nod to a friend of my parents when I was a kid. This guy owned a horse ranch, and he was all about second chances, and that was what I wanted to write about.
Herschel falls for Dalton, a young cowboy from Texas who's on the run from the law. Dalton is my first foray into the Texas cowboy, and I wrote Just a Cowboy right after I moved to Texas to be with my now-wife. He's all the things I love about Texas. Brave, with a good heart, if a little awkward sometimes.
I know, I sound all philosophical, right? But see, there are as many kinds of cowboys as there are types of terrain in the great American West. I grew up with the ones form West Texas, New Mexico and Western Colorado.
A friend of mine grew up in Wyoming and Eastern Colorado, and I remember when the Brokeback Mountain movie came out, she was furious. Just absolutely so angry she could spit. Now, she had no idea I wrote gay romance, so I asked her why. Was it the gay stuff that made her so mad?
She scoffed at me, looked me right in the eye and said, "We all know the difference between a gay cowboy and a straight one is about a six-pack of beer. No, I'm mad because that's not how we talk. That's not what we sound like."
So, for me, it's really important that a cowboy from Southern New Mexico sounds like one. Or from Texas. And where in Texas matters, oh yes. (Big eyes).
Anyway, Herschel is as new Mexican as green chile (and it's chile, not chili) and ocotillo cactus. I hope you'll give them a chance.
Please note that Jackass Flats and Just a Cowboy are reprints. Riding the Circuit, the third book in the series due out in June, will be all new!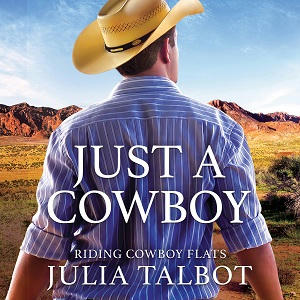 Excerpt!
2010
Chapter One
HERSCHEL WATCHED the new kid buck a green-broke mare, the little blue roan stiff in the legs and arched in the back. The guy looked loose and easy, though, making him think he'd done a good thing in the hiring.
Sometimes you just didn't know when a cowboy showed up at your corral lugging all he owned on his back and begging a job. Herschel knew he could do background checks and call the IRS and all, but he liked to think he was carrying on a cowboy tradition. You hired a man on the basis of his handshake and the way he looked you in the eye, and you kept him on based on his work.
So here he was, watching the kid work, and so far it all looked good.
The mare finally stopped bucking and stood, shivering and blowing, until another hand came running out and grabbed her halter. Slowly, easily, belly to the saddle and feet kicking loose first, the new guy slid to the ground, letting the mare feel him all the way. She didn't balk, just let him get off her back, turning her head to nose him cautiously when he patted her neck.
Herschel was pretty damned impressed.
"So what'd you think?" the youngster asked, coming over and grinning at him, spreading out a face full of freckles.
"I think you did good. You wasn't grandstanding like some roughstock rider, and you let her have her space once she did what you asked. Decent day's work."
"Thanks." The summer straw hat came off, the kid's red curls shining in the sun. Then that head tilted, the grin going even wider. "You cain't remember my name, can you?"
"Sure I can." Dustin. Devon. D-something.
"Dalton."
"Right. That." Winking, Herschel clapped D-something on the back. "Grub's at six. Then you're on your own."
"Hey, you have a big old TV in the front room of the bunkhouse. Satellite. I saw it when I stowed my gear. That's all I need."
"Then we're set. I like your style, son."
"Cool." Dalton gave him a shrewd look from a pair of bright green eyes. "I ain't a kid. I'm twenty-eight."
Herschel nodded. "I know. I saw your application." He shrugged, thinking how his buddy Tate and him would go to the local rodeos and sneer at anyone under thirty-five. "That makes you a kid to me."

About Julia
Stories that leave a mark. Julia Talbot loves romance across all the genders and genres, and loves to write about people working to see past the skin they're in to love what lies beneath. Julia Talbot lives in the great mountain and high desert Southwest, where there is hot and cold running rodeo, cowboys, and everything from meat and potatoes to the best Tex-Mex. A full time author, Julia has been published by Dreamspinner and Changeling Press among many others. She believes that everyone deserves a happy ending, so she writes about love without limits, where boys love boys, girls love girls, and boys and girls get together to get wild, especially when her crazy paranormal characters are involved. She also writes BDSM and erotic romance as Minerva Howe. Find Julia at @juliatalbot on Twitter, or at www.juliatalbot.com "The mountains are calling, and I must go"