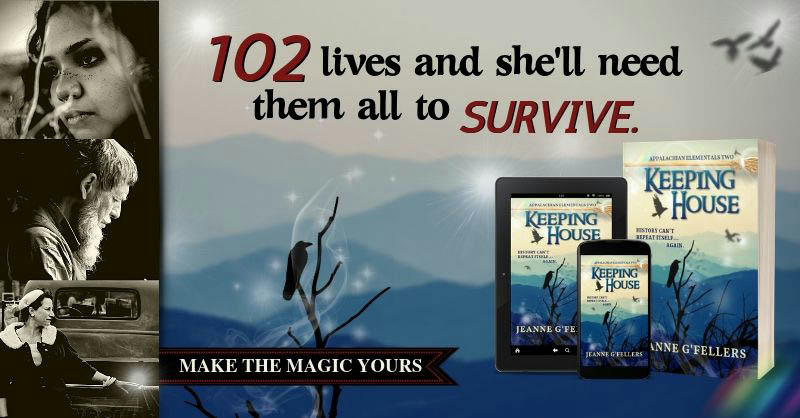 Hi guys! We have Jeanne G'Fellers stopping by today with the tour for her new release keeping House, we have a great exclusive excerpt and a brilliant $20 Amazon GC giveaway so check out the post and enter the giveaway! ❤️ ~Pixie~
Keeping House
(Appalachian Elementals 02)
by
Jeanne G'Fellers
Centenary Rhodes is caught in a deal she didn't make. Thanks to her eternal lover, Stowne's, quick thinking, she'll live forever, but there's a hitch. Cent's now fey, and three months out of the year she'll live on the other side of Embreeville Mountain among the Hunter Fey, serving their king, Dane Gow.
As Cent begins wading through the anachronisms that come with being a Hunter, she learns that nothing is what it initially seems. Cent shares several past lives with Dane, who wants her back, and Stowne's lied to Cent so many times that she's having doubts about their marriage. To make matters worse, the past Hunter Kings are influencing Dane's behavior, and the youngest Hunter, Brinn, might well be the most dangerous of them all.
It's going to be a cold, dark spring, and Cent needs to unite both sides of Embreeville mountain before her eternal life, her relationship with Dane, and her marriage to Stowne come permanently undone.
Another rich Contemporary Appalachian tale about fantastic people and the magic they possess, including LGBTQIA+ characters Human and otherwise.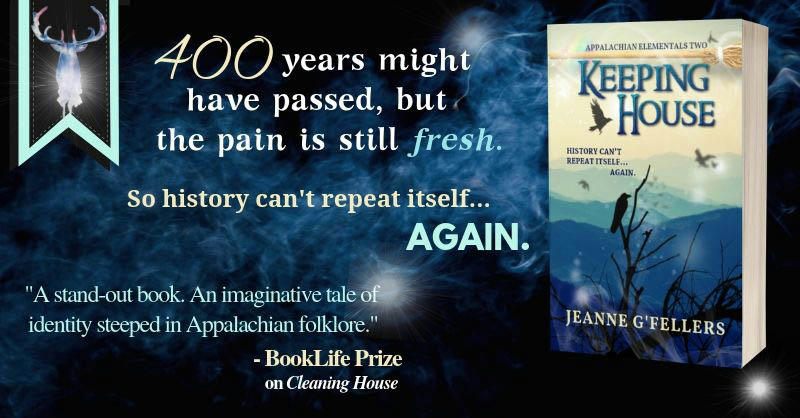 Exclusive Excerpt!
So what do a fey king, a fire elemental, and a witch turned fey talk about at work? In Keeping House, novel two in the Appalachian Elementals series, such conversations certainly aren't watercooler talk, and they go something like this…
***
Cent worked alone in the office, creating payout categories and shuffling paperwork until Dane came in to sit in the opposite chair. "Is it still workin' right?" She pointed to the computer.
"Just fine." Cent popped a peanut M&M into her mouth, scowling when Dane took three for herself. "You could buy your own."
"I saw you get the change for the vending machine out of petty cash, so I bought these." Dane tossed an M&M into the air to catch it in her mouth. "I threw away the IOU you put in the jar."
"I get paid at Dryler's tomorrow and will put the money back then." Everyone else does it, so why shouldn't I?
"I saw you do it last week. Thanks." Dane gave her another of those genuine smiles. "But this bag's on me." She popped another M&M into her mouth. "Conall's back from the installation in Asheville, so he'll take you to Dryler's tomorrow." Dane glanced to where Pyre perched on a file cabinet. "You comfy?"
"As I can be inside a concrete building." Pyre centered more on the cane mat they'd brought along. "I came prepared."
"I see that."
"I can drive myself if need be," said Cent when Dane turned around.
"Where's your truck?" Dane looked through the office door and out the front of the shop when a customer drove up. "They're pickin' up somethin'. Now, where were… That's right, your pickup's back on the homestead with a knockin' rod. The engine needs an overhaul. I'll send Bea over there tomorrow to pick it up so she can redo it. She does most all the mechanic work 'round here if there ain't a computer attached. She can tear down and rebuild faster than anyone I've ever seen, especially a Ford like you got. Until then, I guess Conall's drivin' you." She lifted her legs to place her steel-toed boots on the desk, lounging back.
A free engine rebuild. Cent's brain added air quotes around the word free. What does Dane want in return? "You taking me to lunch again tomorrow?"
"Of course. I like talkin' with you alone."
"But you don't eat at that time and…" Cent watched Dane toss another M&M into her mouth. "You're doing that just because you can."
"Hey, I like peanuts. Where's my…" She snapped her fingers and her drink, another Pal's tea, appeared on the desk. "What?"
"I don't remember how to do that."
"Simple stuff, girlie. I can show you."
"Good, please do so, but stop calling me girlie. It's diminishing."
"What? You ain't a girl?"
"I'm genderqueer, also called non-binary, remember?"
"But you go by she."
"I use she-her because I grew up with it, and my mother struggles to wrap her head around using the pronoun they for the elementals, so I'll not ask her to use it for me too." Cent hit save and turned to face Dane. "I'm not a girl. I'm me, Cent, and girlie is something a man says when he's trying to put a woman in her place."
"I ain't never… Sure, no more girlie." Dane sipped from her drink. "But sugar ain't negotiable. I call most everyone sugar."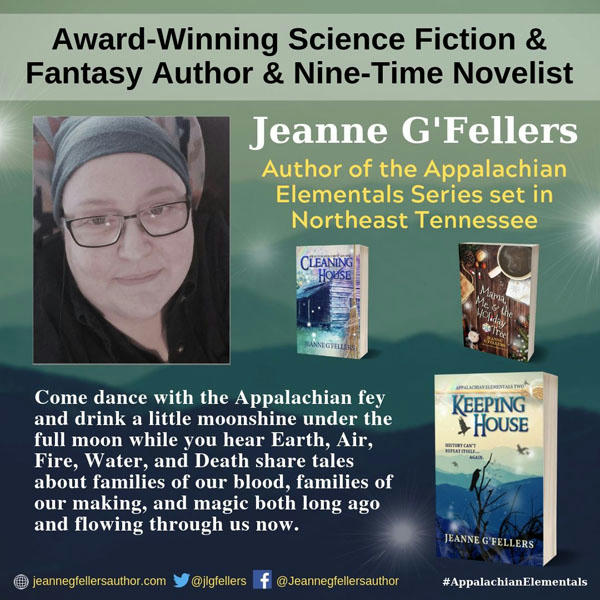 About Jeanne!
Born and raised in the foothills of the Appalachian Mountains, Science Fiction and Fantasy author Jeanne G'Fellers' early memories include watching the original Star Trek series with her father and reading the books her librarian mother brought home. Jeanne's writing influences include Anne McCaffrey, Ursula K. LeGuin, Octavia Butler, Isaac Asimov, and Frank Herbert.
Jeanne lives in Northeast Tennessee with her spouse and their five crazy felines. Their home is tucked against a small woodland where they regularly see deer, turkeys, raccoons, and experience the magic of the natural world.
Website | Facebook | Twitter | QueeRomance Ink | Goodreads | Amazon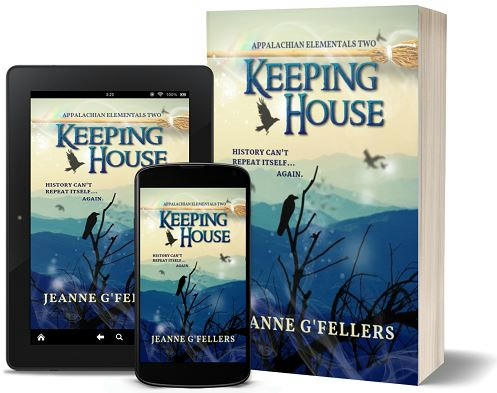 Giveaway!
Win a $20 Amazon!