Hi guys, we have Charlie Cochet popping in today with her new release Kept In The Dark, we have a great excerpt and a brilliant giveaway so check out the post and enter the giveaway! ❤️ ~Pixie~
Kept In The Dark
(Locke and Keyes Agency 01)
by
Charlie Cochet
Former Army Ranger turned government assassin Álvaro Montero and CIA Officer Caiden Cardosa crossed paths two years ago in Vienna, where their encounter ended less than amicably—despite the explosive sexual chemistry between them.
Now Caiden is riding a desk at Langley after his cover is blown. And Álvaro—who was "killed"—has a new identity and purpose as Delta/D, an operative for the Locke and Keyes Agency, under the leadership of the mysterious Alpha Orion.
When D and Caiden team up in a deadly black ops mission, the urge to kill each other will have to take a back seat to the desire for revenge against the man who betrayed them both. Surviving the mission won't be easy. Resisting the passion between them—that might be impossible.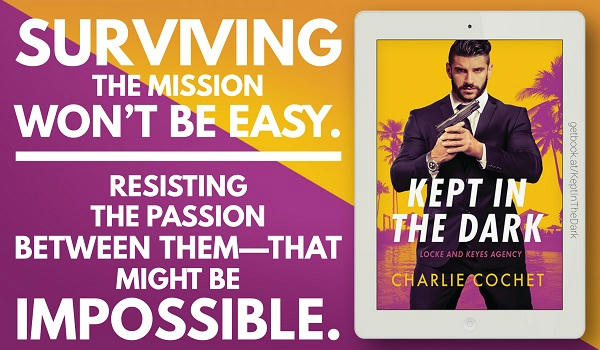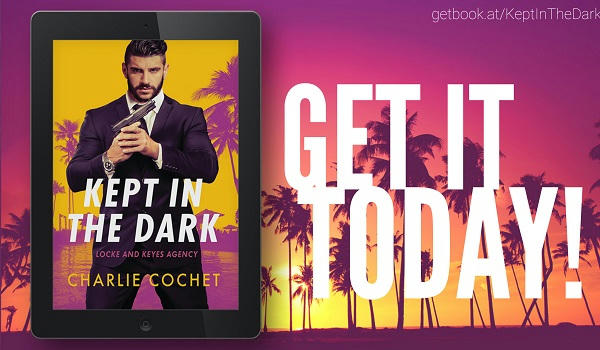 Excerpt!
"You don't need to be a designer to know how not to decorate your house," D said, scowling at the vintage floral loveseat across from the blue velvet couch. "I think my grandmother had a couch like that. Except it was vacuum sealed in plastic. Nothing like sitting on a plastic-lined couch in the summer with no AC."
Caiden gasped. "Wait, you had a grandmother?"
"Have. Yes."
"Which means you had a mother."
"Have a mother. Yes." D squinted at him.
"Where are you going with this?"
"Well, damn."
"What?"
Caiden shrugged. "I was under the impression you emerged from the darkness below. Clawing yourself out from the dirt, like a zombie or a great evil that's come back to life after a misguided loved one buried you in Stephen King's Pet Sematary."
D didn't appear impressed. "Funny."
"What does the Dark Lord look like?"Caiden asked, moving to inspect one of the pillars between two bookcases. "Was he like Tim Curry in Legend or sexy and British like Tom Ellis in Lucifer?"
"He was your height, blondish hair, with green eyes. A mouthy motherfucker who never shut up because he was a smart little shit who thought he knew everything."
"Wow. That's pretty specific." Caiden nodded, removing his tablet from inside his messenger bag. "A mouthy motherfucker and a smart little shit. Sounds like an interesting guy."
"Sounds like a certain pain in my ass," D hissed from behind him.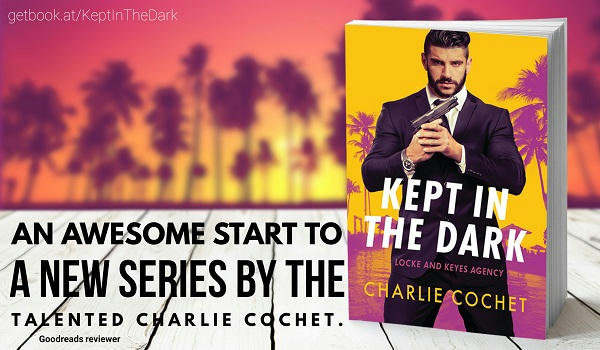 About Charlie!
Charlie Cochet is an author by day and artist by night. Always quick to succumb to the whispers of her wayward muse, no star is out of reach when following her passion. From adventurous agents and sexy shifters, to society gentlemen and hardboiled detectives, there's bound to be plenty of mischief for her heroes to find themselves in, and plenty of romance, too!

Currently residing in Central Florida, Charlie is at the beck and call of a rascally Doxiepoo bent on world domination. When she isn't writing, she can usually be found reading, drawing, or watching movies. She runs on coffee, thrives on music, and loves to hear from readers.
Website | THIRDS HQ | Facebook | Facebook Author Page | Twitter | Pinterest | Tumblr | Instagram | Newsletter | DSP |Amazon |Goodreads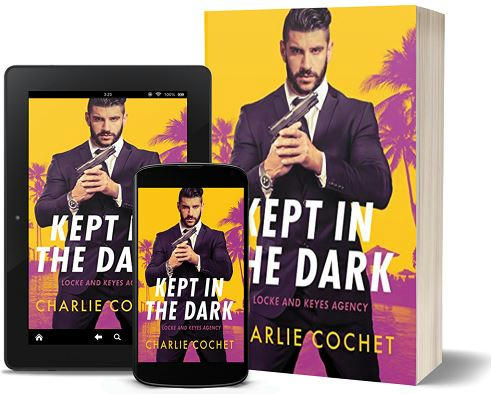 Giveaway!
Win an Ebook of Kept in the Dark!