Hi guys! We have Silvia Violet popping in today with her new release Lace-Covered Compromise, we have  a great excerpt and a fantastic giveaway so check out the post and leave a comment to enter the giveaway! <3 ~Pixie~
Lace-Covered Compromise
by
Silvia Violet
Adam Kingston expects to inherit his father's multinational conglomerate. When he finds out half of it went to Nate Thomas—an annoying man whose dreams for Kingston Corp.'s future clash with Adam's need to stave off financial disaster—Adam is furious. He's willing to do whatever it takes to wrest control of Kingston Corp. from Nate.
Nate may be soft-spoken, but he refuses to be swayed by Adam's arrogant demands. When Nate accidentally drops a pair of his lacy panties in front of Adam, there's no mistaking Adam's interest. Nate hadn't realized Adam was bisexual, but now that his secret is out, Nate is willing to use Adam's lust against him if it means protecting the welfare of the company he loves.
For Adam and Nate, hatred and desire are closely linked. Their inability to compromise threatens the company and could expose their tightly held secrets. But as they work together to develop a plan to save Kingston Corp., they begin to realize there might be more to their relationship than anger and lust.

Silvia Violet!
Hello! I'm Silvia Violet and I'm here today to share my sexy contemporary romance, Lace-Covered Compromise. I can't wait for you to meet Adam, a sharp-minded businessman with control-issues and Nate, an easy-going environmental scientist who likes panties and lipstick. They are going to take you on a wild ride.
Follow along through the week and don't forget to check out my giveaway of a $25 Riptide Publishing gift card.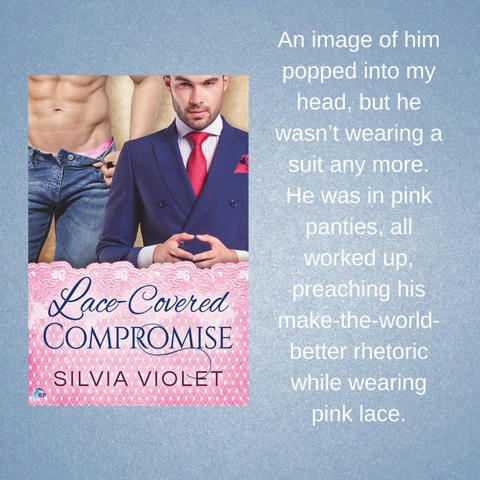 Excerpt!
I glanced at the time on my laptop screen. Nate would be out of his meeting with my father's attorneys. I could head down to his office and catch him off guard. Beard him in his den, as it were. It was time he understood that it was my place to decide the direction this company would go. He'd simply have to get on board.
Nate understood environmental science, and I agreed with my father's decision to put him in charge of the Enviro division. I might even be able to stomach letting him run the division however he wanted to, but the future of Kingston Corp. depended on me putting plans into action in the Research division, plans he might not like. The board wanted us to share leadership with me as CEO and Nate as president, a position we would create just for him. No way in hell was that going to work. I doubted he'd even been keeping up with Kingston's financial reports, and he'd likely fallen for my father's bullshit about how bright the future looked. My father had insisted nothing was wrong up until the day he died, but Kingston was in serious financial trouble, and I needed to get us back on track.
I had a few ideas about how to do that, one of which was to reduce Kingston's reach. My father had originally started Kingston Corp. as a household products company, but as the world and the market had shifted, Kingston had become a conglomerate, owning and overseeing a number of diverse businesses. As much as I hated the thought of selling off any of those divisions, I would do what was necessary. Because, despite what my father thought, failure wasn't an option for me.
The elevator dinged. I'd reached Nate's floors. As the doors glided open, I stepped into the Enviro business's executive offices. As I walked through the sea of cubicles, I heard a wave of whispers cross the floor. Apparently one girl thought I might be planning to finish Nate off. I wasn't quite that ruthless. This wasn't the Old West. Hell, we weren't even in Texas. Although there was some appeal to the idea of settling this all with a duel. I'd rather be shot at than spend hours, days, weeks negotiating with someone who didn't understand profit margins.
Nate's assistant, Michelle, was at her desk, but I blew past her and pushed his office door open so hard it banged against the wall. His back was to me, and he jumped, knocking a gym bag off the chair in front of him. He must have been putting something in it, because it was unzipped and the contents spilled onto the floor. He grabbed the bag and started frantically shoving everything inside. What the fuck? His smelly gym shorts can't be that different than— Oh my fucking God. I caught a glimpse of pink lace. I might've thought he'd hooked up with some girl at the gym except Nate didn't go for girls, which meant . . . No way. He didn't . . .
He zipped the bag and tossed it to the side of the room where it knocked over a stack of papers. I couldn't stop staring at it. Those were lace panties. Nate's lace panties? Oh my God.
Finally I tore my gaze away, but Nate was looking out the window, so I glanced around his office, determined I wouldn't look at the gym bag. Wow. The office was a mess. My father would've hated it. I started counting the number of seltzer cans Nate had stacked on a shelf.
Nate turned around and I looked up. He held my gaze as if daring me to mention what I'd seen, his cheeks pink with embarrassment.
Normally I took every chance I could to taunt him, but this time I was too busy trying to understand my own reaction. I couldn't seem to think—all my blood had rushed to my cock. Another one of the damnable things about Nate was that despite being so unaffected and nerdy and probably wearing pants made of hemp cloth, he was fucking hot. His arms might've been the most perfectly formed ones I'd ever seen, and his ass . . . I couldn't stop thinking of it covered in pink lace. I'd never, not even in my most secret dirty jerk-off fantasies, gotten off on a man wearing lingerie. I didn't usually like feminine men, much less men in something as ridiculous as manties, but Nate. In fucking pink lace. Holy shit, that was going to be my new favorite thing.
No, no, I was going to block it from my mind, unless it became useful in the near future. It was always good to know someone's secrets. Someone's hot, dirty secret.
Now what the fuck was I doing in his office?
Nate cleared his throat. "I'm assuming you're here about the will," he said, his tone measured.
My anger came rushing back. "Of course I'm here about the will." My father had fucked over my entire future by giving half my company to Nate. I certainly wasn't here to chat with him about the weather.
"I suppose you think you have some 'solution' to this 'problem.'"
If only I could knock the smug look right off his face, if only I didn't find him so goddamned intriguing. "I know I do."
"One that involves me backing down on everything I believe in."
I pretended to consider his words. "Not everything."
"If we're going to discuss this, let's take a walk." He looked down as he closed a folder that was open on his desk. His blond hair fell over his forehead; his bangs were far too long for his professional status. I bet if he weren't in an executive position, he'd wear his hair long, put it up in a fucking man bun or one of those little ponytails that might be hot on a guy at a club, but not in the fucking office. No, definitely not. I would have no interest in yanking his hair down and running my hands through it. Fuck no.
"You want us to take a walk?"
"Yes. You know, exercise and take in some of the air I want to make fresher. You do go outside on occasion, right?"
I scowled at him. "When I have to."
Silently, we walked to Wacker and strolled along the river. Finally Nate said, "I'm assuming you want me to hand over control, run Enviro, and keep my mouth shut?"
Well, he certainly knew me. "Well, I—"
"Or do you just want me to quit altogether, saying I don't want to take part in owning an evil corporation?"
Could he read my fucking mind? "The first one seems more realistic."
"Yeah . . . no. That's not how this is going to go."
I fisted my hands, fighting the urge not to yell. "It would be easier."
"For you."
"For both of us. Do you really want to spend every day arguing with me?"
He sighed. "If that's what it takes."
"I won't back down." Not even when anxiety has me in a stranglehold. Kingston was all I had, and I wouldn't lose it.
"I'd much rather try to make a difference than spend so much time arguing," Nate said. "You could help me do that, Adam. We don't have to focus all our energy on profit."
"Yes, we do." While a part of me wondered what it would be like to ride his energy and enthusiasm, I had to prove my father wrong, show him I could run things my way.
"Don't you care about anything else?" His words jabbed at me.
"I care about keeping this company going."
"Don't you have enough money already?" he shouted.
Wow! I'd actually made Nate Thomas yell in public.
Nate glanced around uneasily. His outburst had turned heads. Someone would recognize me soon or even him. Dad had seen to putting his face out there enough. God knows it's a face you could sell things with. Fucking gorgeous asshole.
"My father may not have been completely honest with you about the state of things at Kingston."
"Can't you wait until he's been dead a few months before you start in on how terrible he was?"
"Oh, did I forget to look that up in my etiquette guide? Is there a set amount of time to wait before telling it like it is? Some people are fuckers; my dad was one. Being dead doesn't change that."
"God, Adam, you really didn't know him at all."
"Maybe it's you who didn't know him." Now I was the one who was yelling. I was also contemplating pushing his pious ass in the river.
Read more at: https://riptidepublishing.com/titles/lace-covered-compromise (just click the excerpt tab)

About Silvia!
Silvia Violet writes fun, sexy stories that will leave you smiling and satisfied. She has a thing for characters who are in need of comfort and enjoys helping them surrender to love even when they doubt it exists. Silvia's stories include sizzling contemporaries, paranormals, and historicals. She can be found haunting coffee shops looking for the darkest, strongest cup of coffee she can find. Once equipped with the needed fuel, she can happily sit for hours pounding away at her laptop.
Silvia typically leaves home disguised as a suburban stay-at-home-mom, and other coffee shop patrons tend to ask her hilarious questions like, "Do you write children's books?" She loves watching the looks on their faces when they learn what she's actually up to. When she needs a break from listening to the voices in her head, she spends time baking, taking long walks, curling up with her favorite books, and spending time with her family.
Connect with Silvia: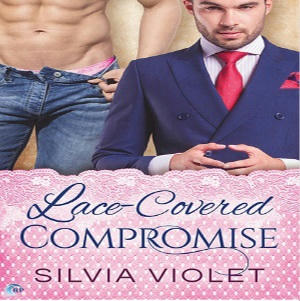 Giveaway!
To celebrate the release of Lace-Covered Compromise, one lucky winner will receive a $25 Riptide gift card!
(Just leave a comment with your contact info to enter the contest.)
Thanks for following
the tour
, and don't forget to leave your contact info!
(Entries close at midnight, Eastern time, on November 11, 2017. Contest is NOT restricted to U.S. entries.)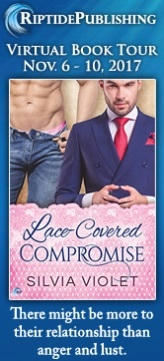 Check out the other blogs on the tour!