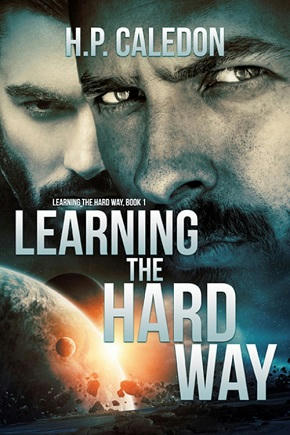 Title: Learning the Hard Way
Series: Learning the Hard Way # 1
Author: HP Caledon
Genre: Science Fiction, Thriller
Length: Novella (170 pages)
Publisher:  Devine Destinies (January 20, 2017)
Heat Level: Low
Heart Rating: ♥♥♥♥ 4 Hearts
Blurb: Some lessons in life are learned the hard way.
Mike and Keelan meet each other as opposites in a prison where violence, murder, and power games are everyday life. To survive they make a pact. They stand together against the rough life in a hell where the prisoners are nothing more than numbers in a book and left to their own fates—a fate where one's place in a twisted hierarchy is paramount for survival.
But can a mercenary, who worked for the law, trust a murderer?
Can that murderer trust the mercenary?
ISBN: 978-1-4874-0983-8
Product Link: http://www.devinedestinies.com/hp-caledon/learning-the-hard-way-1/
Reviewer: Shorty 
Review: Mercenary Mike Marshall is sent to prison for a costly mistake he made during a contract. While there he becomes a pawn in every sense of the word to the inmates of the pecking order. He is given to another inmate keelan in exchange for Keelan's protection he gives up the knowledge he knows about Merc's. 
The politics in prison are brutal. He see's first-hand how Keelan is under orders from the boss in the prison, Rainer. After numerous huts Rainer puts out on competition Keelan disappears and this leads to Mike being lied to and sold to others for sport. Damaged and beaten Mike's finally released only to realise all is not what it seems as he learns about trust, deceit, and cruelty while trying to deal with what he's been through at the whim of others. 
I did not get the Science fiction aspect of the book except for the mentions of spaceships they were on and the names of species. Would have liked more details to those. But other than that it was great story with murder, bloodshed, brutality, suspense and horrifying situations that change Mike. I looked forward to the continuation of Mike and Keelan's story to see what happens between the two next.
Great read.