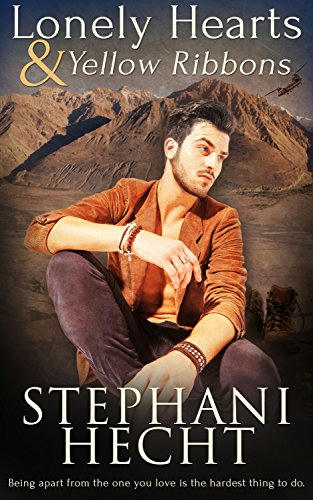 Title: Lonely Hearts & Yellow Ribbons
Author: Stephanie Hecht
Genre:  Contemporary
Length: Short Story (49 Pages)
Publisher: Pride Publishing (October 9, 2015)
Heat Level: Low
Heart Rating: ♥♥♥♥ 4 Hearts
Blurb: Being apart from the one you love is the hardest thing to do, until you get them back to find they've changed…
PJ Ross Ervin is part of an elite force of rescue men from the Air Force. Only the best of the best make it through the program and get to wear the maroon beret. As such, he is proud of what he does and is happy to serve his country. The one drawback is that it takes him away from his long-time lover, Aden. Thankfully Ross' deployment is over and he's coming home.
Aden is excited to see Ross. But he can't help but notice that his partner is having trouble adjusting back into the civilian world. Plus, there is the looming danger that Ross could be deployed again at any time. Will Ross have to leave to serve his county once more? And if so, can the pair survive the separation yet again?
ISBN: 978-1-78430-833-9
Product Link: https://www.pride-publishing.com/index.php?route=product/product&product_id=4222
Reviewer: Lisa
Review: This book has been previously published by Pride Publishing as part of the Aim High anthology.
I really wished that this was longer, because all it did was wet my appetite and left me wanting more. I am normally not one that really likes short stories, but there is just something about it that had me loving it. I mean I do wish that it was longer and with a happily ever after ending, but there is hope.
Aden and Ross are a couple, truly in love. Aden is a paramedic and Ross is a PJ. Now that Ross is home from his tour, he is having some difficulties adjusting. Aden just doesn't know how to help him.
Now for many of us who know a bit about the military, then they get sent out more than once. In horrible places and lots of danger. I felt for them both but more for Aden because he feels that he can't help his lover. However Ross can make your heart hurt also. I can tell you that other than the fact that it is short, it comes off as a strong story. I had a lot of fun reading this and look forward to reading more by Stephanie. She never does disappoint when she writes.