Hi guys, we have Charlie Cochet popping in today with her new audio release Love In Spades, we have a great excerpt so check out the post and enjoy! ❤ ~Pixie~
Love In Spades
by
Narrator: Greg Boudreaux
Charlie Cochet
Ex-Special Forces soldier Anston "Ace" Sharpe is fighting a different battle these days—one involving the world of private security across the state of Florida. As part owner of Four Kings Security, Ace and his fellow Kings tackle everything from armed transport and investigations to cyber intelligence and executive protection. Cocky, fearless, and brash, Ace isn't afraid to take risks.
After years of working alongside his father, Colton Connolly is ready to take the helm at Connolly Maritime, but his father's retirement is put on hold when Colton begins receiving death threats. If that isn't bad enough, his father signs a contract with Four Kings Security to provide Colton with round-the-clock protection, despite his adamant refusal. Colton's life has been turned upside down, the last thing he needs is a shadow, especially in the form of infuriating, sexy-as-sin Ace Sharpe, who seems to be on a mission to drive Colton mad.
Sparks fly the moment Colton and Ace meet on a sultry night club dance floor. But getting involved with a client, even one as fiery and beautiful as Colton Connolly, is a line Ace is unwilling to cross. Colton might be attracted to Ace, but he'd been burned before. He might be willing to put his life in Ace's hands, but not his heart.
As the Florida nights heat up, so does their passion, and Ace and Colton are faced with a difficult choice—take the plunge and risk it all, or play it safe and walk away?
If Ace can keep a deadly threat from robbing Colton of a future….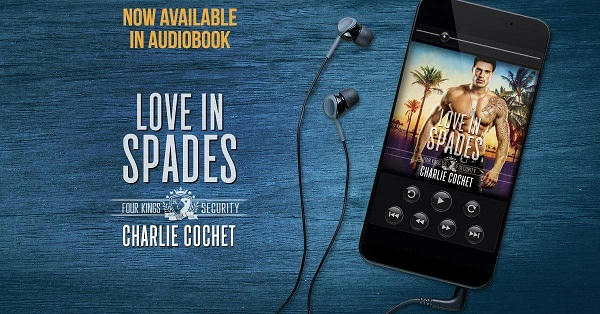 Excerpt!
Ace's lips curled into a wicked grin, and he dove under the water. Colton stilled, waiting for Ace to pop, but he didn't. Jesus, the guy could hold his breath for a long time. It was like he'd vanished. Until something grabbed Colton's legs. He released a barrage of curses as he was lifted, his arms flailing in an attempt not to lose his balance as Ace came up under him, and Colton ended up on Ace's shoulders.
"You ass!" Colton hugged Ace's head to keep himself steady as he sat on the man's broad shoulders while Ace laughed himself silly. He held on to Colton's thighs, and started walking. "What are you doing?" Colton squeaked.
"Going for a walk," Ace said as if it were obvious.
"No, you have something devious planned; I know it."
Ace chuckled. "Are you doubting me?"
"Absolutely. Remember the pool?"
"In my defense, you were being an ass."
Colton let out a mock gasp. "Are you using inappropriate language toward your client?"
"I'll show you inappropriate." Ace growled deep in his throat, and Colton shivered.
"Ace," Colton moaned. "Please don't make that sound while my crotch is pressed against the back of your head."
Ace stopped moving. Before Colton could ask if he was okay, Ace sank into the water, and disappeared again, leaving Colton standing there wondering what the man was about to do next. One thing was for sure, Ace always kept him on his toes. Hands caressed his legs, and Colton groaned, his eyes closing as Ace slid his hands up Colton's body until he resurfaced, his arms around Colton and front pressed to Colton's back. Colton covered Ace's hands with his and leaned back into him before turning in his arms.
"We should head back," Ace murmured, his eyes on Colton's lips.
"You drive me fucking crazy, you know that?" Colton huffed. He slipped his hands beneath the water and cupped Ace through his shorts, making him groan. "How about you stop teasing me, take control of these gorgeous balls, and bury yourself deep inside me."
Ace cursed under his breath. He opened his mouth to reply, but Colton put his fingers to Ace's lips and released his hold on him.
"You know where to find me." Colton turned and swam back to the shore. If Ace was determined to drive him out of his mind with his sensual caresses, lingering looks, and sultry voice, then it was only fair Colton return the favor.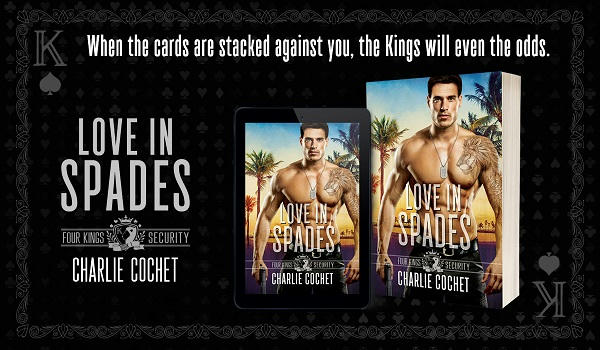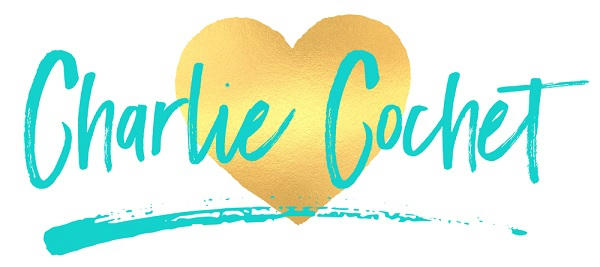 About Charlie!
Charlie Cochet is an author by day and artist by night. Always quick to succumb to the whispers of her wayward muse, no star is out of reach when following her passion. From adventurous agents and sexy shifters, to society gentlemen and hardboiled detectives, there's bound to be plenty of mischief for her heroes to find themselves in, and plenty of romance, too!
Currently residing in Central Florida, Charlie is at the beck and call of a rascally Doxiepoo bent on world domination. When she isn't writing, she can usually be found reading, drawing, or watching movies. She runs on coffee, thrives on music, and loves to hear from readers.
Website | THIRDS HQ | Facebook | Facebook Author Page | Twitter | Pinterest | Tumblr | Instagram | Newsletter | DSP |Amazon |Goodreads