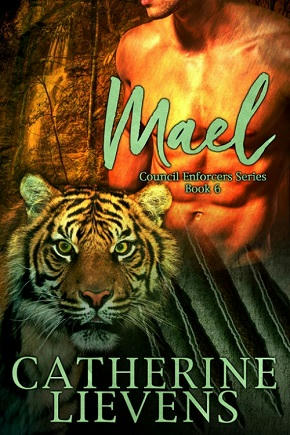 Title: Mael
Series: Council Enforcers #6
Author: Catherine Lievens
Genre: Paranormal, Fantasy 
Publisher: eXtasy Books (May 26, 2017)
Length: Novella (113 Pages)
Heat Level: Low
Heart Rating: ♥♥♥♥♥ 5 Hearts
Blurb: Sometimes trusting is the hardest thing to do.
When Mael agrees to help Lenny retrieve his best friend after he's been dumped, he thinks it'll be an easy in and out job. He knows it isn't as soon as he sets eyes on Scott because Scott is his mate.
Scott's just been dumped by his boyfriend of two weeks, who went back to his ex. He's surprised when he realizes Mael is his mate, then worried when Mael and the rest of his team are sent to work with Mael's tribe—and his ex-boyfriend.
Mael might have been with his tribe's leader for two years, but it's in the past. He's angry when Scott asks Yerad to shimmer him there because he doesn't trust Mael and Muirgeh, but he understands. Besides, Scott is useful to the team, and he helps them look for the shifters stealing food and entering tribe territory.
Will Muirgeh's presence influence Mael and Scott's relationship? Will Scott be able to get over how close Mael is to Muirgeh? And what will happen when Mael accidentally initiates the bond between them?
ISBN:  978-1-4874-1040—7
Product Link: http://www.extasybooks.com/mael/
Reviewer:  Lisa
Review: Each book in the Council Enforcers collection features a new romantic couple. To enjoy the overall story arc and crossover characters, I would recommend reading the series in sequential order. This series is also connected to the Whitedell Pride and Gillham Pack collection. There is nothing better than a good paranormal romance with two gorgeous men involved. 
Mael has finally met his mate, right before he had to go help an ex-boyfriend with some shifter problems.  Scott is a sweetie, but has a little bit of a jealous problem.  So what do you get when you put Lenny, Mael, Scott and Mael's ex in a room together, a laugh a minute is what you get.  
I love the way Catherine puts together a story that not only draws you in but keeps you entertained as well. They have a serious tone to them, but there is quite a bit of humor floating around.  Well the enforcers now have their very own Nysys and Keenan, and his name is Lenny.  I love how protective they are of their mates, even when they are being asshats. I do get a kick out of the whole thing.
They are not long size novels, but just the right size for me to really enjoy. They have so much depth and details that if will feel like you are right there with them. I love that there is even the hint of danger surrounding them sometimes. Trust me that this is one series that you will enjoy quite a bit. I loved it and cannot wait for the next book to come out.