Hi guys! We have Quin Perin popping in today with their new release Obsessed 2, we have a great excerpt and a brilliant $10 Amazon GC giveaway so check out the post ans enter the giveaway!❤ ~Pixie~
Meik & Sebastian – Obsessed 2
(Meik&Sebastian Obsessed 02
)
by
Quin Perin
Ever since the first sexual encounter with Sebastian, Meik has felt off-kilter.
He can't sleep, can't eat, can't work without thinking about the musician and so, Meik decides to settle into an arrangement with him. There is no love. There is no romance. Sebastian gets a warm place to sleep, and Meik gets to keep his boy toy.
The perfect bargain.
But when Sebastian's presence triggers memories of his first and only love, Meik unravels under the reminiscences that carved him into the man he is today. Will Meik be able to hold himself together or will his carefully crafted badass image fall apart?
This is the second book of the Gay Erotic Romance "Obsessed". It features explicit adult m/m content as well as romantic elements. The book ends on a cliffhanger.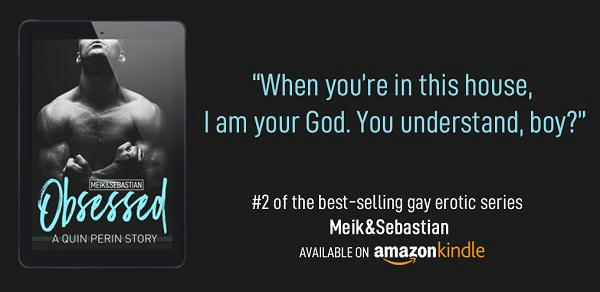 Excerpt!
Excerpt (18+ Readers only)
"You read books like that?"
Meik jerked, the tablet falling flat against his stomach as he turned his head to glance over at the musician. Amusement spread across Sebastian's face as he leaned over the blond's shoulder. "I thought you were sleeping." His tone was accusing, like he'd just been caught with his hands down his pants, watching porn or something. Which…wasn't too far from the truth.
Sebastian straightened up, his hands folded behind his back. He wasn't wearing the towel anymore, pale body bare in the dim light of the living room. And he was hard, cock flushed a deep red, and the flared, shimmering head pointed directly at Meik. "Woke up," he said, offering a crooked grin, "decided to come and see what you were doing. Didn't expect you…to be reading smut."
"What are you talking about?" Meik huffed, glaring at him.
"I saw what you were reading." The little smirk spread into a full-on grin.
Meik wanted to fuck it off his face. "What about it?"
"It's porn." Sebastian laughed. "You were reading about a ranch hand fucking some twink. I saw it. Why when you could just fuck me?"
"I'm not fucking you. I already told you, I'm not going to let you get me sick." Blue eyes dropped back down to that stiff cock, and he smirked faintly. "Look at you. Such an eager little whore, huh? Too bad for you, isn't it?"
"Mm? Too bad for me?"
Sebastian's eyes twinkled with something other than his fever as he stalked his way along the couch. It was an odd feeling; being looked at as though he were prey when it was usually the other way around.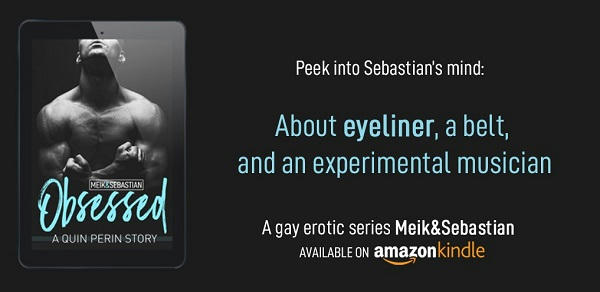 Meik&Sebastian Obsessed series!
Quin Perin presents "Meik&Sebastian – Obsessed" – A best-selling Gay Erotic Romance
All Meik cares about is lust, not love.
An eager boy toy, that's what he's looking for. Someone who worships the ground he walks on. The very second he lays eyes on the enigmatic, street musician Sebastian, he believes he found his new playmate. Obsessed with the young man, Meik introduces him to a world full of sins and desire until the man's presence threatens to reveal dark memories he had locked away tightly.
This is the first book of the Gay Erotic Romance "Obsessed". It features explicit adult m/m content. The book ends on a cliffhanger but can be read as a standalone. This part does not entail any romantic elements.
Read Book 1 for FREE! Amazon US | Amazon UK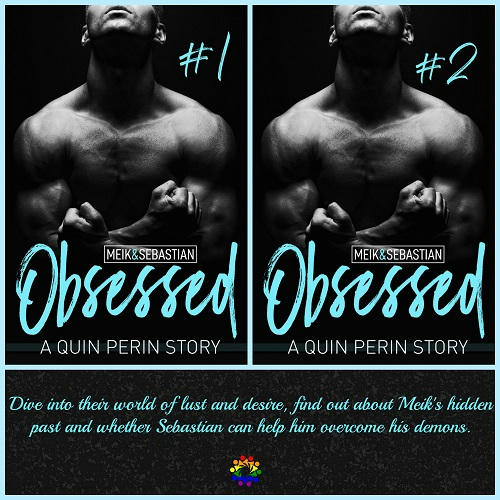 About Quin & Perin!
Hello there! This is Quin&Perin. We are a pair of sultry gay erotica writers who focus on detailed, toe-curling, and realistic smut scenes with a fair share of dirty talking (Oh, boy). Unlike other authors in the genre, we write without the goal of publishing anything. Publishing is just the cherry on top of a cream-covered bubble butt.
That said, it is time for the next level of smut: stories featuring fire, lust & desire.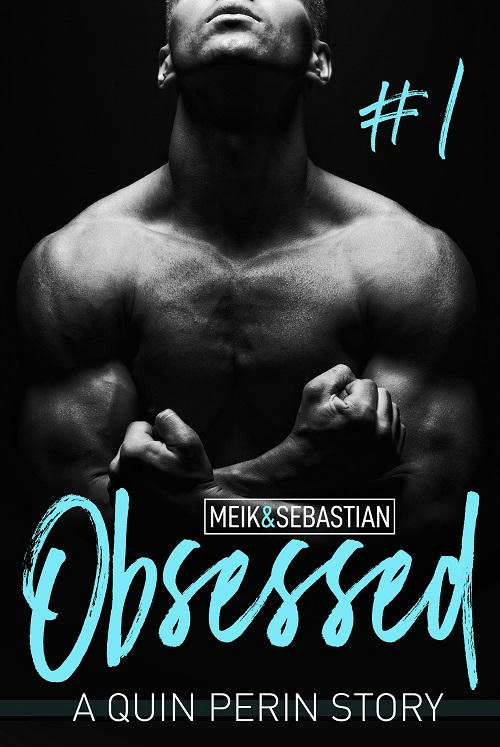 Giveaway!
Win a $10 Amazon Gift Card!