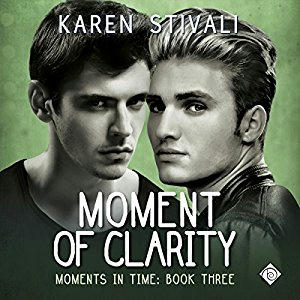 Title: Moment of Clarity
Series: Moments In Time 03
Author: Karen Stivali
Genre: Contemporary
Narrator: Robert Neiman
Length: 3 hrs 53 mins
Publisher: Dreamspinner Press (22nd August 2016)
Heat Level: Moderate – Explicit
Heart Rating: ♥♥♥♥♥ 5 Hearts
Narration: ♥♥♥♥ 4 Hearts
Blurb: Spending the summer together on Fire Island brought Collin and Tanner closer than ever, but back in their conservative college town, challenges confront them at every turn.
As they search for their new normal in their old environment, Collin's brother Sean surprises them with help when they need it most. But when word about their relationship gets out, trouble erupts with friends and family. When Collin's relationship with Tanner becomes an issue in his brother's custody battle and Tanner struggles with his feelings for a heartbroken Wendy, Collin wonders if everyone he cares about would be better off without him in the picture.
In order to save them both, Tanner must make it clear to Collin that their love for each other is all that matters.
Product Link: Audible US | Audible UK
Reviewer: Gigi
Review: Back from a roller coaster of self-discovery, trust and sexual exploration on Fire Island, Collin and Tanner come back to the reality of a town that has plenty of narrow minded people ready to tear them down and apart. 
Just when they're ready to fall back into a routine of living together on college campus, they discover that they'll soon be homeless for a while unless they can find a friend or in this case family to take them in for a while. I'm totally loving Collin's brother but so distraught at what he's forced to do. The stress of house hopping, school and work start to build up on Collin and his jealousy over Wendy doesn't help things. He makes a bad move, and it could lead to the end of their relationship. 
Can this couple get over distance, family drama, and the burdens of daily life? The biggest relationship hurdle here is insecurity brought on by homophobia in family and community members…but the beauty is we often are pleasantly surprised by the people in our life that we least expect support from. 
The intimacy grows between Collin and Tanner and trust allows them to further explore their sexual tastes and deepen the bond. Until of course Collin believes he can push Tanner into someone else's arms! Lots of drama!
Narration is consistent with the first two books. Sometimes characters blend, but the pace, rhythm and tone are all pleasing. This book puts Collin and Tanner through plenty of hoops, but the ending is great, and has plenty of happiness and big surprises leading to book 4!