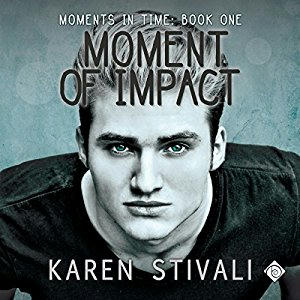 Title: Moment of Impact
Series: Moments In Time 01
Author: Karen Stivali
Genre: Contemporary, Coming Out, College Love, Sexual self discovery
Narrator: Robert Neiman
Length: 3 hrs 41 mins
Publisher: Dreamspinner Press (25th May 2016)
Heat Level: Moderate – Explicit
Heart Rating: ♥♥♥♥ 4 Hearts
Narration: ♥♥♥♥ 4 Hearts
Blurb: Outside Collin Fitzpatrick's dorm room is a dangerous place. Beyond his door the students of his small, conservative college think he's straight, as does his Catholic family who'd disown him if they learned the truth. Inside, he's safe with his incredibly sexy roommate Tanner D'Amico. Their room makes a perfect place to hide away and fall in love. The moment they cross the line from roommates to lovers, Collin becomes caught between their heavenly passionate encounters and the hellish reality that someone might find out and destroy everything. Tanner's not used to being so confined, and wants to show the world how much he loves Collin. But Collin's not sure he's ready for the impact stepping outside will make.
Product Link: http://www.audible.com/pd/Fiction/Moment-of-Impact-Audiobook/B01G3XVHWC
Reviewer: Gigi
Review: This book, in fact this series fits perfectly into the hearts and minds of those just truly discovering who they are, sexually, and in relation to the people and world around them. The story is set in the latter years of college, a point where we truly have grown up and the real world barges into our lives. Forced to admit what is true to them despite of their family and friend situations, Collin and Tanner find each other. Collin is totally repressed, from a oddly strict Catholic background and is nearly virginal, and Tanner coming from a more liberal background, finds the balls to make his move on his roommate and crush and is helpful enough to educate him.
Of course there is going to be trouble when a deeply closeted lover can't openly declare his affections for his more liberal and less fearful partner. Hearts will be bruised, and new relationships may not have the bonds to last that kind of stress. What can convince Connor to come out to his family and show Tanner he really cares? That I'll let you discover. 
The sexual content is actually very intense though consisting of masturbation, frotting, and other sensual contact of heavy petting. It's actually refreshing and steamy! 
The narration is very good in the sense that Neiman's voice is at that perfect range for a college age young man, the differences in characters can sometimes be difficult, and rhythm according to sentence structure and punctuation sometimes gets off beat. Maybe there was a missing comma here and there! 
You must read/listen to this series in order. Overall a sweet and times heartbreaking love story. I cried, I panted, I shouted for love and justice! I grabbed the next book immediately!