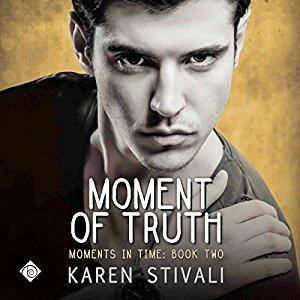 Title: Moment of Truth
Series: Moments In Time Book 02
Author: Karen Stivali
Genre: Contemporary, Coming Out, College Love
Narrator: Robert Neiman
Length: 3 hrs 47 mins
Publisher: Dreamspinner Press (7th November 2016)
Heat Level: Explicit
Heart Rating: ♥♥♥♥ 4 Hearts
Narration: ♥♥♥♥ 4 Hearts
Blurb: Collin expected to spend another summer fixing cars and working at the college pizzeria. Instead, he's living in a beach house on Fire Island, waiting tables at a hip seaside restaurant and for the first time since he and Tanner got together, they can publicly be known as boyfriends. Being "out" takes some getting used to, but with the help of new and old friends, Collin is happier than he ever imagined. And more in love. But newfound freedom brings unexpected challenges, and when friends get flirty, old insecurities arise. Moments of doubt and jealousy threaten their happiness, and Collin and Tanner must confront the truth or risk losing it all.
Product Link: http://www.audible.com/pd/Fiction/Moment-of-Truth-Audiobook/B01I5HTINY
Reviewer: Gigi
Review: We get to go along with Collin and Tanner on their next adventure as lovers to Fire Island! I've had a few friends work there time to time, and it's as steamy and magical as the story tells. This time our newly minted couple get to face the same hurdles many new relationships do, insecurity, jealousy and miscommunication…add to that Collin's familial problems, and another upheaval within his family and you have big trouble. Will other lovers shed new light on this relationship, is it doomed, is inexperience going to trip them up? So many worries, and yes, once again you'll get your heart stomped on a bit. 
My favorite part about this book was the depiction of our banks island life. I could feel the storms, the magic, the sound of the waves and nearly smell the salt air and see the crabs scrambling into the night. That part was very lovely. 
The sexual heat was ramped up a bit as Collin and Tanner's relationship grew, so did their sexual explorations and tension that other sexual prospects added. They did graduate from a twin bed in a cell sized dorm to a third level bedroom with a king sized bed overlooking the ocean, so you could imagine the kind of heat that would inspire! 
The narration is very good in the sense that Neiman's voice is at that perfect range for a college age young man, the differences in characters can sometimes be difficult, and rhythm according to sentence structure and punctuation sometimes gets off beat. Maybe there was a missing comma here and there! His voice was very passionate throughout.
I shouted, screamed in my head at the stupid mistakes insecure people make, and fretted over each and every couple in this story. You must read/listen to this series in order. Their relationship truly builds upon book 1, and keeps flowing right into book three, I started it immediately!