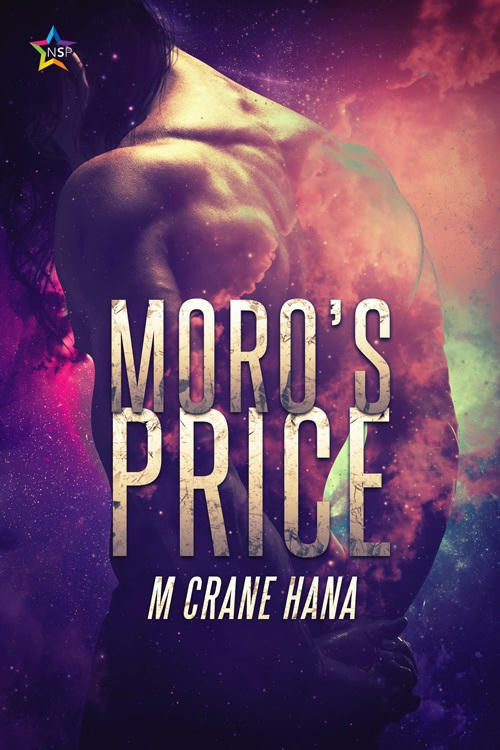 Title: Moro's Price
Author: M. Crane Hana
Genre: Space Opera, Science Fiction, Fantasy
Length: Novel (367pgs)
ISBN: 978-1-947139-29-9
Publisher: NineStar Press (26th June 2017)
Heat Level: Explicit
Heart Rating: ♥♥♥♥♥ 4 ½ Hearts
Reviewer: Pixie
Blurb: Crown Prince, techno-geek, and secret sadomasochist Valier has lusted for years after the gorgeous gladiator called "The Diamond." Meeting the escaped slave on a rooftop, Valier discovers Moro Dalgleish wants suicide before his former masters can reclaim him.
Infected with a deadly symbiont, Valier proposes empty sex to satisfy his urges and grant Moro's release from a horrible life. Neither man plans for Moro to survive, or how the morning after will shake three empires to their foundations.
Warning: Scenes of rape and torture, graphic violence
Purchase Link: https://ninestarpress.com/product/moros-price/  
Review: This is the 2nd edition which has been revised and re-edited.
Moro is a bonded gladiator and believes that he has two more years before he can be free again. But, he finds out the truth… he still belongs to his previous master, the man who destroyed his world and ruined his life. But, Moro won't go back to that monster and plans his suicide. Valier is the crown prince of the Camalian Commonwealth and is fighting off assassins when Moro stumbles across him, Moro saves his life so Valier offers Moro a way out, one night of sex where he will be infected with the sentient symbiont endemic, which will either lead to Moro's death or his complete freedom.
Whoop, okay boys and girls this is a little gem if you love your sci-fi with fantasy and some good old space opera, along with a good dose of abuse and angst. Moro is an abused slave or a 'bonded gladiator'. He has no control over his life and is holding on to the promise of being released in two years… he is betrayed. He was only loaned out and now his previous owner wants him back, but Moro would rather die than be placed in those hands again. Valier is a crown prince who ends up rescuing Moro, after Moro saves his life and it takes them on a new journey of discovery as they are a perfect match for each other. And secrets from Moro's past finally emerge which place them both in danger, as long forgotten beings return and make their presence felt.
There is a hell of a lot going on in this story, but every bit is very well-connected, there is in-depth plotting and planning that go back years. Lots of scheming from characters, some twists and turns and several species involved. The story moves smoothly along and you get dragged in as you work out who is against whom and who is plotting what. You try to figure out who is a good guy and who is a spy. There are scenes that are pretty grim and gruesome, scenes that are distressing and scenes that are really freaking hot.
Now, there is one full on sex scene of m/f ,but it is actually in a kind of dream bubble thingie when Moro meets Cama (symbiont) and I just put it down to a necessary evil. The sex between Moro and Valier is very hot and has a lot of mild bondage.  I am sure that if there is a next book then they would be into more of the hard-core stuff, but because of Moro's long term suffering Valier goes very easy on him and gentles what he really wants. This is a very intriguing storyline as more characters become involved and more species turn up, the descriptions are really well done and the world building was fascinating and we learn more and more the further into the book we delve.
Now, seriously if you are into space-opera, science fiction, fantasy, hot men, damaged men, intriguing characters and species (that can suck up worlds), angst, danger, plotting and planning, with some really hot sex, then you need to read this book because it is a little gem. P.S. Fingers crossed for more from Moro and Valier.