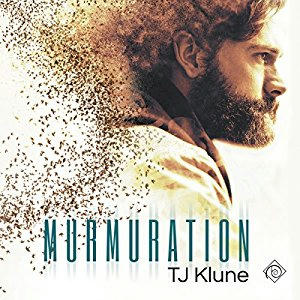 Title: Murmuration
Author: TJ Klune
Narrator: Kirt Graves
Genre: Historical, Mystery
Length: 12 hrs, 11 mins
Publisher: Dreamspinner Press LLC (16th January 2017)
Heat Level: Low
Heart Rating: ♥♥♥♥♥ 5 Hearts
Blurb: In the small mountain town of Amorea, it's stretching toward autumn of 1954. The memories of a world at war are fading in the face of a prosperous future. Doors are left unlocked at night, and neighbors are always there to give each other a helping hand.
The people here know certain things as fact:
Amorea is the best little town there is.
The only good commie is a dead commie.
The Women's Club of Amorea runs the town with an immaculately gloved fist.
And bookstore owner Mike Frazier loves that boy down at the diner, Sean Mellgard. Why they haven't gotten their acts together is anybody's guess. It may be the world's longest courtship, but no one can deny the way they look at each other.
Slow and steady wins the race, or so they say.
But something's wrong with Mike. He hears voices in his house late at night. There are shadows crawling along the walls and great clouds of birds overhead that only he can see.
Something's happening in Amorea. And Mike will do whatever he can to keep the man he loves.
Product Link: Audible US | Audible UK
Reviewer: Prime
Review: It's no secret. I absolutely love and will devour each and every TJ Klune book. Whether that book is in written or audio form, I will love it either way. He makes me laugh and he makes me cry, sometimes at the same time. I tell you, the man is evil, because his writing touches the soul speaks to every fiber of my being. Sounds a bit melodramatic, right? I know but seriously, I am having problems conjuring the words to describe why I love his writing and the stories he weaves with the most wonderful characters. However, Murmuration is a bit different in that despite having some light hearted moments it was more intense and full of mystery than anything else.
I heard Murmuration off the back of listening to TJ's book Wolfsong. Both audios have the same narrator – Kirt Graves – who absolutely get the characters and the emotions on point.
Right I'm trying to keep this short because I think every time I write a TJ Klune review I go on and on and just gush about how much I love his writing and the book in question. I don't want to give too much away either, so I really need to keep it brief.
This is a slow burn story between Mike and Sean in the very familiar theme of friends becoming lovers. In Murmuration we're going back to 1950s small town America, an idyllic time for kids playing out on the road, people keeping their doors unlocked and generally tight communities where everyone knows each other and takes care of one another. I felt a bit of trepidation, though, because of the historical setting and what this could mean for a gay relationship. However, as you read and get hooked on the plot, it had me wondering if you can call it a historical as indicated by the blurb. It certainly gave us a setting and a starting point but there is so much more going on than the time/year that the book is set in. There is definitely a sense of mystery as odd things occur in the quiet small town.
Klune weaves together a complex story with many layers and I'm convinced he does it just to fuck with our minds. Because seriously that ending, was not expecting, seriously massive mind fuck. I can't even say what book it immediately made me think of because for fans of Klune [and have followed his blog and Facebook] you will probably know what book I'm talking about! It's one of those endings that have stuck with me and makes me keep on thinking. But ultimately I am happy because it was a HEA.
If you're looking for a pure romance, I'm not sure what to say about it. It is a very romantic and very sweet story woven in between the darkness and intrigue of the surrounding world. This about a guy trying to find himself in a world that seems dark and scary, but it is the romance that gives us the sense of hope and light.