Hi guys! We have Mia Kerick stopping by today with the blog tour for her new release My Crunchy Life, we have a great excerpt, a brilliant $15 Amazon GC giveaway and Shorty's review, so check out the post and enter the giveaway! ❤ ~Pixie~
My Crunchy Life
by
Mia Kerick
John Lennon fought for world peace, but sixteen-year-old hippie hopeful Kale Oswald's only made it as far as tie-dying his T-shirts with organic grape juice. Now he's ready to cement his new hippie identity by joining a local human rights organization, but he doesn't fit in as well as he'd hoped.
After landing himself in the hospital by washing down a Ziploc bag of pills with a bottle of Gatorade, Julian Mendez came clean to his mother: he is a girl stuck in a boy's body. Puberty blockers have stopped the maturing of the body he feels has betrayed him. They're also supposed to give him time to be sure he wants to make a more permanent decision, but he's already Julia in his heart. What he's not sure he's ready to face is the post-transition name-calling and bathroom wars awaiting him at school.
When Kale and Julian come face-to-face at the human rights organization, attraction, teenage awkwardness, and reluctant empathy collide. They are forced to examine who they are and who they want to become. But until Kale can come to terms with his confusion about his own sexuality and Julian can be honest with Kale, they cannot move forward in friendship, or anything more.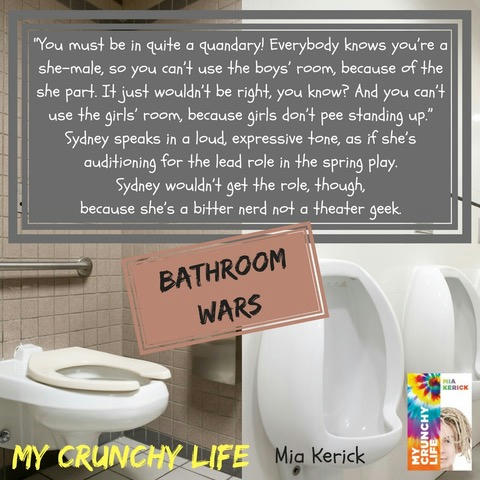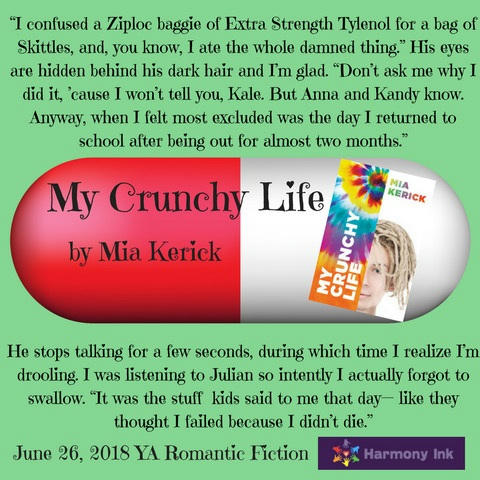 Exclusive Excerpt!
Kale, 6: 45 a.m.
Something is wrong with my bowl of granola this morning. The crunch— it just isn't the same. There's something missing.
I know for a fact that the granola isn't stale. I just peeled the cover off a new can ten minutes ago. I heard the distinctive pop of the safety seal. No, this granola is as fresh as the morning dew. Or a daisy. Whatever— it is very, very fresh.
Maybe it's the almond milk. But a whiff of the container satisfies me: the almond milk is as fresh as the granola. And similarly fresh is the honey I drizzled over the top of the granola and almond milk.
The only thing different about breakfast this morning is that there's no Hughie gawking at me over his omelet as I inform him of the wonders of raw honey.
Side note: Raw honey is the sweet liquid honeybees make from concentrated flower nectar. It has not been heated, pasteurized, or processed in any way, shape, or form. Incidentally, honeybees are the only insect that makes food people eat. And yes, honeybees do sting, but you'd have to be stung over a thousand times for it to be fatal. I consider that to be good news, seeing as, if I got stung in the process of relocating a bee from my bathroom window, I'd be in little danger of dying.
The worst part of this morning is that it's so quiet. It's true that Hughie never said too much, but it still seems silent without him here.
What is happening to my crunchy life?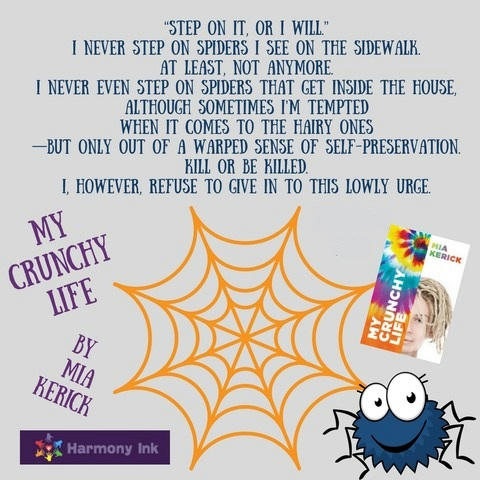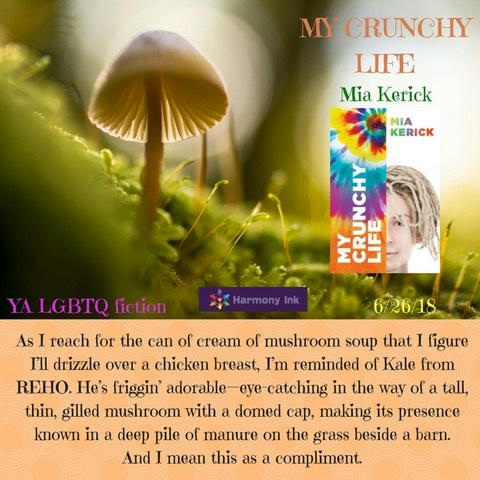 About Mia!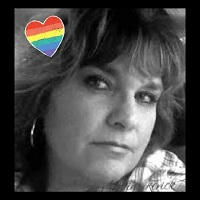 Mia Kerick is the mother of four exceptional children—a daughter in law school, another in dance school, a third studying at Mia's alma mater, Boston College, and her lone son still in high school.  She writes LGBTQ romance when not editing National Honor Society essays, offering opinions on college and law school applications, helping to create dance bios, and reviewing English papers. Her husband of twenty-four years has been told by many that he has the patience of Job, but don't ask Mia about this, as it is a sensitive subject.
Mia focuses her stories on emotional growth in turbulent relationships. As she has a great affinity for the tortured hero, there is, at minimum, one in each book. As a teen, Mia filled spiral-bound notebooks with tales of said tortured heroes (most of whom happened to strongly resemble lead vocalists of 1980s big-hair bands) and stuffed them under her mattress for safekeeping. She is thankful to Dreamspinner Press and Harmony Ink Press for providing alternate places to stash her stories.
Her books have won a Best YA Lesbian Rainbow Award, a Reader Views' Book by Book Publicity Literary Award, the Jack Eadon Award for Best Book in Contemporary Drama, an Indie Fab Award, and a Royal Dragonfly Award for Cultural Diversity, among other awards.
Mia is a Progressive, a little bit too obsessed by politics, and cheers for each and every victory in the name of human rights. Her only major regret: never having taken typing or computer class in school, destining her to a life consumed with two-fingered pecking and constant prayer to the Gods of Technology.
Contact Mia at miakerick@gmail.com. Visit her website for updates on what is going on in Mia's world, rants, music, parties, and pictures, and maybe even a little bit of inspiration.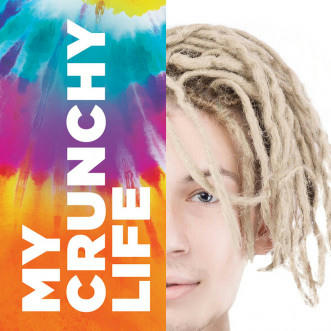 Giveaway!
Win $15 Amazon Gift Card!
Review
Title: My Crunchy Life
Author: Mia Kerick
Genre: Contemporary, Teen Fiction, Transgender
Length: Novel (180pgs)
Publisher: Dreamspinner Press (June 26, 2018)
Heat Level: Low
Heart Rating: ♥♥♥♥♥ 4 1/2 Hearts
Blurb: Every hippie worth his salt fights for a cause, and if sixteen-year-old Kale Oswald wants to call himself a true hippie, he has to do more than look the part. He has to stand for something, so he chooses the local human rights organization… where things don't go as planned.
Julian Mendez is fresh out of the hospital because he thought swallowing a bottle of pills would be easier than admitting to his mother—and all the kids at school—who he really is and longs to someday live as: a girl named Julia. His medication might stop his body from developing into a man's, but it won't make facing his fellow students any easier. Because he plans to move forward with his transition—there was never any other choice.
Sexuality and desire aren't the only facets of themselves Kale and Julian discover—and struggle with—as they get to know each other through the human rights organization. Some sides of themselves are easier to accept than others, but before they can move on—to friendship and maybe more—they'll both have to take a hard look at what they want to become.
ISBN-13: 978-1-64080-392-3
Product Link: Harmony Ink | Dreamspinner Press | Amazon US | Amazon UK 
Reviewer: Shorty
Review: My Crunchy Life is about two teens who have very real issues they are struggling through.
Kale is unsure of his sexual identity. He traverses from one thing to the next in search of answers of who he is. He joins REHO (Rights for Every Human Organization) where he meets Julian another teen who is struggling with bullying from a classmate. Julian is a male but feels he's a female. After his attempted suicide he is firm in his decision to transition and has no doubts.
Hughie is young boy that Kale and his family take in after discovering he is living under a bridge. His mother is not what I would call a mother. Hughie seemed to flounder at times at Kale's but I did worry every time his mom wanted to see him as he seemed to get almost depressed at those times.
These were serious issues that well fleshed out and written well. I felt the characters pain as the story progressed. Teens will enjoy the feel of this story with it's sometimes humorous yet series settings. I liked the way the teens had some support with certain things. It broke my heart at the cruel nastiness that Julian and Hughie's bully delivered to them constantly for a petty reason. I so wanted to hold them and tell them it would all be o.k
Emotional story with very real issues that affect teens today. It's a message of hope and growth.
Great read.