Hiya peeps! Today we have J.L. Langley stopping by with her upcoming re-release My Fair Captain! (I know! I totally fangirled and 'squee'd' so hard! Sci-fi and Regency romance all mixed up into a delicious sexy story!) *cough* We have a brilliant guest post from J.L. where she chats about the re-editing of My Fair Captain, we have a great excerpt and we have J.L.'s brilliant giveaway where you can win your very own copy of My Fair Captain, so check out the post and click the link to take you to the contest! ❤ ~Pixie~
My Fair Captain
by
J.L. Langley
When Intergalactic Navy Captain Nathaniel Hawkins goes undercover to investigate the theft of an IN weapons stash, the mission raises painful memories from his past. Using a title he fled nearly two decades earlier, Nate once again becomes the Earl of Deverell, heir to the Duke of Hawthorne, in order to navigate the ins and outs of a Regency world. But planet Regelence—where young lords are supposed to remain pure until marriage—has a few surprises for Nate, not least of which is his attraction to Prince Aiden. 
A talented artist, Prince Aiden Townsend isn't interested in politics and the machinations of society gentlemen, and he adamantly rejects the idea of marriage and a consort. Aiden wants the freedom to pursue his art and determine his own future. But the arrival of the dashing and mysterious Deverell awakens feelings of passion and longing the young prince can't deny.
As Nate uncovers a conspiracy reaching far beyond the stolen weapons, his future is irrevocably altered by the temptations of a life he never thought he could have. Drawn into the web of intrigue, Aiden is in danger of losing his life… and his heart. 
J.L. Langley!
A Sneak Peek at some of the changes in My Fair Captain.
You always hear people talk about how the book is always better than the movie, but why is that? I think it's because written words evoke more sensory details. Writers have to be able to portray characters through not only their body language but their thoughts. We have to make the reader feel what the character feels, see what they see and smell what they smell. A good writer can evoke memories of scents, sights and sounds. There is nothing quite like reading a description and being transported back in time or to a different planet.  It lets you relate to the characters on a more personal level. That is something much more difficult for a movie to do. Let's face it, it makes it so much easier to understand someone when you can see inside their head.
When I write, I try my best to show my character in a light that makes them relatable. Make the reader empathetic to them. The more real and more flawed the better. No one is perfect and I try not to make my characters perfect. I try to show their faults as well as their strengths. If they make you mad, great. If they make you happy, great. Feel nothing for them? That means I failed. If you connect with them, that's the best compliment ever! 
In re-editing My Fair Captain, I tried to keep those things in mind and define the characters in a way that they make sense with the series. I've tried to let you, the reader, into their heads and show you their growth as well as make them consistent when how they are in the rest of the series, now that I know them better. The task was a little daunting at first, but it proved to be a lot of fun and very rewarding. And I believe it made the story even better.
What are some of the things I discovered during edits? Other than my love of the series, I realized that Nate especially has proven in later stories to be quite the romantic, loving, and doting husband. He showed me depths that I did not first see in the original version of My Fair Captain. I think this was in part because of the BDSM element. This time, I realized that the BDSM no longer fit Nate and Aiden with how they really are, nor did it add to the story. After writing them throughout the series, I've gotten to know them much better. ​Now don't get me wrong, I do love a good BDSM story. I've read and enjoyed stories where BDSM was done very well and fit not only the characters, but the story, seamlessly. Unfortunately, My Fair Captain was not one of those stories, so I knew it had to change. With the re-edit I've tried to make them more consistent and really bring out the romance they share.
Another major "ah ha" moment for me was the realization that I did not have Wentworth in the story. That was an oversight I simply had to correct. Wentworth is such a vital part of the series, and adding him into My Fair Captain just felt right. It also proved to be entertaining.
I found a few series plot holes that needed to be plugged and last but not least… For those of you Trouble fans.  I learned that the scamp still likes to steal scenes.  You will be happy to know he ended up with a few more lines of dialogue and in typical Trouble fashion, he had me laughing as I wrote. I hope he has all of you laughing as well.
My Fair Captain has always been one of my favorite stories and getting a chance to go back and play with it was a lot of fun. I hope you enjoy the new version as much as I do and look for the rest of the series including three new novels.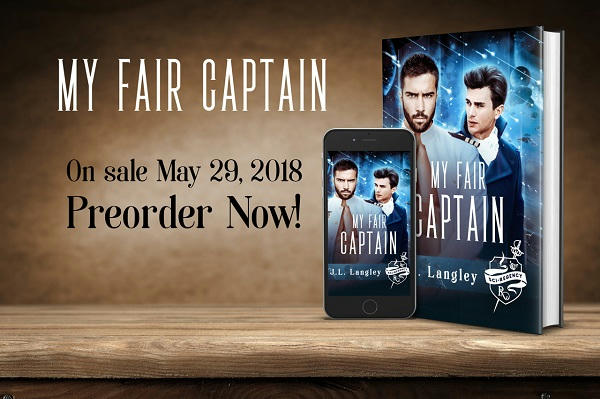 Excerpt!
Prologue
January 26, 4811: Planet Englor
A glade outside Hawthorne Proper in the country of Moreal
A DRIED, crumpled leaf blew across the toe of his shiny black boot as he lifted his right foot. Nate should have stayed home—honor be damned. The situation was all a misunderstanding, an accident. Now he would pay dearly for it. He was going to die.
"Six."
Nate swallowed hard and drew a deep breath as he took his sixth step. The crisp morning breeze ruffled his hair, blowing an overlong lock of dark brown into his eyes. He blinked and shook his head to dislodge it, then wished he hadn't. His head still ached from the heavy imbibing he'd indulged in the night before. If by some miracle he got out of this alive, he'd never drink again.
"Seven." Lord White's voice sounded exceedingly harsh over the rustle of leaves and a neighing horse. Then again, maybe the circumstances made it sound that way with the serenity of the glade as a contrast.
With his mind dazed and his body on autopilot, Nate continued forward, peering over the horizon, past the bare trees, to where the sun began to light the sky with its morning blush. When was the last time he'd been up early enough to see the sunrise? He couldn't remember, but knowing this might be the last time, his carefree existence as the oldest son of the Duke of Hawthorne suddenly seemed worthless.
Someone at the edge of the clearing coughed as Lord White's voice rang out.
"Eight."
Nate advanced a pace. Why had he ever thought he could reason with the viscount? Daniel Bradford, Viscount Hargrove and heir of the Marquess of Oxley, had always been a hothead. Despite the fact their fathers were the dearest of friends and Nate had known Hargrove practically since birth, there had never been any love lost between them. As children they'd been rivals, but as adults they merely ignored each other—until last night. Last night, they'd become bitter enemies.
"Nine."
Closing his eyes, Nate planted one foot in front of the other. The ancient Terran gun felt heavy in his hand. He didn't want to do this. The accusation that had brought him here was false, but his alibi was just as damning. Everything in him screamed to run from the field and flee. He'd be called a coward, but at least he'd live another twenty years.
"Ten. Fire!"
Nate turned, knowing exactly what he had to do. He could not kill Hargrove. If by some miracle Nate lived, his father would surely disown him. He might be a wastrel, but he adored his father, and disappointing him was the worst fate Nate could suffer, more horrible than even death. He aimed over Hargrove's left shoulder.
The sound of gunfire erupted, and a searing pain blossomed in his side. Flinching from the agony, his finger jerked the trigger.
Hargrove's blue eyes widened, his mouth dropped open, and he stared at his chest where a red stain spread across the tan brocade waistcoat. He looked back at Nate, his face pasty white, and crumpled to the ground like a rag doll.
A loud feminine scream tore through the air. Miss Victoria Evans, Hargrove's fiancée, ran onto the field and flung herself over the viscount.
Oh galaxy, what have I done? Nate stood perfectly still, watching for any movement from his opponent.
Someone rushed toward Nate. "Star dust, Nate."
Jared.
Nate was vaguely aware of the hustle and bustle around him as he let the gun slip from his numb hand. It hit the dead grass with a soft thud. Staring at Hargrove's lifeless body, partially covered by Victoria's blue riding habit, he willed the man to get up, but that wasn't to be.
A flock of people crowded around the viscount, partially blocking the view, but the sobbing and sounds of disorder continued.
Fingers prodded his side, making the dull twinge flare into sharp pain. He hissed out a breath and glanced down at Jared's dark head. Why was his younger brother here?
Perched on his knees, Jared examined Nate's side. "It's only a flesh wound." He rose and moved in front of Nate. "We have to get out of here." He clasped Nate's shoulders and shook him. "Nate, are you listening to me?"
Nate tore his gaze away from Jared's worried brown eyes and looked past his shoulder. Hargrove couldn't be dead. He couldn't. Nate hadn't meant to kill the viscount. He was the one who was supposed to die.
The physician stood over Hargrove, shaking his head as Victoria sobbed harder, raking her hand through Hargrove's blond hair, begging him to respond. Even Lord White had waddled his portly body over to stand by the downed man.
"Nate." Jared shook him harder.
Touching his injury, Nate winced at the pain. What was he to do now? He yanked his hand away from the sticky mess and brought it up between him and Jared. Dark red coated his fingertips and dripped down his hand.
"Dammit, Nathaniel." Jared slapped him, jerking Nate's head to the side and nearly knocking him off-balance. "Get it together. We have to go."
The sting snapped Nate from his daze. Jared was right. Dueling happened quite a bit, but it was illegal. No one would say a word unless the authorities happened along, and then they would all be incarcerated. Which was no less than he deserved.
"Did you ride your horse, or did you come in one of the lifts?" Jared asked, tugging him toward the horses. Right past the tree line, horse-drawn coaches and the Low In-Flight Transports hovered above the ground just off the road.
"I took a lift." Nate freed himself from Jared's grip as they cleared the trees. "What are you doing here, Jared?" Nate knew for a fact his brother had not been in the glade when he'd started pacing off. He'd purposely come to the duel alone, not even bringing a second.
Nabil, Jared's horse, stood several yards away from the lift bearing their family crest. As Nate and Jared approached, the gelding pranced toward them, sensing their unease and the need for urgency.
Jared tilted his boyish face in defiance as he walked to the lift. "Open door. Steps down." The door slid into the doorframe, and steps descended from the side of the vehicle. "I came to watch your back, brother mine. I woke and you were gone. You should've told me you planned to go through with this. I barely made it here in time." Jared motioned toward the carriage, then nudged Nate in that direction.
After Nate got in, Jared barked out, "Steps up."
The stairs disappeared into the side of the black metal conveyance, and Nate braced his hands on the doorframe. For the first time, he noticed Jared wore the same black knee britches as the night before. He was without a morning coat, waistcoat, and cravat, and his pale blue shirt had one sleeve rolled above his forearm. Even his shoulder-length dark brown hair hung loose, as though he hadn't even run a comb through it, and his jaw was shadowed with stubble. By the looks of it, Jared had rolled out of bed, with no assistance from his valet, and onto his horse to follow Nate.
Feeling anesthetized from head to toe, Nate said, "I wasn't going to go through with the duel. I came to talk Hargrove out of it, but he wouldn't listen." Staring out the lift door toward the trees, he tried to see through the dried brush as his stomach dropped to his feet, feeling the full impact of what he'd done—however inadvertently. He'd killed a man.
"I'm sorry." Jared's voice was so quiet Nate barely heard him.
"So am I," he whispered back, giving his only sibling a sad smile. "Let's go home, little brother."
Jared nodded and climbed into the saddle. After trotting off the grass and onto the road, he rode at a fast clip in the direction of Hawthorne.
Nate looked back at the clearing one last time, then closed his eyes, knowing his life would never be the same. Closing the door, he set a course toward home and his father's censure.

About J.L.!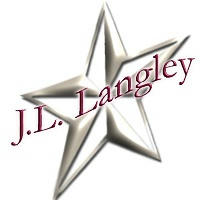 J.L. Langley said her first words at six months of age. By the time she was a year old, she was talking in complete sentences and, as most of her family and friends will tell you, she hasn't shut up since. After becoming an accomplished motormouth, J.L. set out to master other avenues of self-expression, including art, and dance.
She attended the University of Texas, where she majored in art, and worked as a dance instructor on the side. Her love of artistic expression in dance landed her a career in which she taught and performed for over twenty-five years. After marriage to her junior high school sweetheart and the birth of their children, J.L. decided to try her hand at writing. To date, she has several successful novels and a handful of novellas to her credit.
She lives in Texas, where she was born and raised, with her real life hero, their rowdy two boys, two even rowdier German Shepherds and ten goldfish, one of which is named Jaws. When she's not writing, she can usually be found with her nose in a book, appreciating the communication skills of other writers.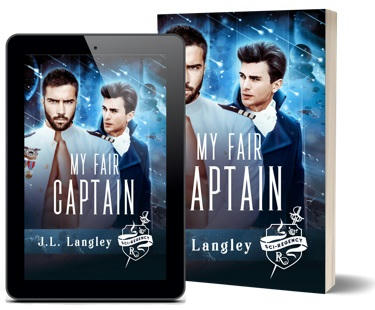 Giveaway!
Win a 

copy of My Fair Captain!

(

5 

ebook

 copies)
(Just click the link below popping over to J.L. Langley's site for the contest.)