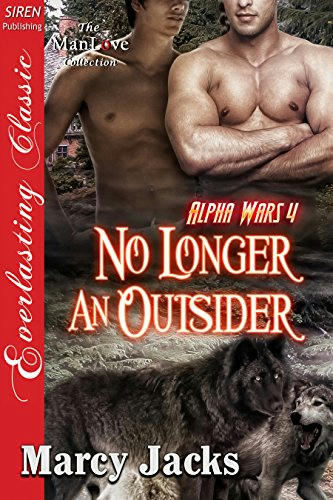 Title: No Longer an Outsider
Series: Alpha Wars 04
Author: Marcy Jacks
Genre: Contemporary, Fantasy, Paranormal
Length: Novella (89pgs)
Publisher: Siren-Bookstrand (8th December 2017)
Heat Level: Moderate
Heart Rating: 💖💖💖 3 Hearts
Blurb: Nate Smith is a wild omega. A tormented past changed the course of his life forever, making him less than human, with almost no control and a fear of being touched. Had he not been taken in by the Greywolf pack, he would most definitely be dead by now. His lust for an alpha wolf Orion eats at him. After suffering his trauma, Nate was left with a fear of being penetrated, and alphas want to dominate by their very nature.
Orion has always felt protective of Nate, even though the former human made a habit of being alone. It's difficult for an alpha when his mate refuses his touch and can't control his wolf. Orion knows he can cure Nate's wild wolf if he would just let Orion in.
But if Orion pushes it, he will chase his mate away from him, and if he does nothing, he risks losing Nate to his feral instincts.
ISBN: 978–1-64010-831-8
Product Link: Siren-BookStrand | Amazon US | Amazon UK
Reviewer: Shorty
Review: Because of what happened to Nate he has been fighting with his nature regarding Alpha wolf Orion. Orion takes this slow and steady. Giving Nate the time he needs. I liked this story and thought the interactions between Nate and Orion were sweet and considerate.
Orin also shows up in this story with a mate but disappears shortly after. We find out there was more going on with him that we did not know.
Entertaining and interesting. Good read.