Hiya guys! We have Rhys Ford visiting today with the tour for her new release 'Nother Sip of Gin, we have a brilliant guest post from Rhys, and we have an amazing $20 GC giveaway, so check out the post and enter the giveaway! ❤️ ~Pixie~
'Nother Sip of Gin
(A Sinners Gin Anthology)
by
Rhys Ford
For Crossroads Gin rock stars Miki, Damien, Rafe, and Forest, life is a Möbius strip of music, mayhem, and murder. Through it all, the sweet, hot moments between tours with lovers, friends, and family keep them sane, healthy, and happy. This Sinners collection features short stories spanning the entire series, from before the first note to after the lights go out.
Rhys Ford!
Never thought I'd be back on the road with these guys again but … here we are. And nothing makes me happier than to take to the pages with the Sinner Boys all over again. 'Nother Sip of Gin came from a friend asking me if I'd ever consider pulling together some of the blog spots I'd done into a book they could read on their Kindle. I've held that possibility in my head for a while and then I got the time and space to pull not only the foundational stories I'd already shared but a few brand new stories I've always wanted to explore, short bits of emotions and life moments I've enjoyed pulling together. I've included long stories like Hair of the Dog and a few others because well, they were fun to write in the past but also provided a solid base for so much of the Sinners lore.
For this blog tour I wanted to take a bit of time to talk about five lyric snippets and how they connect to the characters as well as the meaning behind a few of them. It was great to go through the anthology and once again visit with the guys. I'll be writing a novella about Connor and Forest in the near future so this trip down memory lane has been a great revisit with old friends, reacquainting me with their voices, quibbles, and most of all, their lives.
Giveaway!
And as usual, there is a giveaway! Please enter to win a $20 gift certificate to the etailer of your choice and be sure to hit up every blog stop to enter every giveaway! Never say no to books. *grins*
Fortunes left on paper
Iron grate at my back
Handful of songs in my pockets
You pulled me up from the black
Dragons on the streets
Fireworks in the sky
We've gone and come full circle
A curl of time gone by
Sinners at the Crossroads
An X in the road
Sipping gin, counting time
Getting ready to explode
Let's start with the title song of the anthology, 'Nother Sip of Gin!
NSoG is one of the later songs in the Sinners world, having been written towards the end of the series. I felt like I wanted to write something that touched the entire scope of what the guys had gone through over the books.
Fortunes left on paper… in my pockets — this whole section speaks to Miki and Damie's beginning. Touching upon their meeting and how things went between them. There was suspicion on Miki's part and hope on Damie's… mostly because Damie didn't realize what he was getting himself into. Because if you can imagine, he hears a raspy, bluesy angelic voice layered with pain and sensual velvet while leaving one of the worst gigs of his life. I've often told this story from Miki's perspective with only a little bit of Damien's voice but that moment was as earth-shattering for Damien as it was for Miki. He didn't just find a singer for his band… or another musician… he found a brother. Someone who would stand by him no matter what storm him them. And for D, that loyalty, that unwavering fierceness Miki possesses is not like anything Damien ever experienced. He'd been used to being abandoned or cast aside as useless. Damien fought his way through his family and hard times to get where he was and for all of the charm, cocky mouth, and nonchalant attitude, Damien was very much alone.
Until that moment a pretty faced hapa-Asian kid said yes to climbing down a fire escape and joining his band.
Dragons on the streets…curl of time gone by — This section speaks to Chinatown and of course the time that's passed since the moment they met at that fire escape. This area of San Francisco plays a very large part in shaping the backdrop of the band's story. Miki's comfortable there, having spent a lot of his formative years on those streets and Damien works the small hidden speakeasy like clubs and their owners, looking for a place to make a name for his band. Their warehouses are close by and it's kind of a cradle of home for them. It's where they began and really where the boys call home. It also speaks to them growing to be famous but never leaving behind the steamy, sticky grit of where they came from.
Sinners at the Crossroads…to explode — Of course this passage speaks to Damien and Miki finding the other two musicians they needed… Rafe and Forest. From Sinners Gin to Crossroads Gin, each member of the band has faced his own devils at key points in their lives and played that devil back down into the ground. None of them need fame at this point. What they need is music and the solidarity of a band around them. It's a structure they all crave and that kinetic brotherhood they share once they hit the stage. Music flows through all of them, an energy infusing their bodies and minds until it becomes more than what they can contain. It's both a sharing and a taking because in a way, the band becomes an actual thing, formed from their voices and instruments but also shaped by the fun they are having and the love they have for music.
They are biding their time, waiting to take the stage so they can once again, be that energized, furious beast riding their music…and really, that's all the four guys truly want. 
About Rhys!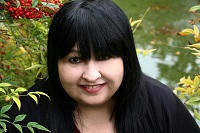 Rhys Ford is an award-winning author with several long-running LGBT+ mystery, thriller, paranormal, and urban fantasy series and is a two-time LAMBDA finalist with her Murder and Mayhem novels. She is also a 2017 Gold and Silver Medal winner in the Florida Authors and Publishers President's Book Awards for her novels Ink and Shadows and Hanging the Stars. She is published by Dreamspinner Press and DSP Publications.
She's also quite skeptical about bios without a dash of something personal and really, who doesn't mention their cats, dog and cars in a bio? She shares the house with Harley, a grey tuxedo with a flower on her face, Badger, a disgruntled alley cat who isn't sure living inside is a step up the social ladder as well as a ginger cairn terrorist named Gus. Rhys is also enslaved to the upkeep a 1979 Pontiac Firebird and enjoys murdering make-believe people.
Rhys can be found at the following locations:
Website | Facebook | Twitter | FB Group 
For more information and to keep track of his upcoming releases, visit Greg Tremblay at: https://gregtremblay.com/
Giveaway!
Win a $20 GC!
(Just leave a comment on this post)
(Ends 23rd August 2020)