Hi guys, we have K.A. Merikan stopping by today with their new release On Your Knees, Prospect, we have a great excerpt and a fantastic giveaway so check out the post and enter the giveaway! <3 ~Pixie~
On Your Knees, Prospect
by
K.A. Merikan
— There is freedom in blacking boots for the right man. —
Jake. Kings of Hell MC Prospect. Obedient. Desperate for approval.
Vars. Dominant. Stern. Undead.
Jake is itching to become a patched member of the Kings of Hell MC.
For two years he's toiled as the only prospect. So when a new guy swans in and thinks he'll get a patch in no time just because he's got friends in high places, Jake is there to stand in his way.
Only that the guy is older, more experienced, drives a Harley, and has the kind of boots Jake craves to lick.
But he won't.
Because he only fucks patches.
Vars is ready to find a new home in the Kings of Hell MC after a messy relationship led him straight to hell. In comparison, the pretty, blue-eyed prospect could be just the pleasant rebound he needs.
The boy is a brat, but that could be amended with a firm hand and a gag.
If only Jake was ready to admit to his submissive needs, Vars would gladly take him under his wing.
That is, until he finds out something inhuman resides inside of Jake.
Vars didn't cheat death only to call out to it again.
But stuck together in one room, keeping each other's secrets, they might just have to become allies, no matter how unwilling. Because if there is something Vars can't resist, it's a boy with pleading eyes.
"You are mine now, boy. This room is soundproof. No one will hear you scream."
"Yes, sir. My body is yours."
WARNING: This story contains scenes of violence, offensive language, and morally ambiguous characters.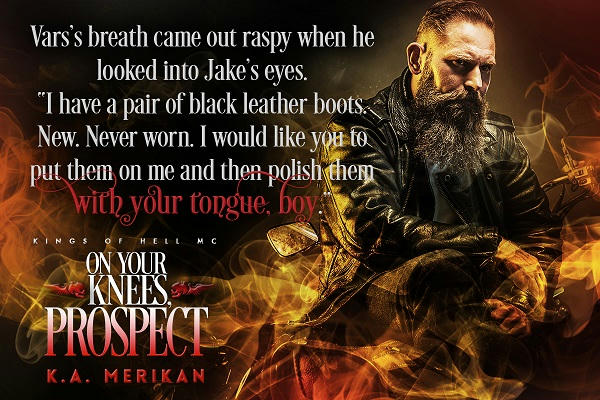 Excerpt!
Jake wouldn't be subjected to this indignity. He hit right back at Vars, even if the man was solid as a rock. "I'm no slave! I do what I'm asked, and yes, if that means sucking dick, so be it. It's called dedication. I bet you've never heard of it!" 
Something flashed in Vars's eyes, and he descended on Jake, twisting back his arms and pushing him forward as if Jake barely weighed anything. With a yelp, Jake clenched his eyes shut, unable to breathe as he braced himself for impact with the floor, but his body met hard steel instead. 
Dampness started soaking into his clothes, and his chin slid over Knight's newly-cleaned car. It smelled of detergent, sharp and unpleasant, but the large body pressing him down overpowered all his senses. 
He struggled against the firm hold but knew he could put more strength into it. His mind drifted off to the leather flogger and cuffs that have occupied it from the moment Jake had made the mistake of touching Vars's toy bag. 
The cool touch of the car's hood was a relief to his burning cheek. It was increasingly difficult to remind himself every day that Vars was a prospect like him when the man carried himself with so much authority. 
"You sure of that?" Vars whispered, leaning over Jake until his lips were inches away from Jake's ear. The movement pressed his hips tighter to Jake's ass, and even though there was no trace of arousal in those leather pants, sensing the heat of Vars's groin had Jake's flesh feel like molten fire. Were Vars's pubes salt-and-pepper as well, or had that been his imagination? 
"Of what?" Jake's voice came out trembling so heavily he didn't recognize it at first. What was he doing? He couldn't possibly give into this weird thing Vars was pulling him into. Vars had no right to him. No patch. And yet everything about the energy Vars exuded spoke to Jake on a level he didn't understand. 
So he stayed put and stopped the pretense of struggle. 
Vars breathed fire down the back of Jake's neck, and while his body still pressed down hard, and his powerful hands still kept Jake's arms in a twist, something about the hold changed. Vars hesitated with his answer, his hips swaying gently against Jake's buttocks as he inhaled and exhaled so close to Jake's ear it was almost like shouting. 
"That you want to serve. That polishing all those shoes on your knees gets your dick hard." 
Yes? No? Maybe? No. Yes. 
So he might actually enjoy doing things for the members. Big deal. It was a lucky thing, since he'd been stuck as a prospect for years. 
Jake couldn't understand why he was so nervous. Why his body reacted so violently to this inquisition. Vars's bulk pressing against him wasn't helping with focus, but it was the hold on his arms that was making Jake's senses spiral out of control. He'd gotten a glimmer of that when wrestling with Gray before, but there was something different about Vars holding him down. He just didn't know what. 
"I just want to please," Jake whispered so quietly he wasn't sure he'd be heard.
Kings of Hell MC Series
Book #1 – Laurent & The Beast – Amazon US | Amazon UK
Book #2 – My Dark Knight – Amazon US | Amazon UK
Book #4 – Gray's Shadow (Coming 2018)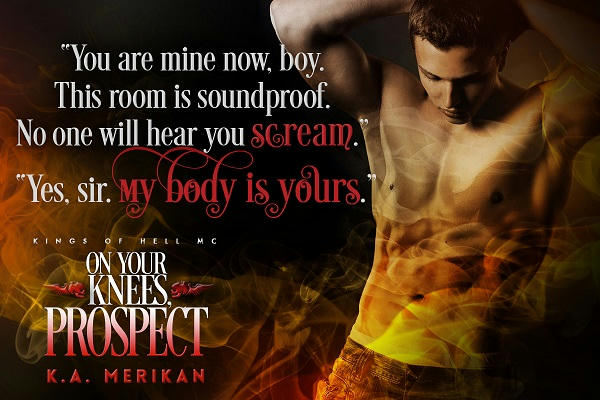 About K.A.!
K.A. Merikan is the pen name for Kat and Agnes Merikan, a team of writers, who are taken for sisters with surprising regularity. Kat's the mean sergeant and survival specialist of the duo, never hesitating to kick Agnes's ass when she's slacking off. Her memory works like an easy-access catalogue, which allows her to keep up with both book details and social media. Also works as the emergency GPS. Agnes is the Merikan nitpicker, usually found busy with formatting and research. Her attention tends to be scattered, and despite pushing thirty, she needs to apply makeup to buy alcohol. Self-proclaimed queen of the roads. 
They love the weird and wonderful, stepping out of the box, and bending stereotypes both in life and books. When you pick up a Merikan book, there's one thing you can be sure of – it will be full of surprises.
Facebook | Twitter | Goodreads | Pinterest | Miss Merikan
Giveaway!
Win a Backlist Ebook From KA Merikan!