Hiya peeps, we have L.A. Witt visiting today with her new release Once Burned, we have a great excerpt and a fantastic giveaway, so check out the post and leave a comment to enter the giveaway! ❤ ~Pixie~
Once Burned
by
L.A. Witt
Captain Mark Thomas's world has been tossed on its head: A long overdue but still unexpected divorce. A promotion out of left field. Last-second orders to a ship where careers go to die. As the dust settles in his new home, he barely recognizes his life, but he sure recognizes the loneliness creeping in.
Diego Ramírez wants nothing to do with the military or its men. Not after the Navy burned him both literally and figuratively, costing him his career, his health, and ultimately his green card. Now working illegally in an Anchor Point bar, he keeps the military and its personnel at arm's length.
But after a single moment of eye contact across the bar, Mark and Diego can't resist each other. As a one-night stand quickly turns into more, Diego knows he's playing with fire. Now he can stick around and let things with Mark inevitably fall apart, or he can run like hell and wonder what might have been. One way or another, Diego knows he's about to get burned. Again.
50% of the author's royalties from this book will be donated to charities supporting US military veterans who have been deported or are at risk of deportation.
Excerpt!
Mark
I'm done.
I looked around the living room of my rental house.
I'm . . . unpacked. Moved in. Done.
Boxes? Gone. Furniture? Arranged. Pictures? Hung. Electronics? Connected.
There was even a sad little bachelor Christmas tree in the corner. It was barely November, but I'd thought the tree might make things less depressing. Now I wasn't so sure. It was staying, though. At least until the thought of making one more fucking change to this house didn't make me want to burn the whole place to the ground.
For tonight, everything was done. I was settled in.
Exhaling, I dropped onto the La-Z-Boy recliner. I pressed my elbow into the armrest and stared out the bay window that overlooked the Pacific. The sun was going down, and the ocean sparkled under the changing colors of the sky. The view had been one of the selling points of the house. Very nearly one of the deal breakers too—I had an unobstructed view of the ocean through the bay window, but if I went out on the deck and looked north, I could see more.
NAS Adams was on the other end of town, but since my house was up on a hill, I could see the base from here. The ships, anyway. There was another hill obscuring most of the buildings. The bridges of the largest ships were visible where they were moored to the piers in the man-made harbor. At night, if it was clear enough, I could even see the hull numbers glowing in the distance.
Including the blinding white 9. The USS Fort Stevens. My ship.
That view had almost been enough to make me pass on the house. This was supposed to be my oasis from work, not a place where it lurked right outside. Who the hell wants to look out the window and see their job?
As long as I stayed inside, though, I could watch the sunset and not have to think about all the gunmetal gray in the distance.
I wasn't even supposed to be here. Not in Oregon. Not on that ship. Not in this house. I was supposed to be on the downhill slide to retirement. Less than three months ago, I'd been getting ready to drop the paperwork to start the year-long retirement process. Come July, after twenty years—twenty-four if you counted my time in ROTC—I would have been done.
Then I'd unexpectedly been promoted to captain, and a call had come in telling me that if I wanted them, there were orders for an executive officer position. If I did want them, I had to agree to them right then and there, and I'd need to report in eight weeks.
Any other time in my career, I might've at least hesitated. I'd taken some slam orders before, and they were a headache and a half. Moving across the country on eight weeks' notice was enough to make anyone go gray.
But the promotion and the call had come within days of my wife serving me divorce papers, so why the hell not? I'd said yes, the orders had gone through, and now I was the XO of the Fort Stevens, an amphib ship that home-ported at NAS Adams. I was moved in to my two-story rental house south of Anchor Point, fully three thousand miles away from everything that had been home for the last ten years. Everything I still owned was unboxed except the gold band I'd worn for almost nineteen years. That tiny box, currently shoved in the back of my sock drawer, would stay sealed for a while.
I was here. I was settled. I was . . .
Restless. What now? I'd forgotten what downtime was.
The last few months had been a blur of upheaval, and now that things were starting to quiet down, I wasn't sure what to do with myself. Since early September, every waking hour—and quite a few of the sleeping ones—had been occupied with the divorce and my new orders. And now that was all more or less finished. The divorce was in the works. My ex-wife was handling the sale of our house in Norfolk. I'd finished checking in aboard the ship a week ago. There really wasn't much left for me to actually do except show up and do my job. It was all back to business as usual. Same shit, different ship.
So . . . now what?
I drummed my fingers on the armrest of the La-Z-Boy, the tap of fingertips on leather seeming to echo in my otherwise silent living room. Maybe I needed to get out of this house and away from all the things I'd just finished painstakingly arranging. According to the clock on the end table, it was only 1845. Still early yet, and it was a Friday night, so it wasn't like I had to work tomorrow.
I picked up my phone and googled Anchor Point. A TripAdvisor page came up. That seemed like a decent place to start.
Restaurants. The pier. Some shops. Hotels. A maritime museum. A military museum. Typical tiny touristy town with—
I did a double take.
The High-&-Tight Gay Nightclub.
Oh, now that was an interesting possibility. The clientele would obviously be military, which was risky, but it also seemed to be the only game in town. Admittedly, I was tempted. How many years had it been since I'd touched a man? Not that I'd touched anyone in recent memory, but a man? Long time. I'd been thinking about it since I'd arrived in Oregon too. I had condoms and lube waiting by the bed and everything. Just had to actually connect with someone who'd be interested in using them with me.
Still, I couldn't help wondering if it was too soon.
Except no. No, it was definitely not too soon. Long overdue if nothing else. The ink was technically still wet on my divorce papers, but Angie and I both agreed our marriage had been over since well before she'd made it official. And now that I thought about it, going to a gay bar and maybe hooking up with a man sounded like the perfect way to break up this sudden monotony.
I saved the address in my phone, then went upstairs to get ready to go.
And I couldn't help grinning as I undressed to shower.
Because if I played my cards right, I just might get laid tonight.

Anchor Point series!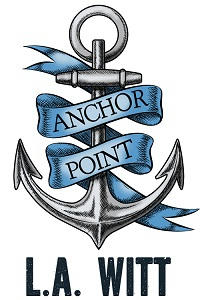 Welcome to Anchor Point!
Nestled on the northern coast of Oregon, this small town is home to Naval Air Station Adams. On base, you'll find freshly minted Sailors who've just graduated boot camp, salty officers counting down till retirement, grounded pilots who've landed behind desks, and everyone in between—and they're all looking for love. Well, not all of them, but that won't stop love from finding them.
So pull up a barstool, grab a beer, and get ready for some sea stories as these men in uniform—or not—navigate the waters of love and life in the military.
Anchor Point stories can be enjoyed in any order. Hop in wherever you'd like!
About L.A.!
L.A. Witt is an abnormal M/M romance writer who has finally been released from the purgatorial corn maze of Omaha, Nebraska, and now spends her time on the southwestern coast of Spain. In between wondering how she didn't lose her mind in Omaha, she explores the country with her husband, several clairvoyant hamsters, and an ever-growing herd of rabid plot bunnies. She also has substantially more time on her hands these days, as she has recruited a small army of mercenaries to search South America for her nemesis, romance author Lauren Gallagher, but don't tell Lauren. And definitely don't tell Lori A. Witt or Ann Gallagher. Neither of those twits can keep their mouths shut…
L. A.'s backlist is available on her website, and updates (as well as random thoughts and the odd snarky comment) can be found on her blog or on Twitter (@GallagherWitt).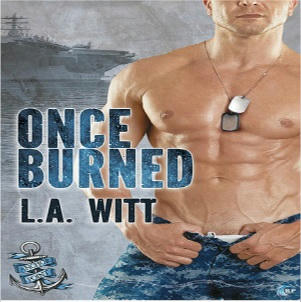 Giveaway!
To celebrate the release of Once Burned, L.A. is giving away reader's choice of two eBooks off of her backlist!

(Excludes Once Burned.)
(Just leave a comment with your contact info to enter the contest.)
Thanks for following along, and don't forget to leave your contact info!
(Entries close at midnight, Eastern time, on April 14, 2018. Contest is NOT restricted to U.S. entries.)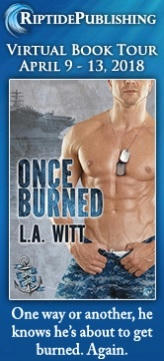 Check out the other blogs on the tour!
April 9, 2018 – The Novel Approach
April 9, 2018 – Dog-Eared Daydreams
April 9, 2018 – Unquietly Me
April 9, 2018 – La Crimson Femme
April 10, 2018 – Erotica For All
April 10, 2018 – That's What I'm Talking About
April 10, 2018 – OMG Reads
April 11, 2018 – Fangirl Moments and My Two Cents
April 11, 2018 – Two Chicks Obsessed
April 11, 2018 – Creative Deeds
April 11, 2018 – TTC Books and More
April 11, 2018 – Wicked Faerie's Tales and Reviews
April 12, 2018 – Scattered Thoughts and Rogue Words
April 12, 2018 – Love Bytes Reviews
April 12, 2018 – Jessie G Book Reviews
April 12, 2018 – Book Reviews and More by Kathy
April 13, 2018 – Bayou Book Junkie
April 13, 2018 – MM Good Book Reviews
April 13, 2018 – The Day Before You Came
April 13, 2018 – Diverse Reader