Hi guys, we have NineStar Press stopping by with their new anthology Once Upon A Rainbow Vol II, we have a great excerpt and a brilliant $10 NineStar GC giveaway so check out the post and enter the giveaway! <3 ~Pixie~
Once Upon a Rainbow Anthology Vol. 2
by
Jennifer Cosgrove, Sara Codair, Emmalynn Spark, K.S. Trenten, Lina Langley, Rebecca Langham, Sita Bethel, Tray Ellis
Your favorite stories from childhood have a new twist. Eight fairy tales of old with characters across the LGBTQIA+ spectrum.
Coming Home by Jennifer Cosgrove 
No one ever expects to be Prince Charming.
Scott Prince has everything, but it doesn't mean that he enjoys all the responsibilities that come with it. It is, at times, a lonely life. But things start looking up one evening when, at an obligatory social event, he meets a handsome man while stepping out for some air.
But then the man disappears. Scott and Molly, his best friend, find him again in a very unexpected place, and the mystery deepens. A tale of an evil stepmother and horrid stepsisters versus a man who is fiercely independent, and a Prince that will do whatever he can to help him escape his situation and come home.
Snow Fox by Sara Codair 
Jealous Queen E's attempts on Snow Fox's life are trending.
Working at a fast food chain and photo blogging about her transition, Rosa Nieves, known to the internet as "Snow Fox," is just trying to pay for nursing school. But when her photos go viral, Queen E can't tolerate the idea that there is a badder bitch than herself, and sets out to murder Snow Fox. Can Rosa survive the wrath of a jealous, rich bitch with an enchanted smartphone? Or will one woman's vanity be her doom?
Deathless by Emmalynn Spark 
Means finding new ways.
Prince Ivan has never been particularly good at being a Prince, so when he comes to rescue his wife from the evil wizard, he ends up offering himself in her place. Vanya soon learns that, while Alex may be an evil wizard, he's a hell of a whole lot more. But the Prince kills the evil wizard, right? There's no way the Prince and the Evil Wizard could love each other instead? Sometimes, love means writing your own happy ending.
At Her Service by K.S. Trenten
Dancing to her true desire.
Cinders would much rather fondle her mistress's bony feet than go to a ball. Magic whisks her away, in spite of herself to a night of lights, dancing, and mystery where she discovers her true heart's desire. For nothing is what it seems where enchantment, fairy godmothers, and princes are concerned.
Shattered Glass by Lina Langley
The resistance was never ready for this.
Kai Axelsson is on the most dangerous mission of his life.
A timely twist of fate. A clever deception. And suddenly he's found himself a place among the staff at Sandheim Palace, entrenched among the people bound to serve a despotic queen. Kai's only job is to feed the propaganda machine while staying out of sight–yet when he catches the attention of the queen's brother, what began as an information gathering mission becomes a battle for Kai's very soul.
Powerful. Magnetic. Immortal. With a breath of frost and a sliver of glass, the crown prince Alexander weaves his spell around Kai, intent to claim him forever and draw him into the darkness of their world. Yet where Alexander's heart is made of ice…it's the fire in Johann's that could be the key to bringing Kai home.
Johann never wanted to let Kai go on this mission. And now a fatal misstep could mean losing the only man he's ever loved. Only Johann can break the spell entangling Kai's heart in thorns of darkest glass.
Before the dark prince's corruption claims him completely, and Kai is lost forever.
Finding Aurora by Rebecca Langham
Setting out to save the sleeping princess does not go as planned.
Aurora Rose slumbers in the city of Oldpass, a cursed kingdom once allied with Grimvein. She is powerless to control her own fate. At least, that's how the story goes.
Now, as Grimvein faces attack, Prince Amir has been tasked with the life-threatening rescue of Aurora, his parents hopeful that he will marry the princess and secure safety for their kingdom. Talia, the strongest spellcaster in the known lands, protects and guides the prince in his quest to save a woman that threatens to change their lives forever. In finding Aurora, the pair will realise the truth about themselves and each other, coming to understand just what – and who – they really want in life.
Master Thief by Sita Bethel
He became the greatest thief in the world so he could steal his squire's heart.
Tyv grew up hungry and cold in a shack boarding the property of a noble family. His father could never provide enough food, clothing, or warm shelter, but there was one important thing he gave to his sons- the choice to go find their own destinies.
The True Love Curse by Tray Ellis
True Love would be wonderful, but the curse keeps getting in the way.
Widow Clara Hammond doesn't have time to worry about misfortune befalling the royal family when she has a house to repair and stepsons to feed, but on her way through the forest she encounters Queen Almarine. The queen is searching for a cure for her ill son, Prince Roald, and Clara can't refuse helping her. The more time they spend together, the more Clara likes Almarine, and the more it seems that Almarine likes her back.
Henryk Hammond is struggling to finish his law degree when the whole university is shut down in a city-wide search for a solution to Prince Roald's illness. While waiting in the long line to offer his own meager knowledge an old woman gives him a magical cloak and gains him audience with the Prince. Henryk's watchful night takes him on a wild ride of dancing and feasting as he follows the Prince out of the palace. As morning arrives, Henryk realizes that to save the Prince they'll have to confront the enchantress together. There's only one way up the tower to the witch's lair, but Henryk is determined to end the curse.
Excerpt!
from Coming Home by Jennifer Cosgrove
"I REALLY DON'T want to go." Scott fiddled with his bow tie and glared at his reflection. He glanced up to include his father in the hard look but sighed as he took in the resignation on his own face in the mirror.
"I know. But you knew this was coming," his father said.
Unfortunately, that was the truth. It'd been inevitable. Scott just didn't have the balls to disappoint.
"At least you're going with a friend."
That was also true. It was known among the society in which they lived that Scott was gay, but it would be a step too far to bring a guy as a date to his sister's "coming out" gala. The irony wasn't lost on him, but it wasn't like he was dating anyone anyway. And it wasn't worth the attention. The lip service to "support" and "inclusion" was laughable, but he'd gotten over letting them get to him a long time ago. Besides, it wasn't like he was the rebel son who got his picture taken stumbling out of a club at two o'clock in the morning, though that might have been more fun.
"You're right." Scott turned around so that his father could straighten the bow tie for him. "At least Lizzie seems pretty happy about it."
His father rolled his eyes, and they shared a grin. "I'll be just as glad as you when this thing is over." Lizzie, or Elizabeth as she insisted on being called, had been a nightmare to be around the last few weeks. Everything was overdramatized; the smallest thing going wrong was the end of the world. It had been enough to force Scott and his father to contemplate an extended trip to Europe, but his mother had put a stop to that.
They turned as the elevator dinged, and Scott sighed with relief. "Ah, there's Molly."
Molly entered the sitting room just as they walked in. She smiled when she saw them. "You two look great."
"And you look lovely as always, Molly dear." Scott's dad stepped forward to kiss her cheek. "Are you ready to get this over with?"
Molly laughed. "Oh, it's not so bad. I survived mine." Hers had been two years ago, and Scott had been her escort then as well. Now Molly had a boyfriend, who was unfortunately out of town for work. The lucky bastard. This worked well for Scott, but he knew Molly would rather Michael be there. Scott liked Michael and was glad Molly had found someone who treated her with the respect and love she deserved. He hugged her quickly, careful not to smudge her makeup.
"Nice dress." Scott took her hand and held it up so she could twirl around. "Your design?" Molly was a budding designer, just starting to make a name for herself. In fact, getting the nod to design Lizzie's dress had been a bit of a coup. It was the only decision of Lizzie's Scott had agreed with in regard to the whole damn thing. At least Molly would get some good exposure.
"Of course." She smoothed down the dark blue fabric. "I know it's gauche to wear the same designer as the special girl, but since I am the designer—" She shrugged. "Oh, well." Molly looked Scott over with a critical eye. "All right, your turn. Spin." He rolled his eyes, and she snapped her fingers at him. "Come on, we don't have all day."
Scott held out his arms and turned around. She brushed over his shoulders and ran a hand down his lapel before giving his pocket square a tug to return it to the correct angle. It coordinated with her dress exactly, which wasn't a coincidence, since she had tailored that as well.
"Do I pass?"
She patted his cheek and then tweaked his nose. "You'll do, I guess."
He crooked his arm and she took it.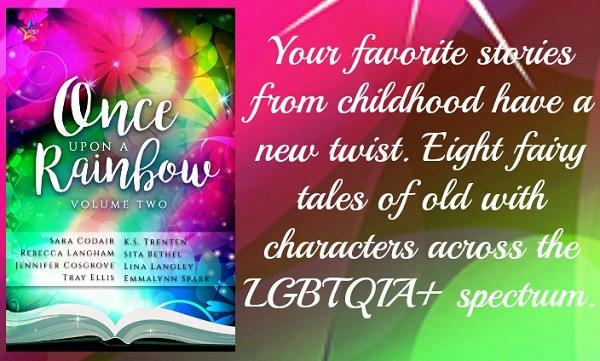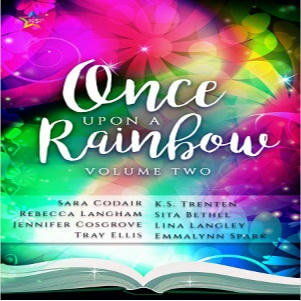 Giveaway!
One lucky winner will receive a $10.00 NineStar Press Gift Code!