Hi guys! We have Cordelia Kingsbridge stopping by today with her new release One-Eyed Royals we have a great excerpt and a brilliant $10 Riptide GC, so check out the post and leave a comment to enter the giveaway! ❤ ~Pixie~
Cordelia: Thanks for checking out the blog tour for One-Eyed Royals, the fourth book in the Seven of Spades series!
We left Levi and Dominic broken up and broken-hearted. But there are new threats facing Las Vegas, and crossing paths on a case again is just their luck…
One-Eyed Royals
by
Cordelia Kingsbridge
Spoiler Alert! The following blurb contains spoilers for Cash Plays, book three of Seven of Spades.

Shattered by their devastating breakup, Detective Levi Abrams and PI Dominic Russo find themselves at war right when they need each other most. While Dominic is trapped in a vicious cycle of addiction, Levi despairs of ever catching the Seven of Spades. The ruthless vigilante's body count continues to climb, and it's all Levi can do to keep up with the carnage.

When Levi's and Dominic's paths keep crossing in the investigation of a kidnapping ring with a taste for mutilation, it feels like history repeating itself. Thrown together by fate once again, they reluctantly join forces in their hunt for the mastermind behind the abductions.

But the Seven of Spades hates sharing the spotlight, and they have an ace in the hole: a new batch of victims with a special connection to Levi. Their murders send shockwaves through Las Vegas and change the rules of the game forever.

The Seven of Spades has upped the ante. If Levi and Dominic don't play their cards right, they'll end up losing everything.
Riptide Publishing | Amazon US | Amazon UK | B&N | Kobo
Excerpt!
Dominic groaned as sirens split the air and flickering red and blue lights filled his rearview mirror. He kept driving for a few seconds, hoping the cop would pass him, but no such luck.
He pulled his pickup truck over to the side of the road and glanced at the dashboard clock. Goddamn it, he was going to be late. Again.
The cop who approached his car was a young white woman whose blonde hair was braided beneath her cap. Dominic adjusted his jacket to better hide the shape of his shoulder holster—he had a concealed carry permit, but there was no point in taking risks around cops. Then he put his hands back on the wheel and gave her the most disarming smile he could muster, which was no easy feat these days.
"Is there a problem, Officer?" He knew for a fact he hadn't been speeding.
"Your right taillight is broken, sir."
Dominic's hands tightened on the wheel so hard it creaked beneath his grip. The cop noticed and raised her eyebrows.
"I'm aware of that," he said, struggling to keep his voice even. "This is the third time I've been pulled over for that light in the past five days."
"Then you should probably get it fixed."
"I will. It's just that money is a little tight right now."
She gave him an unimpressed look. "Money's going to be tighter if someone rear-ends you because they can't see you're hitting your brakes."
"Is a broken taillight really the best use of your time?" he said despite his better judgment. "How about the serial killer that's been stalking the city for almost a year? Or the neo-Nazis running wild around the Valley?"
He nodded to the building nearest them. The symbol of Utopia—a white supremacist group swiftly escalating in scope from street gang to outright homegrown militia—was graffitied in stark black paint on the wall.
The cop turned her face aside, and he could see he'd hit a nerve. As he studied her in profile, he realized something else.
"We've met before," he said, taken aback. "You're that rookie cop Levi Abrams liked—Kelly Marin, right? The one who got busted for leaking the Seven of Spades story to the Review-Journal last April?"
She blinked, retreating a step. He seized on her moment of hesitation.
"Levi put you up to this, didn't he? He asked you to harass me."
"The LVMPD doesn't harass civilians, sir," she said stiffly.
Dominic snorted. "So it's just a coincidence that I've gotten more tickets and warnings from cops in the three months and change since Levi and I broke up than I'd gotten in my entire life? One of your buddies gave me a ticket for jaywalking last month, in the middle of a crowd of people doing the exact same thing. You can't expect me to believe Levi didn't put out some kind of covert BOLO, asking you all to keep your eyes peeled for me and my truck and find any possible reason to hassle me."
Kelly didn't answer, but he didn't need her to. When their relationship had gone down in flames in November, Levi had promised to make Dominic's life a living hell—and he'd been living up to that promise. Not only was Dominic hounded by cops every time he turned around, he was pretty sure it was Levi who'd broken his taillight. He'd left his apartment one morning to find the light deliberately smashed, and no further damage to his truck or the other cars in the lot.
"Look, are you gonna give me a ticket or not?" Dominic asked. "I'm running late for a work meeting."
The truth was, he would have been late even if Kelly hadn't pulled him over. But that was Levi's fault too. Since their breakup, the bastard had been steadily blackballing Dominic from every casino one by one. When Dominic had resorted to not-so-legal venues, each operation had been mysteriously raided by the LVMPD the very next day.
In a matter of weeks, Dominic had found himself persona non grata at almost every gambling establishment in and around Las Vegas. The only place Levi's influence didn't extend was the Railroad Pass in Henderson, a half-hour drive from the Strip. So unless Dominic was content with gambling online—which just wasn't the same—he had to haul his ass all the way out there, and he always underestimated traffic driving back into the city.
"I'll let you off with a warning this time," said Kelly. "Make sure you get that taillight fixed."
"Of course."
Dominic turned the key in the ignition. He knew Levi believed he was doing the right thing. This wasn't like the other times Dominic's gambling had gotten out of control, though. He'd learned from his past mistakes; he had a handle on the gambling now. It wasn't a problem, but Levi was too bullheaded to accept that.
"By the way," he said to Kelly as she backed away from the truck, "you might want to remind Detective Abrams that he left his phone charger at my place when I fucked him last Saturday."
Dominic slid smoothly back into traffic, leaving her gaping behind him.
Read more at: One-Eyed Royals (just click the start reading tab)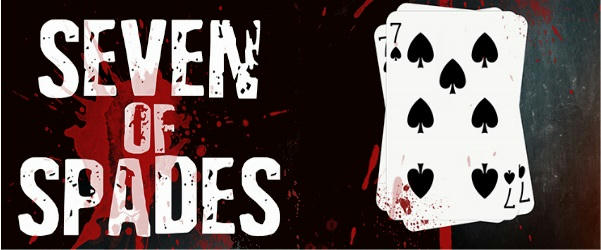 Seven of Spades series!
Las Vegas has never seen a serial killer like the Seven of Spades.
The self-styled vigilante is on a mission to cut down the wicked and treacherous, and Sin City has no shortage of targets for their bloody wrath. What happens in Vegas . . . ends with the Seven of Spades's calling card on a grisly corpse.
Standing against the killer are Levi Abrams, a dedicated homicide detective locked in a constant struggle to restrain his own dark side, and bounty hunter Dominic Russo, a charming rogue with a heavy secret weighing on his shoulders.
The hunt for the Seven of Spades sends Levi and Dominic on a collision course, igniting a passionate relationship forged in conflict and sealed with blood. Together they're stronger than the sum of their parts, but a wily, elusive serial killer isn't the only threat that will strain their bond to the breaking point.
Ante up, because the Seven of Spades is all in. Are you?
Check out the Seven of Spades series!
About Cordelia!
Cordelia Kingsbridge has a master's degree in social work from the University of Pittsburgh, but quickly discovered that direct practice in the field was not for her. Having written novels as a hobby throughout graduate school, she decided to turn her focus to writing as a full-time career. Now she explores her fascination with human behavior, motivation, and psychopathology through fiction. Her weaknesses include opposites-attract pairings and snarky banter.
Away from her desk, Cordelia is a fitness fanatic, and can be found strength training, cycling, and practicing Krav Maga. She lives in South Florida but spends most of her time indoors with the air conditioning on full blast!
Connect with Cordelia: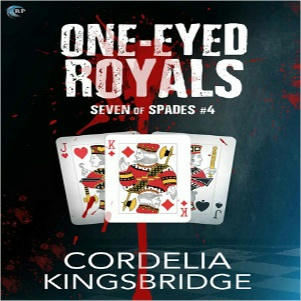 Giveaway!
To celebrate the release of One-Eyed Royals, Cordelia is giving away a $10 Riptide gift card!
(Just leave a comment with your contact info to enter the contest.)
Thanks for following along, and don't forget to leave your contact info!
(Entries close at midnight, Eastern time, on September 15, 2018. Contest is NOT restricted to U.S. entries.)