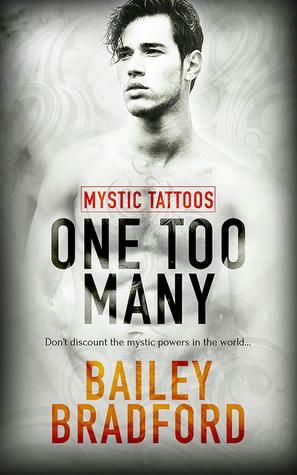 Title: One Too Many
Series: Mystic Tattoos # 1
Author: Bailey Bradford
Genre: Comedy and Humor, Paranormal
Length: Short (49 pages)
Publisher: Pride Publishing (November 29, 2016)
Heat Level: Moderate
Heart Rating: ♥♥♥♥♥ 5 Hearts
Blurb: Don't discount the mystic powers in the world…
Casey has spent most of his adult life building a successful business. His mother has been on him to settle down with a good man. Casey would, but he hasn't had time to look for one. On his fortieth birthday, he goes out with friends and gets drunk—and has one too many.
When he wakes up in the morning, there's a sexy, strange man in his home and a new, kind of painful tattoo on Casey's chest. He doesn't remember what happened the night before, but it doesn't take him long to realize that the stranger, Ed, is someone he wants to get to know much better.
Now, if the fates and stars and all that mystical stuff will align, Casey and Ed might have their Happily Ever After, with the help of a mysterious tattoo artist and a vanishing tattoo shop.
ISBN: 978-1-78651-516-2
Product Link: https://www.pride-publishing.com/book/one-too-many
Reviewer: Shorty 
Review: I loved this cute, sweet story of Casey waking up from a night out drinking with friends to discover he has a tattoo and a hot driver named Ed in his home and vague memories of the before. Ed is attracted to Casey from the start. But being the gentleman he is he refuses to take advantage of Casey. Even so Casey wants Ed but Ed explains he wants something more than a one off. 
I loved how these two interacted with each other. The slow build up to them finally coming together was awesome, The paranormal aspect was intriguing. A mystic tattoo parlor that seems to come and go and a mysterious man named Gene to boot. I'm sure we'll learn more about him as the series progresses. 
Needless to say I loved the entire book. With plenty of sweet, hot scenes and mystery just had me on the edge of my seat awaiting the outcome. It was truly a wonderful story.
Highly recommended.