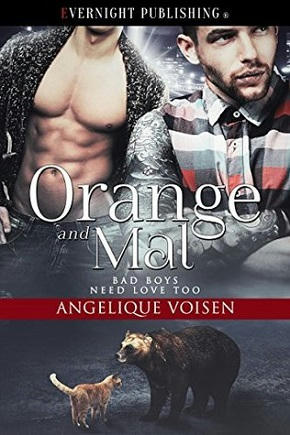 Title: Orange and Mal
Series:  Bad Boys Need Love Too # 2
Author: Angelique Voisen
Genre: Paranormal, Erotic, Shifters, 
Length: Short (68 pages)
Publisher: Evernight Publishing (January 31, 2017)
Heat Level: Moderate
Heart Rating: ♥♥♥♥ 4 Hearts
Blurb: Tabby shifter Orange leads a double life. Kindergarten teacher by day, thief by night, Orange's sick of juggling two lives. He wants to leave the life of crime behind and find a mate to settle with, but fate has other plans. A job gone wrong lands him in the path of a ferocious werebear, but Mal doesn't seem interested in turning him over to the cops.  
Mal's always been good at fighting and he's done his share of bad deeds. He hates thieves, but there's something about Orange he can't ignore. His bear knows Orange is his to claim, mate and love—but will Orange accept a man who isn't afraid of getting his hands dirty?
ISBN: 978-1-77339-163-2
Product Link: http://www.evernightpublishing.com/orange-and-mal-by-angelique-voisen/
Reviewer: Shorty 
Review: Orange is a school teacher and ex thief. He is tasked to do one last robbery in order to bail his brother out of jail. During the robbery he comes face to face with his mate Mal who works security. Orange ends up going to rescue his brother who in the mobs hands. 
I loved the interactions between these two. Orange is confidant and seems to have a level head while Mal is gruff and at times blunt. Well written and entertaining.
Great read.