Hi peeps! We have Louisa Masters popping in today with her new release Out of the Office, we have a fantastic exclusive excerpt and a brilliant giveaway so check out the post and enter the giveaway! ❤️ ~Pixie~ p.s. keep an eye out for my review coming soon!
Out of Office
by
Louisa Masters
Whoever thought achieving career goals could be boring? Not Duncan Witten, but here he is at forty-one, in his dream job… and hating it. Throw it all away for a challenge? Yes, please!
If only Dunc had known his challenging new job came with Paul Hanks, a man who redefines "stubborn." They need to work together to meet targets, but thanks to Dunc's idiot predecessor, Paul won't take his calls or reply to emails.
There's only one solution: travel across the country and confront Paul face-to-face. It's time to take things out of the office.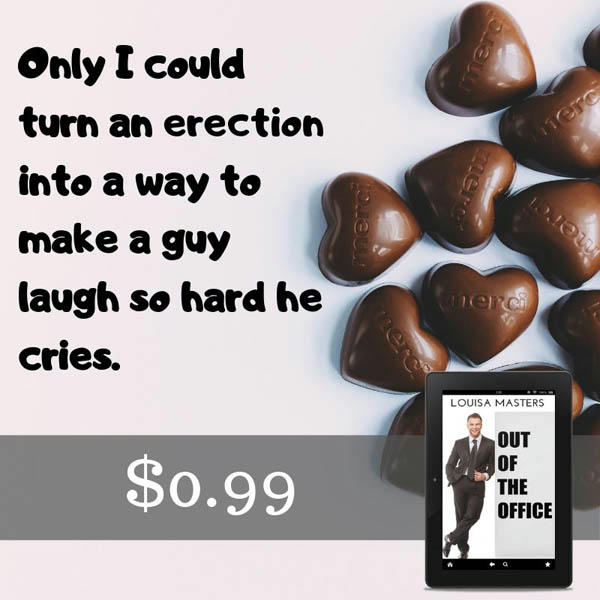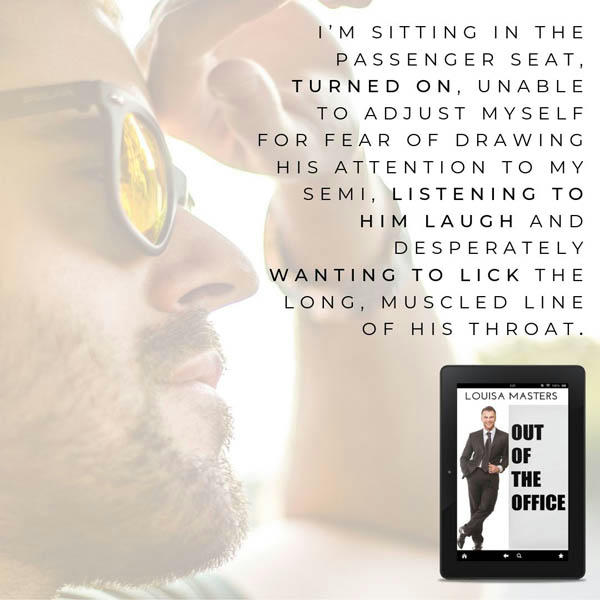 Exclusive Excerpt!
I'm sweaty and nervous.
I shouldn't be. This is not a big deal. Paul is right here with me. It's not a drama that we're dating—there's definitely no rule against it. But I think anytime you have to tell your boss something big, nerves are automatic. And I have to do this twice—first tell Jimmy, as head of the program, and then tell Krista, who's technically my boss.
Ugh.
"Stop freaking out," Paul says calmly. He's looking at something on his phone while we wait for Jimmy to join us in the meeting room. I want to grab the damn thing and throw it through a window, because how dare he be calm? Doesn't he understand that this is A Big Deal?
Yes, I hear myself. And yes, I can't stand myself either right now.
It's fine. It'll all be over with soon, and we can get on with our lives. Or more to the point, with planning stage two of the program.
"I'm not freaking out," I reply belatedly, and he snickers.
"I don't know why you're so worried." It's like I never spoke. "We're not doing anything wrong. Telling Jimmy 'officially' is really just a courtesy." He hasn't looked up from his phone. I'll bet he's reading his emails.
"What if—"
He looks up. "Don't borrow trouble, Dunc. It's going to be fine."
Jimmy comes in before I can tell him that he can't possibly know that, and I snap my mouth shut. The truth is, he's probably right.
I'm not going to tell him that.
It's bad enough that he's going to be all "I told you so" when we finish here.
"Sorry about the delay, guys," Jimmy says breezily as he shuts the door and comes to sit down. This happy, lighthearted Jimmy is a marked change from the incredibly stressed man I've been working with for the last few months. "What did you want to talk about? Planning for stage two? I appreciate your enthusiasm, but it's cool with me if you take a couple days to just shovel out the crap from stage one." He grins, and I can't help grinning back, because after everything we've been through, we deserve to grin.
"No, actually, it's not about the project," I tell him. I have to be the one to speak, because Paul isn't going to. He wanted to just turn up together today and let people find out whenever. I had to talk him into this. "Uh, we wanted to…. The thing is…. You know that Paul and I worked a lot together over the last month?"
Jimmy's smile fades. "Yeah. Oh shit, please don't tell me you can't work together anymore. I need both of you on this, guys. What's it going to take to get past whatever the issue is? I'll pay for counseling." He sounds a little desperate, and I immediately feel bad.
"Oh, no, it's not…. We can work together." Come the fuck on, Dunc. Just say it.
"Duncan and I are together," Paul says. Just like that.
Jimmy blinks. "Like… together, together?"
"Yep," Paul replies, like I'm not sitting here having a heart attack.
"Oh. Okay. Well… I don't want to be a selfish prick, but if that changes, can you try not to let it affect the project?"
Paul laughs. "No worries, mate. Don't think that's going to happen, anyway."
Awww. The hard knot in my stomach dissolves.
"Thanks for letting me know," Jimmy's saying, and he and Paul are standing, so I do too, and then a second later Jimmy is gone and it's just me and Paul.
He smiles at me, and fuck, I love seeing him smile. I love his stupid face. I kiss him, just because I can.
Things get a little hot and heavy, and it's only the niggling voice in my mind reminding me that we're at work that makes me pull back.
"See," he says, putting his phone in his pocket and turning toward the door, "I told you it'd be fine."
Ugh.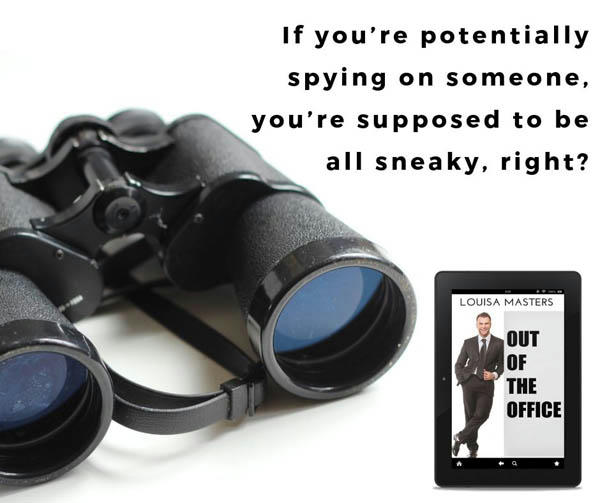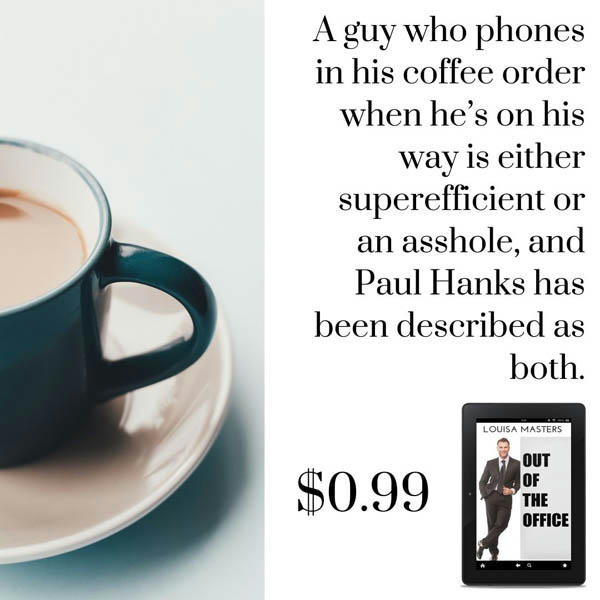 About Louisa!
Louisa Masters started reading romance much earlier than her mother thought she should. While other teenagers were sneaking out of the house, Louisa was sneaking romance novels in and working out how to read them without being discovered. She's spent most of her life feeling sorry for people who don't read, convinced that books are the solution to every problem. As an adult, she feeds her addiction in every spare second, only occasionally tearing herself away to do things like answer the phone and pay bills. She spent years trying to build a "sensible" career, working in bookstores, recruitment, resource management, administration, and as a travel agent, before finally conceding defeat and devoting herself to the world of romance novels.

Louisa has a long list of places first discovered in books that she wants to visit, and every so often she overcomes her loathing of jet lag and takes a trip that charges her imagination. She lives in Melbourne, Australia, where she whines about the weather for most of the year while secretly admitting she'll probably never move.
Website | Facebook | Twitter | Instagram | Newsletter | Amazon | BookBub | Goodreads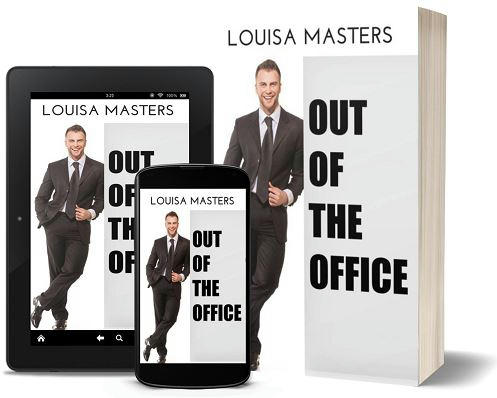 Giveaway!
Win a $20 GC!


(your choice of Amazon, iBooks, B&N or Kobo)