Hi guys! We have debut author Suzanne Clay stopping by today with her debut lesbian romance Painting Class, we have a great excerpt and a brilliant giveaway so check out the post and click that giveaway link! <3 ~Pixie~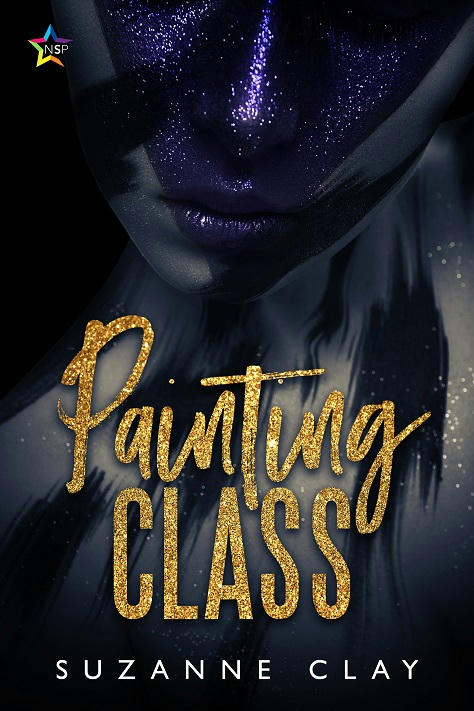 Painting Class
by
Suzanne Clay
Ainsley's first gallery showing is way out of her comfort zone. After teaching high school art for over a decade, she can't think of anywhere else she'd rather be than the classroom, and especially not in front of a crowd of strangers ogling her paintings.
Salvation comes in the form of an insightful young woman who coaxes Ainsley to open up about her inspiration, her drive, and her sexuality. Sparks fly before Ainsley realizes that the young woman is her former student, Noma, freshly graduated from college. As Ainsley fights to reconcile her memories of Noma with the woman she's become, they fall into a playful game of dominance and submission that will change their relationship forever.

Excerpt!
Painting Class, Suzanne Clay © 2017, All Rights Reserved
"You look like you might need this."
Ainsley looked at the glass of wine hovering in front of her and smiled at her deliverance. "Thank you, Brent," she murmured, exhaling shakily as she lifted it to her lips. Sipping carefully, she let the bouquet bloom on her tongue and checked that she hadn't left a lipstick stain on the glass. "No one told me it was going to feel like this."
"What, success?" Brent chuckled as he fit against the wall beside her, his hand tucked into his pocket, his suit neatly tailored as always. "Yeah, I feel like you probably should've anticipated this."
Ainsley shook her head. Her bangs fell in her eyes as she ducked behind the rim of her glass. "I wouldn't call this success. It's a gallery showing."
"That happens to have an open bar, an excellent setting, and a room full of people analyzing your work." He gave her a look. "Babe, please, you've got something in your hand here that not a whole lot of us get."
"Jealous?" she asked as she met his eyes and quirked a brow, trying to hide the curve of her smile.
"Oh, miserable," Brent said dryly. "No, yeah, I absolutely wish I'd gone this route and not the one that got me my giant house."
"Ouch." Ainsley elbowed him. "You know, some of us weren't lucky enough to bag a rich husband right out of college."
"And some of us weren't lucky enough to have actual talent," he shot right back. He tilted his glass toward one of Ainsley's paintings. "You worked with what you had, and I worked with what I had. Turns out you had the drive, and I had a rockin' bod. And y'know, I think it worked out pretty damn well for the both of us."
Ainsley laughed as she leaned into him. "You're ridiculous."
"Yeah, but it got you smiling, didn't it?"
It had. Ainsley was thankful for Brent, really. These little bursts of comedic cattiness were a mask he hadn't worn around her since they were in college, but it made her feel young again, not like they were nearing forty and trying to figure out where their lives had gone.
"You've gotta get back out there, kid," Brent murmured near her ear. "Schmooze with the best of them."
"Can't you do that for me?" she whispered back.
"Boy, I wish," he drawled. He touched a hand to the small of her back and nudged her. "Go on; get yourself some exposure. Sell some of those paintings. I wanna see one of them hanging in Madonna's house by the end of the year."
"Or it'll be a wasted year," Ainsley quipped back. But she let Brent guide her onto the gallery floor anyway. It'd be easier to hide in the corner and let her batteries recharge, but it'd also be a shame to waste this opportunity, especially if this was going to be her only gallery showing ever.
Ainsley hadn't regretted her time working as a teacher. She really hadn't. If she had to choose between every one of her paintings on the walls here and the thousands of students who'd come through her door, she'd pick the students a million times over. In her younger days as an undergrad, when she would quietly set up in a studio, picking the perfect paints for her canvas and thrilling herself with the feel of a brush in her hands, she might've said she craved the life of a gallery artist. But she'd changed. It felt like too selfish a life.
Should she have believed her art would change the world? She valued beauty. She valued a high aesthetic. Her statements were softness, silence, and warmth. And she'd be a fool if she pretended these were anything unique or groundbreaking. No, Ainsley found it more important to empower the next generation to create whatever statements they chose in whatever medium they preferred.
Still, Ainsley liked scratching things off her bucket list as much as the next person. She never imagined this show happening when she'd reached out on a whim, but it had, and now that she was here, she might as well soak it all up.
She approached her favorite piece, a lush field of flowers and two couples having a picnic within it. The two men were dressed in soft bowlers and fine suits, and the women, on their separate blanket, were lovely with their parasols and lace. Each couple had their hands gently knitted together between them, and their backs were to the viewer as they sat considering the sunset.
Perhaps she made more of a statement than she believed.
"Man, that's really something."
Ainsley smiled at hearing the soft voice behind her, at how low it was, how warm. It sounded exactly like she wanted her paintings to feel. She wondered if the speaker knew she was the artist and decided to take the risk they didn't. But when there was no immediate response, no one the speaker had been sharing their thoughts with, Ainsley turned to take a look. A young woman stood there in a bright sundress. Her hair was teased out in a dyed green afro that played off the hazel of her eyes beautifully.
She was lovely. Ainsley immediately felt the itch in her fingers to paint again. It felt like coming home, but she couldn't place why.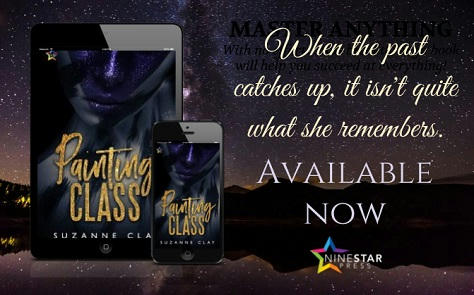 About Suzanne!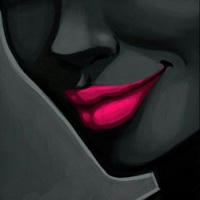 Suzanne is an asexual woman with a great love for writing erotica and enjoys spending her time confusing people with that fact. She believes there is a need for heightened diversity in erotic fiction and strives to write enough stories so that everyone can see themselves mirrored in a protagonist. She lives with her husband and cat, and, when not writing, Suzanne enjoys reading, playing video games poorly, and refusing to interact outdoors with other human beings.
Author Links
Facebook | Twitter | Tumblr | Email: suzanneclaywriting@gmail.com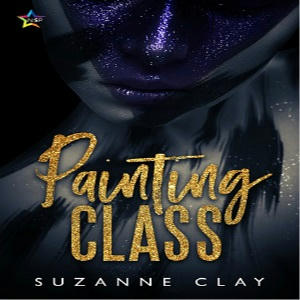 Giveaway!
One lucky winner will receive an ebook of their choice from NineStar Press!
(Just click the link below)