Hiya guys! We have Nic Starr popping in for a visit today with her latest release Patrick's Savior, we have a fantastic guest post from Nic where she chats about her inspiration for the story and there's also a awesome giveaway, so check out the post and enter the giveaway! <3 ~Pixie~ 
Patrick's Savior
by
Nic Starr
How do you find love when someone doesn't want you to be happy?
Patrick Edwards is dealing with a double whammy. Unwanted attention from his housemate's boyfriend is making him feel uncomfortable in his own home, and he's facing uncertainty with his employment as an administrative assistant at the local elementary school. He finally breathes a sigh of relief when a friend puts him in contact with Simon, who has a vacant room.
Simon Dawson is a paramedic who doesn't hesitate to help Patrick. After all, no one should live in a house where they don't feel safe. Simon develops feelings for Patrick, but doesn't act on them—Patrick's moved from a bad situation and doesn't need his new housemate hitting on him. However, a weekend away changes everything when Simon realizes Patrick returns his feelings.
But someone doesn't want Patrick and Simon to be happy. A series of strange letters arrive at the house, and things will get a lot worse before the two men get their happily ever after.
Patrick's Savior is a novel of approximately 69k words. It is part of a series but can be read stand-alone.
Buy Links for other books in the Heroes series
Charlie's Hero | Andrew's Promise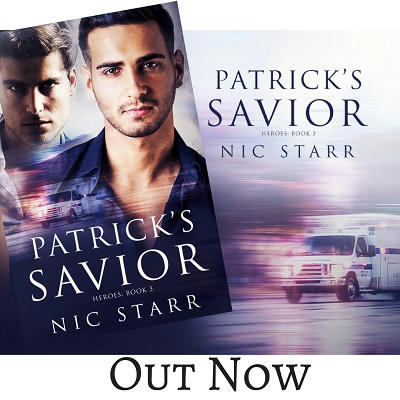 Nic Starr!
Patrick's Savior… the Inspiration and the story of my secret 'admirer'
Inspiration for my stories comes from many places – a television advertisement, a magazine article, a photo, a comment someone makes, a song – and the list goes on. But some stories evolve from side characters in other books and that's the case with Patrick's Savior.
Patrick and Simon started as secondary characters in Charlie's Hero, and this is why they ended up with a book of their own – they needed to find their happy ending. But, the happenings in Patrick and Simon's story, came from elements of my own life.
The drama in the story starts when someone starts to leave 'love letters' for Patrick. This is an actual thing that happened to me.
When I was in my early twenties, I shared an apartment with a good friend of mine in Sydney. We lived in an old two storey house that had been divided into four flats – two up and two down. We had one of the ground floor apartments. One day I came from work to find a letter on my pillow. The letter wasn't threatening but indicated the author watched me each morning as they waited for the bus at the bus stop across the road from our house. The author supposedly wanted to say hi and let me know how nice they thought I was, however, I was totally freaked out – they'd gotten into my house and into my bedroom!
My story ends happily. Apart from reporting it to the police, and having my neighbours rally around to keep an eye out for anything strange, nothing was ever heard from my 'admirer' again. Patrick has to go through a lot more than I did before his stalker is stopped, something I'm glad I didn't have to experience.
I hope you enjoy Patrick and Simon's story.
Happy reading,
Nic xx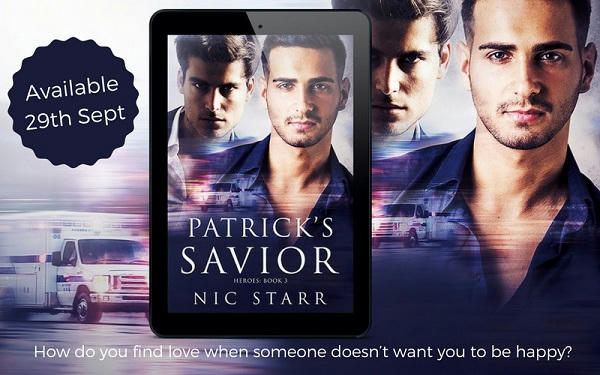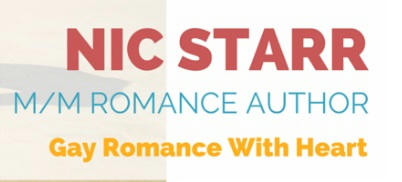 About Nic!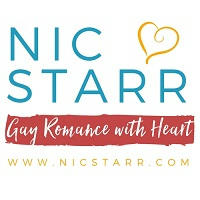 Nic Starr lives in Australia where she tries to squeeze as much into her busy life as possible. Balancing the demands of a corporate career with raising a family and writing can be challenging but she wouldn't give it up for the world.
Always a reader, the lure of m/m romance was strong and she devoured hundreds of wonderful m/m romance books before eventually realising she had some stories of her own that needed to be told!
When not writing or reading, she loves to spend time with her family-an understanding husband and two beautiful daughters, and is often found indulging in her love of cooking and planning her dream home in the country.
You can find Nic on Facebook, Twitter and her blog. She'd love it if you stopped by to say hi.
Author Links
Website & Blog | Amazon Author Page | Facebook | Facebook Page | Facebook Group | Twitter | Pinterest | Goodreads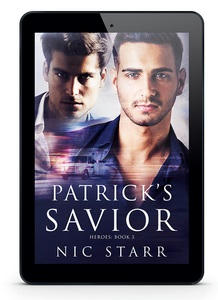 Giveaway!
Win a $20 Amazon Gift Card!