Hi guys! We have A.G. Meiers popping in today with the tour for her new release Perfect Match, we have a brilliant guest post from A.G., a great excerpt and a fantastic $20 Riptide GC giveaway so check out the post and enter the giveaway! ❤ ~Pixie~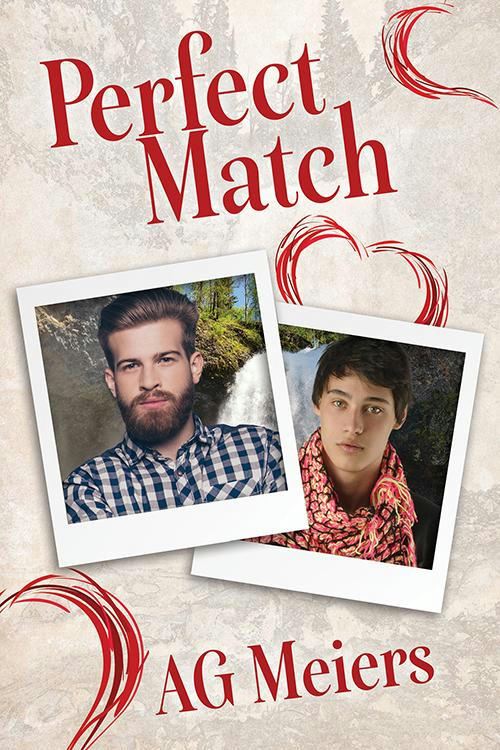 Perfect Match
by
A.G. Meiers
Secrets can derail even the most powerful attraction.

Logger Sven Larson has never found a man worth publicly coming out of the closet for. But his family has other plans. As a thirtieth birthday gift, his mother hires the online dating service Perfect Match to find Sven the love of his life. To say Sven isn't thrilled is an understatement, but it's too late to cancel, and Jayden Calver arrives.

Perfect Match's success rate is unsurpassed, but they don't come by it honestly: if a client can't be matched, the agency uses a stand-in to fulfil their guarantee and protect their profit.
Tough luck has left Jayden in debt, and playing Perfect Match's deceptive game is his only option. So he travels — sparkling toenails and all — to a remote camp deep in the mountains to meet Sven Larson and pretend to be his perfect match for a few days.

Sparks fly on first contact. But as the two men get closer, Sven grows more and more suspicious of Jayden, and Jayden struggles with guilt over his deceit. They both want a future together, but first they must find the courage to be honest with themselves and each other.
Warning: References to emotional abuse & threats.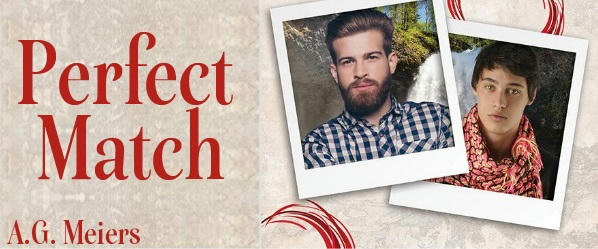 A.G. Meiers!
Perfect Match – The Elevator Pitch
As part of my journey to publishing Perfect Match I was asked a few times if I could sum up my story in one sentence? No, no way! All those 64thousand-something words that I wrote with love? All of them matter, there can't just be a one sentence summary. But! if I really, really had to, I'd say: Moving Forward—Perfect Match is all about picking yourself up after a hard fall, taking a good look at what really matters in your life and then moving forward to claim a glorious future.
This applies for both of my MCs:
Jayden Calver trusted the wrong people and now he is in financial trouble. He sees no other choice than to sell his body as part of a romance scam. Despite battling his insecurities, Jayden is a fighter. He is determined to take control back over his life, but when he meets his mark, Sven Larson, things get awfully muddled.
Sven Larson is blown away by the instant attraction he feels for the city kid who stumbled into his life in the middle of a nasty rain-storm, but as they get closer, Sven can't ignore the inconsistencies and lies that surround Jayden. When the truth comes out, Sven has a few tough decisions to make.
However, "Moving Forward" doesn't quite capture the whole story. The concept of a soul mate is also a key part of the Perfect Match series in general. The idea that there is somebody out there who completes you and once you meet all bets are off. Your whole life changes in a blink. Sounds great, right? For Sven and Jayden the happy end doesn't come easy, because lies and secrets can derail even the most powerful attraction.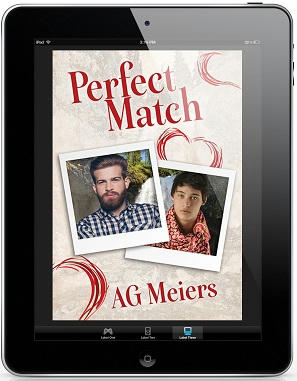 Excerpt!
Perfect Match Commitment #1: There is a perfect match out there for everyone, and we make it our mission to find yours.
"Please, don't leave me here," Jayden pleaded with the driver again. "You can't do this! This is—" The right words to express his horror escaped him. "It's . . . it's not safe. There are all kinds of wild animals here. Bears! Wolves! It's dangerous. Please. I can pay you. I've got money. Just—"
His suitcase hit the wet road with a thud as he clung to the cushion of the back seat. A few minutes ago, Jayden had been silently complaining about the reeking, smoke-filled car. Now, it seemed like a sanctuary compared to the storm raging outside.
"Told ya. You were booked to the bridge, not down to the camp. Ride ends here." The giant, chain-smoking lumberjack, who was wrapped in yards of flannel, grabbed Jayden's arm and yanked him out of the car.
As he crashed against the man's body, Jayden got a full whiff of stale cigarette smoke, old sweat, and worse . . . Puke maybe? Dead cat? He suppressed a gag.
Standing on the gravel road, he felt as if he were on a helicopter pad at takeoff. Howling like a chopper engine, the wind ripped at his clothes. Before he could regain his balance, flannel man slammed the back door shut again. "Filthy faggot!"
"Me? Filthy? You're kidding, right?" Jayden yelled at the quickly disappearing taillights. Rain pelted against the exposed skin of his face. Jayden struggled to zip up his jacket with numb fingers. It didn't matter that he had prepared for cold. That he had planned his trip to the Canadian Northwest for weeks. It had all been for nothing. His carefully selected gloves, scarf, and heavy down jacket were soaked through.
Squinting into the night, he could barely see the small, rickety bridge and narrow dirt road beyond, winding into the dark woods. The bridge. Born and raised in Philadelphia, the city kid in Jayden was still hung up about the fact thatthe bridge seemed to be a perfectly acceptable landmark out here. But in fairness, since the car had left the small airfield, he hadn't seen anything but trees, so the bridge was indeed recognizable.
Slowly, he started walking across the roaring river. The water was so high it almost flooded over the low, wooden structure. A small, rapid stream of water had already pushed over the side of the bank and was gushing onto the road. Jayden swallowed his mounting fear and kept trudging along.
Just this morning, Alex, who planned all the trips at Perfect Match, had walked Jayden through the travel arrangements. It had sounded so well organized. Methodically planned like everything at Perfect Match, the online dating agency where Jayden worked. But then, his flight in Cody had been delayed, and things had only gotten worse once he'd left civilization in Vancouver. Now he found himself dragging a heavy suitcase over a flooded dirt road in a torrential downpour.
Before the driver had kicked him out, he'd mumbled something about two miles down to the camp headquarters. Jayden could handle two miles. He'd be okay.
Famous last words.
Anger and adrenaline carried him for a while, but then an extremely vicious gust of wind ripped the hood of his jacket down. The rain pierced him like icy needles. He wasn't going to let a rude homophobe or a rainstorm get the better of him, though. Jayden needed this assignment. He needed it to go well. So he readjusted his carry-on backpack, clamped down on the suitcase handle, and continued to stumble down the narrow tire tracks.
Alex hadn't only booked all travel accommodations. For the last two weeks he and others had worked relentlessly to turn Jayden into the dream boyfriend for Perfect Match's latest problem client, Sven Larson. Jayden had memorized Larson's profile and all his answers from the online questionnaire. Everyone at the agency had drummed into him that in order to be successful with his assignment he needed to know his target inside out. To craft the illusion of a perfect match, Jayden needed to create instant intimacy.
Stumbling through the freezing rain, Jayden went through Larson's personal info in his mind again. Thirty years old. Six feet two inches. Blue eyes. Blond hair. In his photo, Larson looked like he came straight out of the TV series The Vikings with his blond hair, slightly crooked nose, and lots of facial hair. A beard wasn't really Jayden's thing, but he could definitely get behind the whole Norse-warrior image.
The picture had been a candid. Larson had a warm, friendly smile, which Jayden tried to remember now to give him some courage. He worked as a logger and forester, but some research online also produced a few articles Larson had published about national parks in Canada, sustainable tourism, and the logging industry. His Facebook page also advertised him as a freelance writer.
Another vicious gust blew a wet leaf in Jayden's face. That, along, with the biting winds and freezing rain quickly erased any spirit Jayden had left. He tried to hide under some branches that were lining the road, to get away from the rain and catch his breath, but whenever he stopped, the darkness and the sounds of the woods freaked him out. Every gloomy shadow looked like a hungry bear or a lurking wolf. Better to just keep walking.
After what seemed an eternity, he finally saw a faint light in the distance. He squinted, trying to make out the small yellowish-white dot. Thank God, it seemed to become bigger as he staggered on.
He kept focused on the light, promptly got his foot tangled, and went down hard on his knee. When he pulled himself up again, muddy water gushed through his jeans, down his leg, and into his boot. Jayden was too tired to care. Yeah, he needed to make a good first impression, but now all he wanted was to get out of the storm.
It's gonna be all right! Things will work out! Jayden whispered stupid encouragements to himself, but the words were drowned out by the howling wind.
His banged-up knee throbbed. His jacket was drenched and cold water started running down his back. Despite the pouring rain, Jayden had to stop to catch his breath and rest his leg several times. When he reached a low, long building huddled against the base of a mountain, Jayden had just enough strength left to open the heavy wood door. The warmth of the room was an immediate reward. He slipped through the opening and let his suitcase sink to the floor. Ignoring everything else, he closed his eyes and simply soaked in the heat.
"There he is! Finally!"
"Christ! He's a fairy, all right!"
His relief to be out of the cold turned into panic in an instant. No, not again.He'd heard all these slurs before. Jayden opened his eyes and tried to orientate himself. A bunch of tall, burly men were getting up from a table in the middle of the room, a mass of flannel shirts, work boots, and dark beards. They were the type of men who usually took offense to Jayden's longish hair and the eyeliner he'd carefully put on this morning. Men Jayden tried to avoid; now he'd walked straight into their lair.
"Larson, just look at him. You could crush him with one hand. He's tiny." One of the lumberjacks with bright-red hair walked toward Jayden, shaking his head. His voice boomed across the room. Jayden shrank back, hitting the door. "Oh, please, no," he whispered.
"Shut up, Greg. You're scaring him." A huge blond man stepped forward and stretched out his arm for Jayden, who pressed himself hard against the door. His injured knee gave out, and he sank to the floor. There was nowhere to hide.
"Please don't hurt me. They said I wouldn't get hurt. They said I would be okay. Please."
The sound of his shivering, begging voice frustrated the hell out of him. He was so done with being scared, but the memory of the dark bedroom and the beating he'd taken was still too fresh. His body was shaking hard and it was difficult to breathe. Fear and frustration were threatening to overwhelm him.
But while his mind was close to giving up, his body mobilized some last-resort survival skills. Numb fingers balled into fists, a spike of anger rushed through his body, and in a final attempt to defend himself, he snarled, "Back off."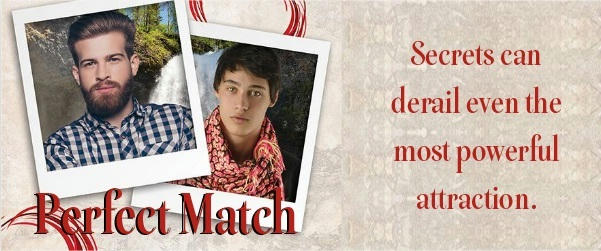 About A.G.!
Eighteen years ago, AG Meiers came to the US for adventure and stayed for love. Currently, she lives in New England with her husband and two awesome kids—balancing work, friends and family, and writing.
When she has some free time, her favorite thing to do is travel and visit new places. Her past trips have already brought her to a variety of countries on four continents. She never passes up an opportunity to experience different cultures, diverse people and amazing locations.
Even though she has been dreaming up stories all her life, she has only recently started to write them down and share them with the world. As a writer she loves to put her characters through a lot of challenges, conflict and heartbreak, before she allows them to find their happy-ever-after.
Connect with AG Meiers: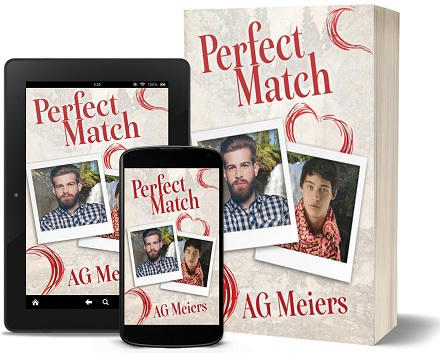 Giveaway!
To celebrate the release of Perfect Match one lucky person will win a $20 Riptide Publishing gift card!
(Just leave a comment with your contact info to enter the contest.)
Thanks for following along, and don't forget to leave your contact info!
(Entries close at midnight, Eastern time, on January 18, 2019.
Contest is NOT restricted to U.S. entries.)

Check out the other blogs on the tour!