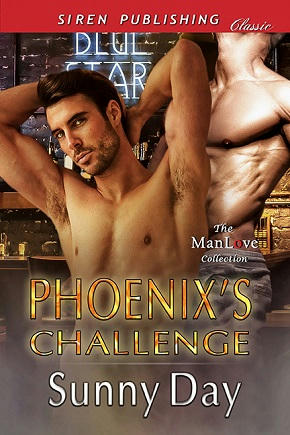 Title: Phoenix's Challenge
Author: Sunny Day
Genre: Paranormal, Fantasy
Publisher:  Siren-Bookstrand Publishing (May 24, 2017)
Length:  Novella (131 Pages)
Heat Level:  Low
Heart Rating: ♥♥♥♥ 3.5 Hearts
Blurb: Having grown up in pack that frowned on gay relationships, Blaine makes a deal with himself: one night and one night only. If he finds a man he's interested in, he'll sleep with him. That should have been the end of it, except the man he met was Phoenix, and all Blaine's carefully constructed plans went out the window.
Blaine can't stop thinking about Phoenix. Despite everything, he wants to see Phoenix again. What he doesn't want is for his life to get so complicated. Phoenix becomes his only way out.
Face to face with Phoenix, and trapped in a dangerous situation, Blaine makes the only decision he can: he has to trust Phoenix to back him up. But the attraction between them is as strong as it was during their first explosive encounter, and Blaine finds himself unwilling to resist.
But why should he? It's Phoenix.
ISBN: 978-1-64010-348-1 
Product Link: http://www.bookstrand.com/book/phoenixs-challenge
Reviewer: Lisa
Review: Blaine lives in a pack that is pretty much homophobic and never tried to stray away from it.  That is until he made himself a deal, one night with a man and only that night.  He just hadn't expected that night to be with an alpha werewolf.  Especially when he is about to become his alpha.
I have read a few stories by this author and have found that she seems to follow the same pattern in her writing.  Although the characters are full of energy and are sexy as hell, they are still missing something important to make them stand out to me.  The story itself flows at a steady pace but the characters do get a little bit confusing.  To me Phoenix doesn't act like an alpha, whereas Blaine does.  Blaine is the pack's beta but has a stronger feeling to him then Phoenix does.  Also it leads you into the other pack mates, but doesn't finish with where they are heading or how they are acting.  Such as Blaine's pack mates acting human even though they are not.  It just felt off to me.
Other than my issues with this book, it is still a pretty good read.  I wouldn't say I would read it more than once but still was a nice little story.  This particular story is a single story, but I would think with the way it is told and the missing pieces that it could be made into a series.  I would hope at least that this author would make a second book, because right now there are question's left unanswered.  Guess time will tell.