Hi guys! We have Amy Aislin popping in today with the tour for her new release Picture Winter, we have a fantastic character interview (part 2) and a brilliant giveaway, so check out the post and enter the giveaway! <3 ~Pixie~
Picture Winter
by
Amy Aislin
Do something new today.
Why he looks at his horoscope every day, Elias Hood doesn't know. It's all garbage, and no nickel fortune ever helped him climb all the way up the corporate ladder. He's about to make Vice President. Rocking the boat with "something new" is the last thing on his mind.
But there's this guy.
Ty Green can make friends with a tree and Elias can't help falling for his easy-going vibe and his perfect smile. He's a fellow Capricorn, like Elias, but that's as far as their similarities go. Ty works to live—he doesn't live to work. When Elias takes his horoscope's advice and asks Ty out, both men are in for a shock. But as Elias's walls start to come down, they might just realize that they have more in common than they think. In fact, they might even want the exact same thing.
Who knows? Maybe horoscopes aren't just trash after all.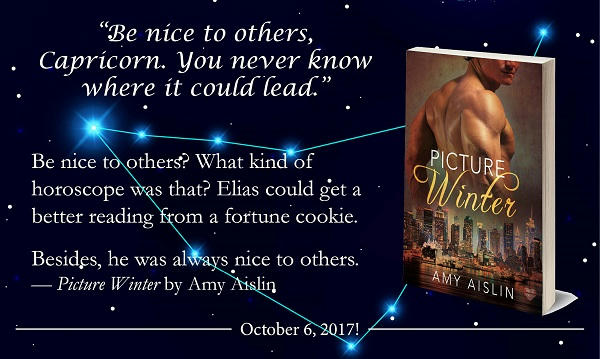 Character Interview!
Thank you for hosting me today on my blog tour for my newest novella, Picture Winter! 
I thought it'd be fun to dive in to the main characters' heads. Picture Winter features Ty, a garbage man, and Elias, a successful businessman on his way to becoming the Vice President of the company he works for. Both are Capricorns, but they have nothing in common. Or so they think.
Read on for Part 2 of a character interview. You'll find Part 1 on one of my earlier blog tour stops.
Interviewer: It's Saturday night and you're dressed for a night out. Where are you going?
Elias: To Ty's parents' for dinner.
Ty: Or possibly the movies. [turns to Elias] Man, we're the most boring couple ever.
Elias: Not true. We tried a new restaurant a couple weeks ago.
Ty: [whispers to interviewer] We're the most boring couple ever.
Interviewer: I think it's sweet. You're homebodies. 
Elias: [pokes Ty in the arm] See? We're not boring. We're homebodies.
Ty: That's just a fancy word for 'boring.'
Elias: [rolls his eyes] We're not boring. We're going to Europe this summer, aren't we?
Ty: [perks up] Oh yeah!
Interviewer: That'll be a nice trip. Where will you go?
Ty: Elias is taking me to Bohemian Switzerland National Park!
Interviewer: I've never heard of it.
Elias: Most people haven't.
Ty: [ignoring everyone] And then Prague, and then Rome, and then Barcelona.
Interviewer: Wow, that's—
Ty: [throws a charming smile Elias's way] Can we go to Paris, too?
Elias: [rests his arm on the back of Ty's chair and sifts his fingers through Ty's hair] Yeah, we can probably tack it on.
Ty: [grins] Yeah?
Elias: Yeah. Anything you want, baby. You know that.
Interviewer: …Aaaaand I've lost them. Well, that was all the time we had anyway. Thanks for joining us on this character interview!
Thanks for reading! You can catch Part 1 of the character interview on one of my earlier blog tour stops.
I hope you enjoyed this insight into Ty and Elias! Get your copy of Picture Winter from MLR Press, Amazon, or your favourite e-tailer. And don't forget to enter the giveaway for a free e-copy of one of my books!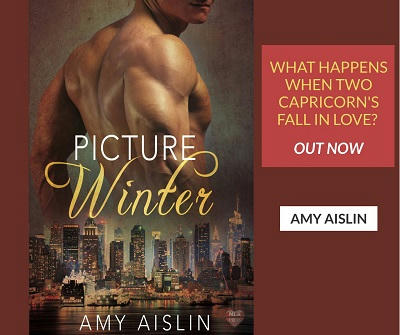 About Amy!
Amy started writing on a rainy day in fourth grade when her class was forced to stay inside for recess. Tales of adventures with her classmates quickly morphed into tales of adventures with the characters in her head. Based in the suburbs of Toronto, Amy is a marketer at a large environmental non-profit in Toronto by day, and a writer by night. Book enthusiast, animal lover and (very) amateur photographer, Amy's interests are many and varied, including travelling, astronomy, ecology, and baking.
Amy loves connecting with readers! You can find her on Facebook, Pinterest, Tumblr, and Twitter or sign up for her infrequent newsletter at www.amyaislin.com/signup
Giveaway!
Win an Ebook from Amy Aislin!

Check out the other blogs on the tour!