Hi peeps, we have K.C. Burn stopping by today with her upcoming release Plaid Versus Paisley, we have a brilliant guest post from KC where she chats about her book and we have a great excerpt, so check out the post and enjoy! <3 ~Pixie~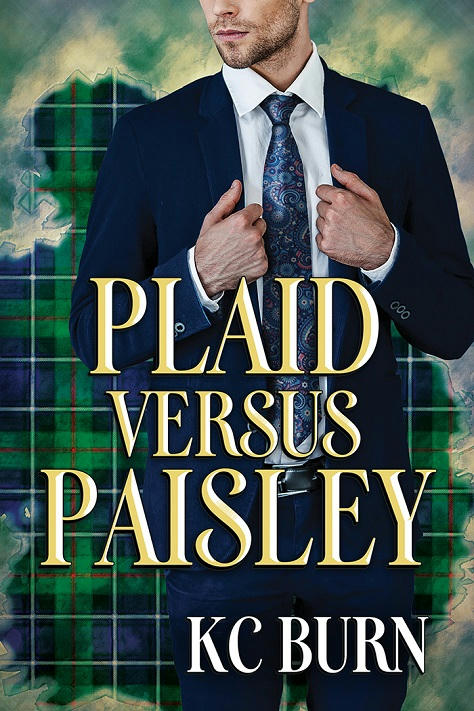 Plaid Versus Paisley
by
K.C. Burn
Two years after his life fell apart, Will Dawson moved to Florida to start over. His job in the tech department of Idyll Fling, a gay porn studio, is ideal for him. When his boss forces him to take on a new hire, the last person he expects is Dallas Greene—the man who cost him his job and his boyfriend back in Connecticut. He doesn't know what's on Dallas's agenda, but he won't be blindsided by a wolf masquerading as a runway model. Not again.
Dallas might have thrown himself on his brother's mercy, but his skills are needed at Idyll Fling. Working with Will is a bonus, since Dallas has never forgotten the man. A good working relationship is only the beginning of what Dallas wants with Will.
But Dallas doesn't realize how deep Will's distrust runs, and Will doesn't know that the man he's torn between loving and hating is the boss's brother. When all truths are revealed, how can a relationship built on lies still stand?
Release date: 12th December 2016

K.C. Burn!
Hello! I'm KC Burn and I want thank Pixie for hosting me. I'm super excited to be here chatting a bit about my upcoming release, Plaid versus Paisley, available December 12. As might be obvious from the title, there's definitely a bit of enemies to lovers in this story, as well as a lovely man in a kilt. Will thinks Dallas is out to get his job, and his antagonism makes Dallas bite right back. And of course, dear to my heart, they've got a good dusting of geek. I have a real fondness of writing about every day guys, or at least, what I hope are every day guys. I think everyone deserves a happy ever after, and I love to give ordinary men sweet stories where they find true love. Writing about Will and Dallas was so much fun, especially since I didn't know how much Dallas would end up loving paisley – I had plans for him to be a kilt lover as well, but my characters often speak louder than my plans, so I just went with it, and I hope you find their battles over the disputed territory of a porn studio's IT department as entertaining as I did.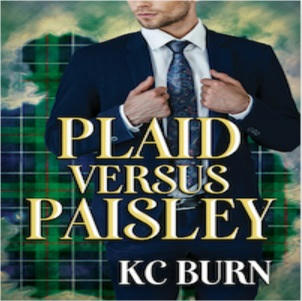 Excerpt!
The sound of the server door opening brought Will out of his intense focus. No one except for Stefan and Kyle came into the server room—no one else had the security code, and Kyle already sat at his desk, wading through client e-mails to determine which ones contained legitimate technical issues.
But a stranger walked through the door.
Will's entire body flashed hot and cold. No, not a stranger. But if Will had to call someone a nemesis or a mortal enemy, that's who stood in his server room right now. Smiling. The same way he'd swanned into the systems administration department at Savron Dynamics two and half years ago, shortly before he got Will red and took his fucking job.
Dallas fucking Greene. A bastard straight out of college, fresh off a completely unrelated internship with the CEO of Greene Family Enterprises. That incredible movie-star visage and fresh-faced innocence hid deceit the likes of which Will had never seen. He'd been too busy trying to control his incredibly inappropriate attraction to realize Dallas had been subverting Will's boss to the point that six months later, Will was out of work.
Surely Dallas hadn't followed him from Connecticut to fucking Florida. Did that qualify as stalking? Had it taken him this long to find out where he'd gone? Had he become so bored, lording it over the systems admin department in a Fortune 500 company, that he needed fresh entertainment?
Weird thing was, Dallas looked almost shocked. Like this was all some big coincidence. Yeah. Right. If this was coincidence, the apocalypse was upon them.
Stefan smiled, but Will couldn't bring himself to smile back. Not when dread filled his entire body, anticipating Stefan's words.
"Morning, Will. I've jumped the gun a little and hired you a new team member."
Will clenched his jaw, teeth grinding, in the effort not to scream.
Stefan didn't appear to notice Will's less than enthusiastic response. "I know you need some help, but with your current workload, I know you haven't had time to submit job descriptions to me. Dallas will be able to help you out with that, so you can start building a team."
"I don't need a team. I have Kyle." There. That didn't sound too dismissive.
"Kyle's an intern. A good one, but you need more staff." Stefan frowned at him. "I realize I don't have a huge understanding of all the techie stuff that's needed to run our site, and I may not be a typical CEO, but I've done my homework, and the vision we discussed when I hired you requires a bigger team."
This time, Will's cheeks heated in shame. Just exactly what he needed. His boss undermining him in front of an intern and a new hire, who Will had had no say in. It was sheer luck Stefan even landed someone who had the right skill set, and no matter how much Will hated Dallas, he did have the right skill set to help solidify and expand Idyll Fling's reach.
Too little, too late, Stefan seemed to realize that this wasn't the time or place to tell Will his work wasn't quite up to expectations. He cleared his throat, looking a little sheepish.
"Don't get me wrong, Will. You've done a great job. The best. But I think you'll find Dallas a step in the direction we both want to go in."
Both. Ha-fucking-ha, what a joke. If it was up to Will, he'd stay hands-on forever, with the occasional intern flitting in and out. Even if he hired someone full-time? Dallas Greene would be his last fucking choice. Even an eighty-year-old historian would be preferable.
None of that came out of Will's mouth, thank God. Stefan was the most relaxed boss he'd ever had, but he still paid the wages. "Thanks."
Stefan cleared his throat again. "For the first while, while he gets up to speed, Dallas will only be working part-time, and I'll let you know when he's going to be switching to full-time."
Figured. Cushy job for Dallas? Check. Doing less than half the work and probably getting paid more than half salary? Check. Okay, so he didn't know what Dallas's wages were, but it wouldn't surprise him one bit. Unless Dallas had truly followed Will to Florida, the paycheck had to be fairly substantial for Dallas to relocate. Otherwise, why bother? Will hadn't had any other options, and while he was glad he'd taken Stefan up on the job offer, if it weren't for a desperate need of work, he'd have stayed in Connecticut and maybe tried to make things work out with his ex-boyfriend.
"I don't even have a desk ready for another employee." Will wasn't far from whining. The lack of space had been only one item in his arsenal to keep his coveted spot at Idyll Fling secure from interlopers. Especially interlopers who'd made it their purpose to steal his job, and if the current situation was anything to go by, Dallas was planning to make a life's work of it.
Will wasn't a violent sort of person, infrequently given to anger, but seeing Dallas again, under these circumstances, made him want to punch Dallas in his model-perfect mouth.
Stefan looked supremely unconcerned with his arguments so far and shrugged negligently. "There's a storage room just down the hall that you could easily convert into a proper tech department. Make it look more permanent than it does now."
With effort, Will managed to not roll his eyes. The bank of servers he worked next to was pretty fucking permanent in his opinion, but he had to give Stefan grudging credit for realizing that hanging out with the servers wasn't exactly normal procedure, especially not for a growing organization like Idyll Fling.
"I don't know if I have time to train anyone right now, Stefan. We're super busy." And there was no way Kyle could train anyone. Hell, Will had made sure to keep his access pared down to the bare minimum, and he barely knew enough of Will's architecture to do much more than update passwords, answer e-mail, and run reports. Which meant Will bore the lion's share of the work. Somewhat a self-fulfilling prophecy, since he'd never have time to train new people if he didn't have someone to take on some of the load.
For each roadblock Will threw up, Dallas looked more and more uncomfortable, but Will couldn't bring himself to worry about that. Not right now. He had a fiefdom to defend.
About K.C.
KC Burn has been writing for as long as she can remember and is a sucker for happy endings (of all kinds).  After moving from Toronto to Florida for her husband to take a dream job, she discovered a love of gay romance and fulfilled a dream of her own — getting published.  After a few years of editing web content by day, and neglecting her supportive, understanding hubby and needy cat at night to write stories about men loving men, she was uprooted yet again and now resides in California. Writing is always fun and rewarding, but writing about her guys is the most fun she's had in a long time, and she hopes you'll enjoy them as much as she does. 
Visit KC at her website, on Twitter, on Facebook, or find out about new releases by signing up for her newsletter.