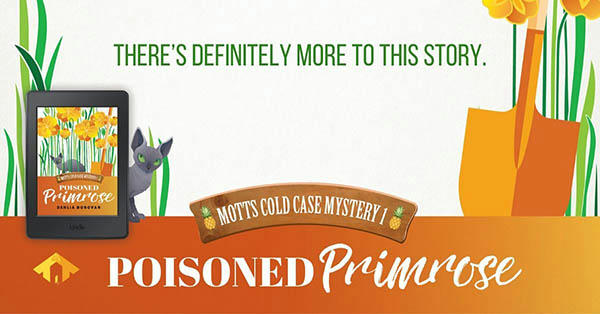 Hi guys! We have Dahlia Donovan stopping by today with the tour for her new release Poisoned Primrose, we have a great exclusive excerpt and a fantastic giveaway so check out the post and enter the giveaway! ❤️ ~Pixie~
Poisoned Primrose
(Motts Cold Case Mystery 01)
by
Dahlia Donovan
Meet Motts and the quirky cast of characters in her world. Poisoned Primrose is a quintessential cosy British mystery and an all-round fun story to throw yourself into.
Autistic, asexual, and almost forty, Pineapple "Motts" Mottley flees London with her cat and turtle to a quaint cottage in Cornwall. She craves the peace of life in a small village. The dead body buried in her garden isn't quite what she had in mind, though.
Unable to resist her curiosity, she falls directly into a mess of trouble and runs head-first into the attractive detective inspector, Teo Herceg. She tries to balance her business with the investigation, but as the killer focuses on her, staying alive becomes trickier than advanced origami.
Will Motts survive the onslaught of murderously bad luck?
Can she solve the mystery before it all spins out of control and off a cliff?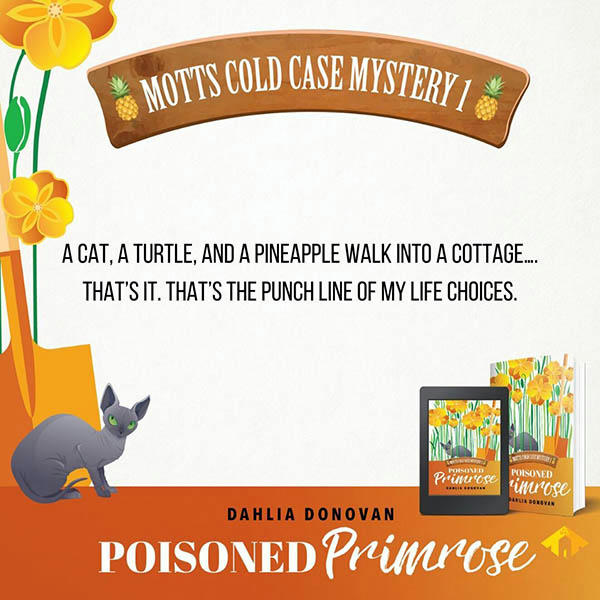 Excerpt!
"I'll get these stones moved. Do you want to save them? If not, I can repurpose them in another garden so they're not wasted." Hughie hefted several into his wheelbarrow. "Are you sure I can't help with anything other than this section? I don't mind pulling weeds."
"Okay." Motts shrugged. She wanted to say no—but saying no was hard. "Okay."
It took an hour to clear out the sectioned-off plot in the garden. Hughie moved on to the pile of stones while Motts began preparing the ground for her herb garden. She planned to use them to make a border for the various vegetables that would go in at a later date.
It would be better than working in an allotment like she'd done in London. People had an unnecessary need to chat while gardening. She wanted to be left alone.
Then again, Motts wanted to be left alone most days.
"Is your phone handy?"
Motts sat back on her heels. She'd been digging in the dirt while Hughie went back and forth with the stones in his wheelbarrow to the four-yard skip she'd rented at his suggestion. He'd gotten down to the last bit. "Define handy?"
"Mine's in my car—staying dry and clean." Hughie had turned more serious than she'd seen him. He tugged off his gloves, tossing them into the wheelbarrow. "Do you have a mobile phone?"
Motts stared at him, trying to process his urgency before finally shaking her head and reaching down for her phone. "Here. What's happened?"
"I'd like you to go inside the house. Get warm, have some tea, and stay there." Hughie wasted no time making his phone call. "Go on."
Walking towards the house, Motts glanced back over her shoulder when she heard him mention finding a hand. Did he say fingers? Actual fingers? What the devil is going on? Was there a person under the pile of stones? Can't be. Too absurd to be true.
Motts did make tea. She did get the fire going. But she didn't ignore the drama playing out in her garden. "What do you think he found, Cactus?"
Her cat stretched out before hopping into her lap. Motts had curled up in the comfortable recliner set up by the window. Her aunt had loved gazing out into the garden and had spent many hours in the chair.
Hughie tapped on the window and pointed to the door. "Can I come in?"
"Go on." Motts nodded.
He wiped his feet on the mat outside and then came into the cottage. "Oh, it's lovely and warm in here."
She took her phone when he handed it over. "What's happening?"
Hughie crouched by the fire, holding his hands out to warm them. "I'm not sure how to put this delicately."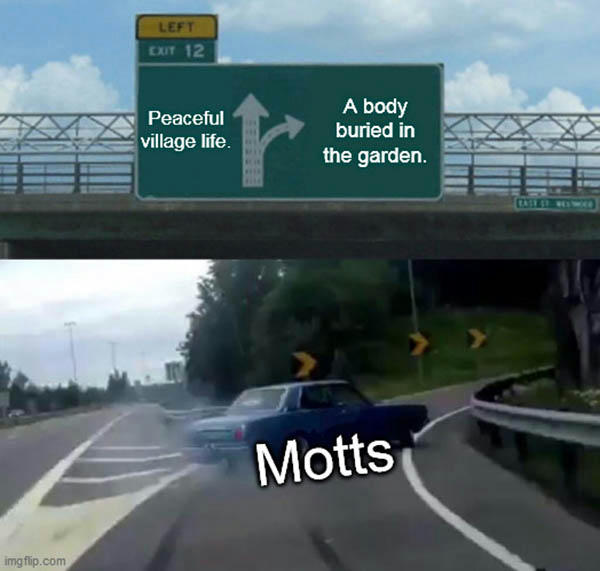 About Dahlia!
Dahlia Donovan wrote her first romance series after a crazy dream about shifters and damsels in distress. She prefers irreverent humour and unconventional characters. An autistic and occasional hermit, her life wouldn't be complete without her husband and her massive collection of books and video games.
Website | Facebook | Twitter | Instagram | QueeRomance Ink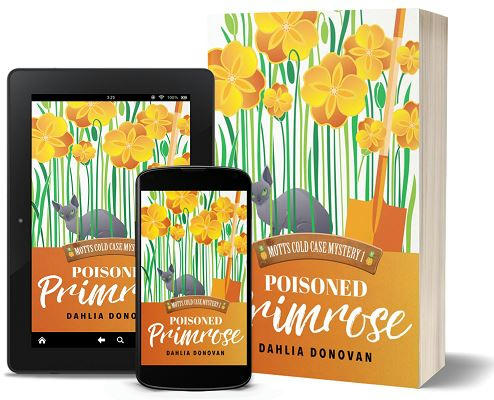 Giveaway!
Win a $10 Amazon GC!