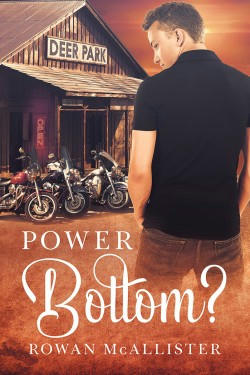 Title: Power Bottom?
Author: Rowan McAllister
Genre: Contemporary
Length: Novel (236 Pages)
Publisher: Dreamspinner Press (19th September 2016)
Heat Level: Moderate
Heart Rating: ♥♥♥♥ 3.5 Hearts
Blurb: Can a pickup line from a stranger completely change the way an ordinary man sees himself?
Adrian wouldn't have thought so, but after an ugly breakup where his self-esteem took a serious beating, he's willing to try just about anything to repair the damage… even return to a secluded bar in rural Maryland and the intriguing stranger whose words have been on his mind since they met.
Biker, bouncer, bartender, and tattoo artist, Wyatt is a rolling stone. After fifteen years, he is tired of a life on the run, but he isn't sure he knows how to do anything else or if he has anything besides a physical relationship to offer.
What's supposed to be a one-off turns into another and another, and the relationship looks promising until the mob and the FBI come knocking on Adrian's door.
ISBN: 978-1-63477-686-8
Product Link: https://www.dreamspinnerpress.com/books/power-bottom-by-rowan-mcallister-7538-b
Reviewer: Veronica
Review: This story started off great, and I was getting into the story and then it gets very confusing. It starts out with Adrian and his then boyfriend, who are out in the mountains trying to reconnect their relationship and having a picnic. Their car breaks down and they're stranded in the mountains. They set out to find help or someone with a telephone, when they get a Bar and Adrian elects to go inside. While talking to the bartender, Adrian is hit on by a patron, but lets him know that he has a boyfriend.
Days later, Adrian boyfriend returns home from hanging out with friends. Adrian sees a hickie on his neck and calls him on it. Oh boy, he offloads on Adrian and tears him apart. He tells Adrian that he's cheap, and that he's extremely boring in bed. He criticizes his home and his clothes. Adrian puts him out. Days later, he goes back to the bar, where the guy hit on him to find out if he can prove to himself that he's nothing his ex said he was.
He gets together with Wyatt and he's amazed that someone as big and handsome as Wyatt is interested and wants to spend time with him. They meet up every other weekend and have steamy sex in a Motel. Now Wyatt is keeping things about himself from Adrian. He's on the run and hiding from his past. But when he thinks that people are following him, and thinks his past has put Adrian's life in danger, he comes out of hiding. With whatever is going on at Adrian's workplace and Wyatt's friend showing up at Adrian's place telling him about the reason why Wyatt is running, have Adrian feeling as if he's in a twilight zone.
I like the thriller and all the drama in this story, and if you are interested in that I gladly recommend this story is for you.